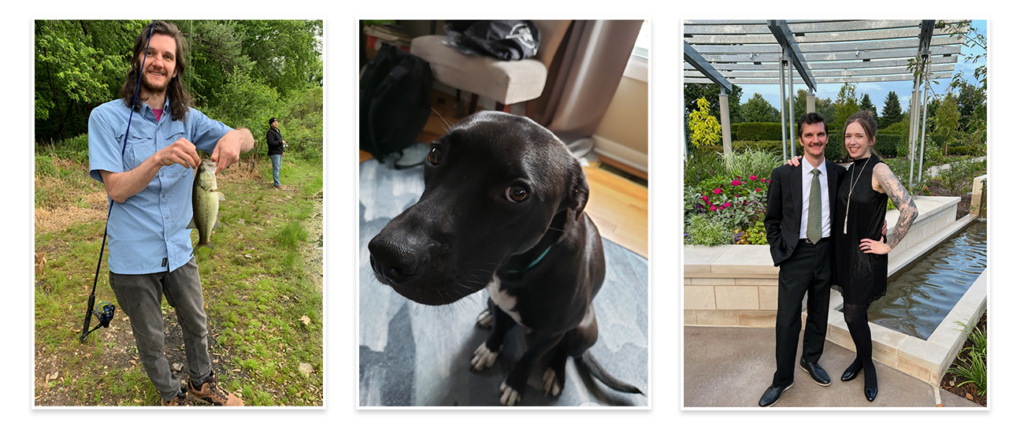 You've been with us for about six months now! What attracted you to Fíonta?
I was initially recruited by a former and now current co-worker (Sam Link!). It was suggested that I had the skill set and demeanor to be a consultant. I was on the fence. However, I realized the opportunity of working with many clients rather than working for one company would exponentially grow my skills and allow me to learn many new aspects of Salesforce/ NPSP. As I engaged in the interview process, all of my interviewers were genuine and thoughtful, and I felt confident that Fíonta was the next step on my Salesforce journey. It was a great decision, and I've learned much thus far!
Tell us a bit about what you did before you joined Fíonta. How did you become interested in Salesforce?
I worked customer service gigs in previous roles to support my musician lifestyle. I was in a band for about ten years (2009-2019); we released a few records and were fortunate enough to tour the US a few times on DIY tours. I was lucky to play alongside my best friend and wife, Whitney. We married in 2017 and started the next phase of our lives together. What initially drew me to Salesforce was Trailhead and swag! Whitney's older brother, Jay, went to Dreamforce and came home with a suitcase of swag, which he showed me one Thanksgiving. I was blown away by the branding and all cool goodies. He also mentioned that Salesforce had a free platform, Trailhead, to learn and skill up to help people gain certifications. It took a year of study to achieve my first certification, and another certification followed a year later. I found my first Salesforce job at Start Early. After three years of working up from junior admin to managing a team, it was finally time for me to move forward with my career, which brought me to Fíonta!
Share a bit about a project you've worked on at Fíonta that is meaningful to you and why.
I've enjoyed working with so many of our clients, and it feels very meaningful to work with wonderful individuals and share their mission, even if only for a short time. I am very glad to be working with HCH (Healthcare for the Homeless) on a migration/ implementation of Salesforce. This is my first time implementing a new instance of Salesforce, and I am excited to assist an organization with an established history of doing great work.
Which of Fíonta's core value(s) strikes closest to home for you? Why?
Always be improving; Even though I have five years of experience, I still feel very new to tech and Salesforce. I always want to be improving because every project is a chance to learn new skills, gain valuable experience, and meet and grow relationships with people. I want to bring that beginner's mind energy to every project I touch.
What are some of your favorite hobbies or ways to spend time outside work?
I enjoy fishing and golfing when the weather is nice. I go to the driving range once per week to keep my swing in check. I picked up golf during the pandemic and have enjoyed learning the subtle nuances. I also practice martial arts (Shorinji Kempo) a few times weekly. I have been training for nearly 15 years and have integrated many philosophical beliefs into my daily life.
Tiger Woods or Jack Nicholson?
Both are interesting people.
Independent films or blockbuster movies?
I enjoy both. However, at this point, I have less attention span to take in a good independent movie, tbh. I mostly enjoy horror or sci-fi movies and true crime documentaries.
Martial Arts or Pro Wrestling?
Again both! I enjoy a compelling physical contest, even if it is "fake."
Beach or Pool?
I think pool? If I were near a beach, I'd be more likely looking for a fishing pole and some bait.
Board games or video games?
I play more video games than board games, but I do love a good tabletop game if I can get a crew together. Also, puzzles!
Favorite nut butter?
Peanut butter, chunky.