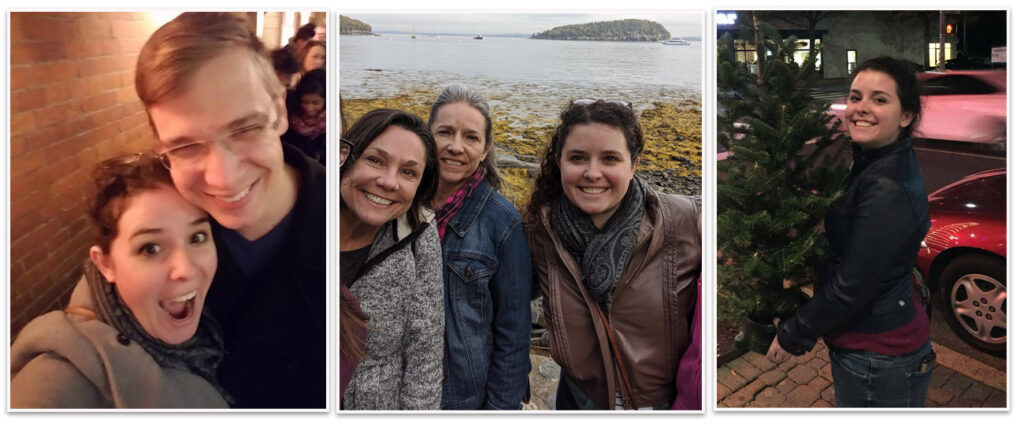 You've been with us for almost three years, woohoo! What attracted you to Fíonta?
Fíonta took a big chance on me! I had been doing recruiting as a side duty for a little over a year in my previous job, and I knew I wanted to move into HR, but I hadn't figured out how I would make that happen when I saw a post from a Fíontan in a Facebook group about a woman-owned tech firm looking for someone to work on culture and recruiting. I remember a lot of the details weren't worked out yet, and they weren't even sure it was a full-time role, but I reached out, and we got coffee and somehow spent two and a half hours talking about Fíonta and all the great things that were happening. From there, I was hooked! This is my first leadership role, and the fact that I've been both supported as I've transitioned into human resources and trusted as I've made recommendations and changes have been huge. I still have days where I can't believe I get to do this work in a place like Fíonta.
Tell us a bit about what you did before you joined Fíonta.
A little of this and a little of that. I did a deep dive in undergrad and grad school into Middle East Studies, while also dabbling in economics, international relations, theatre, intelligence and security studies, and French. After deciding that I couldn't live in the Southwest Asia / North Africa (SWANA) region long term, I studied the management of Finance and Accounting teams for a couple of years with Gartner and managed IT projects with a contract for the Department of Veterans Affairs. While on my contract with the VA, I took on some recruiting work because the company needed me to, and that's what led me to HR.
You worked full-time out of the DC office before the pandemic. As an HR professional, how do you see the lessons learned about remote work over the past year+ impacting our working lives in the future?
We've learned a lot about how work can fit in with the rest of life. I'm really excited to see people asking to continue working from home or trying to explore alternate schedules, as illustrated in many recent news articles. It doesn't work in all jobs, but the idea that the people doing the best work are the ones physically in the office from 9-5 M-F is based more on management control than on actual evidence-based research into productivity or employee well-being1,2. And that doesn't mean it works for all jobs, but if there's one thing we've learned, it's that there's so much opportunity to get creative!
Tell us about a culture initiative that you championed at Fíonta that is particularly meaningful to you, and why.
We rolled out paid family leave in the middle of a global pandemic, just in time for two new parents to take time off to welcome new additions to their family! We now offer 8 weeks of 100% paid leave for all new parents, and an additional 4 weeks of 100% paid leave for employees who are recovering from childbirth. This took some creativity to make the numbers work – we're leveraging short-term disability coverage, a couple of public programs (special shoutout to the DC Paid Family Leave program, which also launched last year), and a policy available through ADP that allows us to continue offering medical insurance coverage for employees on leave. I'm proud that we are able to meet our employees' needs and that we figured out how to offer this leave in a way that's financially sustainable and scalable as we grow.
Which of Fíonta core value(s) strikes closest to home for you? Why?
Can my answer be all of them? Honestly, I think about every one of our values at least once a week in some situation or another. When I read about assuming positive intent in Brene Brown's work, it totally changed the way I see the world. So I love that one although these days, I grapple a lot with how to balance assuming positive intent and holding people accountable for their impact at the same time, which is a prime example of doing what's right even when it's hard! And Always Be Improving and Be Conscientious are the ones I work to embody on a day-to-day basis. Because my role is really focused on supporting the team so they can focus on doing their jobs well, I'm constantly looking for things we can do better – every process we improve means our team has that much more time and energy to focus on meeting our clients where they are.
How do you see your role at Fíonta evolving over the next year?
We're growing! Brie Wolfe just joined the team, and she'll be focusing on our recruiting efforts, which is going to free me up to concentrate on strategic initiatives and process improvement. We just hit a major milestone –the Fíonta team has doubled since I joined, and my goal is to position us from an HR standpoint to be able to support and accelerate growth.
You are a polyglot! How did that come to be, and what languages do you speak? Are there others you'd like to learn?
I should caveat that I don't use any of these in my daily life anymore, so I'm not as strong as I used to be, but I studied Arabic and French in school and spent time in Jordan and France. I also spent a year in Italy, so I picked up enough Italian to order dinner and ask for directions. And finally, my partner is German, so I've also taken a couple of German classes, but I mostly know enough for him to laugh at me!
I'd love to improve my German skills and brush up my French, and I've been listening to an awful lot of BTS here recently, so I'm toying with signing up for Duolingo's Korean class!
Bread baking or pastry making?
Bread! My favorite is this cinnamon babka.
Historical fiction or mysteries?
Yes. I love a good detective novel, preferably set somewhere in the past. Right now, I'm knitting while listening to the Maisie Dobbs novels.
Driver or passenger?
Both. The longer the road trip, the better.
Movies or theatre?
Theatre! One thing I love about living in the DC area is all the great live theatre we have here!
Favorite nut butter?
Peanut, extra crunchy, straight from the jar.
1 https://www.bbc.com/news/business-38843341
2 https://www.businessinsider.com/microsoft-4-day-work-week-boosts-productivity-2019-11