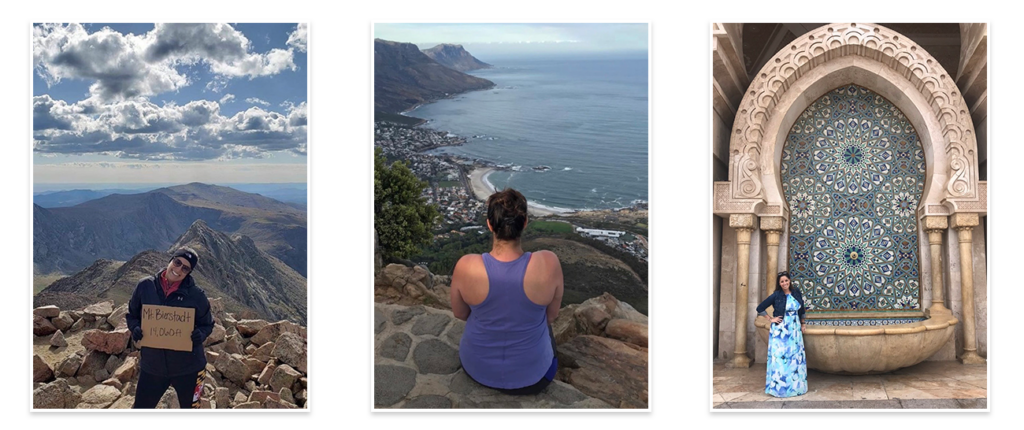 You were hired for a brand-new position at the time – tell me about your role here at Fíonta.
I'm a Business Operations Manager at Fíonta, but the responsibilities evolve frequently. I'm primarily responsible for overseeing our contracts, pricing, and other security and compliance-related items. Reporting directly to our President, Jeff, I also get tapped to run various ad hoc analyses, evaluate different business strategies and opportunities, and look for ways to drive efficiencies within the business as we scale.
Where were you working before Fíonta? You have an M.B.A. in International Business from American University – is that something you always imagined going after?
I'll try to keep this brief! Prior to Fíonta, I worked in corporate finance for an international packaged foods company; finance, product, and marketing analytics for an education technology company; and program operations for a defense contractor.
An MBA is something I never thought I would go after. If you asked 20-year-old Sophie where she would be today, she would say working somewhere on Capitol Hill with a Master's in Public Policy. I spent a semester as an undergrad at the London School of Economics and interned for the Shadow Minister of Public Health, which is when I got my first taste of travel. As my career led me down a more analytical path, I saw the value in getting my MBA, and being able to concentrate on international business was a no-brainer for me. Through American University Kogod School of Business, I was able to take immersion courses in Spain and Morocco and meet dozens of people from various backgrounds and industries – that's what makes an MBA worth it to me, what you learn from others, and the relationships you build along the way.
You have a reputation for getting things done here! How do you approach process change and what tactics do you use to ensure adoption?
So much of my role is instituting change, but change is hard, even for me! Without giving away all my secrets, there are a couple of key things I do before changing anything: I ensure I identify all the key stakeholders and hear each of their needs, use cases, and ideas, and be confident I know what problem I am trying to solve. I do my best to build relationships with as many people across departments to understand better how changing something on one team may have ripple effects on others.
Share a bit about an internal project you've worked on at Fíonta that is meaningful to you, and why.
One of the biggest projects I've been a part of is reimplementing our Salesforce instance to better integrate our entire project pipeline from lead to project close out. We are still rolling out parts of the project and continuing to iterate, but these improvements will help us in the long run and give us better and more accurate insights into the business so we can make more informed decisions in the future.
What's Sophie doing at Fíonta in 2023 and beyond?
I spent my first year tackling some big projects to help organize Operations and set us up for success in the future as we grow. I would love to tackle more long-term business strategy questions through analytics and continue to improve our reporting to give us real-time answers.
Which of Fíonta's core value(s) strikes closest to home for you? Why?
This is hard to choose just one! If I have to pick one, it would be "Meet People and Organizations Where They Are." This core value is very grounding for me and one I come back to often being in a cross-functional role. It is easy to be distracted by just our needs and perspective but challenging our minds to put ourselves in someone else's shoes and think where they are coming from is where resolution really happens.
When you're not cat herding here at work, how do you like to spend your free time?
I am traveling where and whenever I can! Through June 2022, I've been to 22 countries and 27 states. I love trying new foods, restaurants, and bakeries (please just don't ask me to cook anything). I am slightly obsessed with my Peloton bike and trying out new gyms and workouts. On weekends you can typically find me out exploring DC or helping my parents on their farm.
Hot dogs or burgers?
Burgers, but it has to be a cheeseburger
College football or NFL?
NFL. You will find me glued to the tv every Sunday from September through January. Go Ravens!!
Ice cream with nuts or no nuts?
Only if they are in the ice cream flavor already. Nuts in the ice cream – Good. Nuts as a topping – No thank you!
Rural or urban?
After growing up on a farm in the middle of nowhere, definitely urban. I have a great appreciation for that lifestyle, but I much rather be in the middle of things and able to walk to stores, restaurants, etc.
Favorite nut butter?
I know this is an unpopular opinion but not really a fan of nut butter … I like peanut butter only in dessert form (i.e. candy, cookies, pie, ice cream).