Due to a cluttered website, complex navigation, an unclear mission, and a lack of intuitive CTAs, AAA faced challenges in engaging external stakeholders and connecting them with the association's programs, benefits, and resources.
01
Outdated and redundant content hinders information
The existing AAA website provided a cluttered user experience due to obsolete and repetitive content. A thorough content audit was necessary to eliminate outdated and redundant materials, ensuring accuracy and relevance. The presence of this redundant content made it difficult for users to find the information they needed efficiently, impacting the overall usability of the website and the credibility of AAA as an authoritative source of information in the field of anthropology.
02
Content overload and clumsy site navigation impact mission, vision, and identity
AAA's website, with its extensive content, posed a navigation challenge for users and needed more clarity in presenting its identity, mission, and value. This ambiguity could deter or fail to capture the attention of potential members or partners.
03
Ambiguous calls to action impact lead conversion
The website lacked clear and prominent calls to action, affecting lead conversion rates. Implementing strategic and intuitive CTAs throughout the site aimed to guide visitors on becoming members or engaging with the AAA community, boosting engagement and membership.
The project began with a comprehensive content inventory, guiding AAA through informed content migration decisions, followed by wireframes of key templates. Fíonta designed and developed a welcoming, inclusive, and visually appealing website compliant with web content accessibility guidelines (WCAG), meeting AA and AAA-level standards.
This resource-rich platform now effectively serves members and the public, fostering a community of experts in anthropology. Meticulously organized content caters to diverse audiences, simplifying access to vital information.
The website empowers AAA with seamless backend management capabilities, allowing them to create captivating pages with easily configurable, pre-designed components when needed.
Efficient content organization
A thorough content inventory ensures informed decisions and a user-centric approach, and meticulous content organization efficiently connects members to actionable areas.
Resource-rich platform
The website serves as a valuable resource, promoting anthropology's value and fostering a community of experts.
Flexible page creation
Easily configurable, pre-designed components empower AAA to create captivating pages as needed and effortlessly manage the site with timely updates and content maintenance.
The new website provides valuable information about anthropology to the general public and offers AAA staff seamless backend management capabilities. Additionally, it empowers AAA to create their own captivating pages with easily configurable, pre-designed, and arrangeable components whenever required.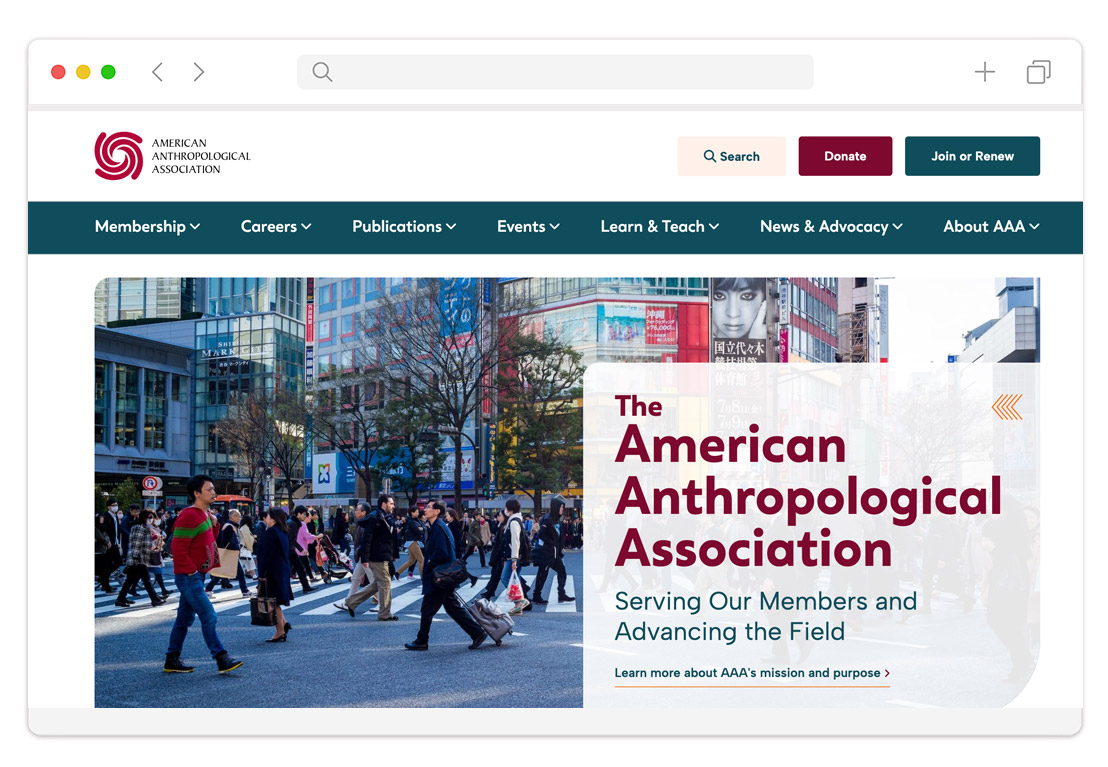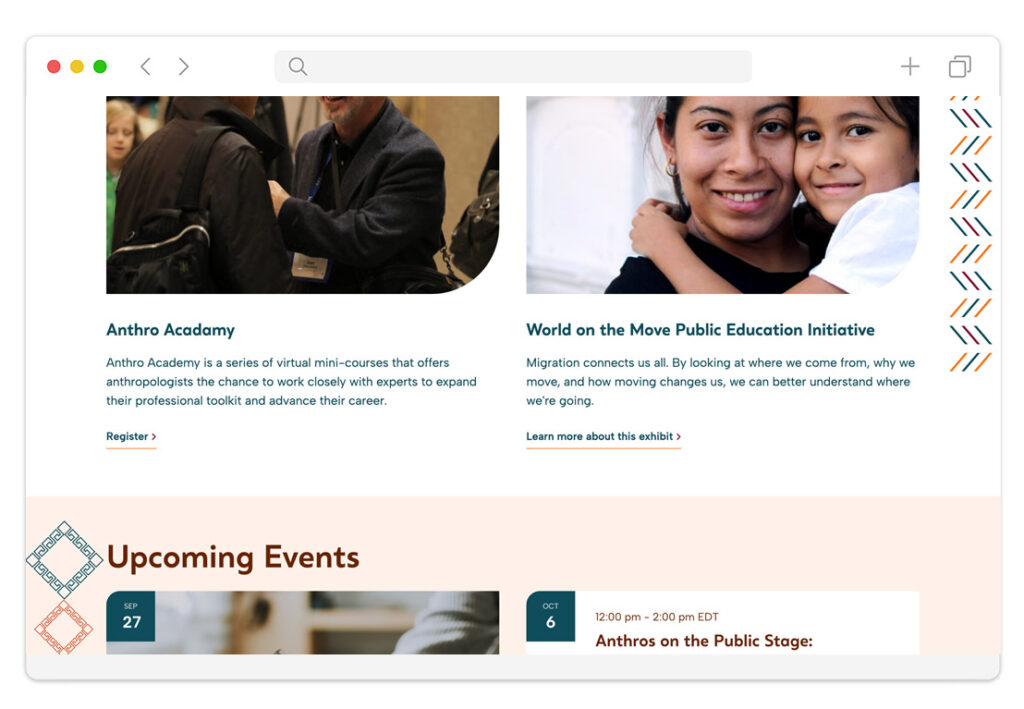 Our resourcing team staffs each project with care. Team members involved in this initiative included the following:
A project manager oversees all aspects of a project, including budget, schedule, scope, and risk management. They work closely with the technical lead to manage and escalate risk and act as the main point of contact with clients and internally, providing regular updates on the project's progress.
The lead web developer understands a client's website inside and out and works with them to enhance the site in ways that align with organizational goals. They focus on growing the site sustainably, ensuring reusable functionality for multiple purposes, and ease of maintenance.
A configuration specialist configures a client's Salesforce instance based on a technical lead's solutions to client requirements. They can specialize in different areas and are responsible for building functionality, configuring standard and custom Objects, creating automations, customizing layouts and permissions, implementing apps, and performing low-complexity data import/export.
A business analyst works to understand a client's business processes, identify needs, and translate requirements into user stories. They document current processes, create requirements, and collaborate with the technical lead or solution architect.
User Experience (UX) consultant
A UX Consultant ensures that systems provide users a meaningful and usable experience. They involve users early in the project and prioritize their needs and goals, ensuring that the systems meet requirements and create value for the end users.
User Interface (UI) designer
A UI designer brings technical requirements to life by creating beautiful visuals for any web-based interface. They will work closely with developers and User Experience (UX) consultants to ensure the designs meet all requirements, project scope, and accessibility standards and represent the organization's unique brand.
The technical lead is responsible for implementing the project solution and coordinating technical processes with clients and the project team. They manage the design, internal and external testing, and deployment activities to ensure deliverables are on schedule and meet quality standards. They may also serve as a solution architect. The technical lead works closely with project managers to manage and escalate risk and is one of the primary contact points with the client.
The web developer uses a plugin-first approach to building websites in WordPress. With a vast array of knowledge in the enormous library of WordPress plugins, the WordPress developer takes a design and makes it a reality, always with the site's long-term sustainability in mind.