ASA aimed to address outdated design and mobile-friendliness issues on their website, enhance the annual meeting experience for members, and create a unified online platform for better management of communities and committees.
01
Outdated design and lack of mobile-friendliness
The previous website lacked modern aesthetics and responsive design, hindering the user experience, especially on mobile devices. ASA sought a visually appealing and mobile-friendly website to meet the expectations of its tech-savvy membership.
02
Enhanced annual meeting experience
ASA members heavily relied on the meeting app for scheduling, indicating a need for an improved online experience for the Annual Meeting. ASA aimed to provide a comprehensive and user-friendly platform that would integrate the Annual Meeting seamlessly with the rest of the website.
03
Disjointed communities and committees
The existing website posed technical difficulties in managing communities and committees, resulting in disjointed experiences and the need for external mini-sites. ASA desired a cohesive online platform that would unite different groups and provide seamless functionality for committees.
This project began by embedding a UX specialist at ASA's annual conference. A select group of members were interviewed, and we began gathering requirements directly from the end users. The website redesign leveraged the Drupal 7 content management system (CMS) to provide flexibility and scalability in managing content and user accounts.
Fíonta designed and implemented multiple custom templates to ensure a visually appealing and consistent experience throughout the website, including three templates specifically for the Annual Meeting.
Integrating a user-friendly jobs and fellowships board allowed easy management and access to relevant opportunities. ASA members can now submit and review calls for papers directly on the website, streamlining the process and fostering member engagement.
A dedicated members-only section and user accounts offer exclusive resources, forums, and networking opportunities while enabling personalized experiences and streamlined access to member-specific content.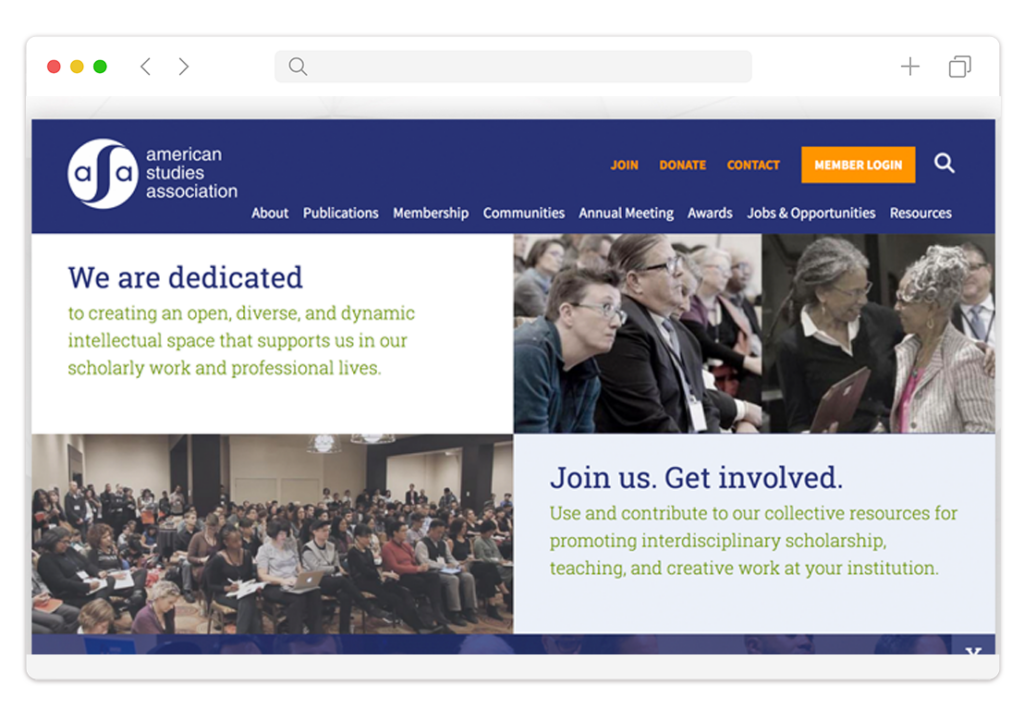 Facilitating digital connection to meet diversity standards
The integrated jobs and fellowships listings call for paper submissions, and members-only sections enhance engagement and facilitate communication among ASA members. By revitalizing its online presence, ASA has embraced a fresh digital platform representing its diverse community.
Modernizing ASA web presence
The collaboration between Fíonta and ASA resulted in a successful website redesign that met the association's goals. The new Drupal-based platform offers a modern design, mobile responsiveness, and a seamless experience for the Annual Meeting and throughout the year.
Using Drupal 7 and taking advantage of the many customized templates designed by Fíonta has allowed the American Studies Association to communicate at scale with its member base. Improvements to the Annual Meeting online experience directly contributes to greater website usage and brings together previously technically siloed groups. The Jobs and Fellowships board is easy to use, both as an administrator and a job seeker.
Our resourcing team staffs each project with care. Team members involved in this initiative included the following:
A project manager oversees all aspects of a project, including budget, schedule, scope, and risk management. They work closely with the technical lead to manage and escalate risk and act as the main point of contact with clients and internally, providing regular updates on the project's progress.
A Drupal developer is an expert in configuring, developing, and styling websites using the Drupal CMS. With a vast array of knowledge in coding languages, the Drupal developer transitions designs into new functionality, customizing Drupal modules and sometimes building custom code.
User Experience (UX) consultant
A UX Consultant ensures that systems provide users a meaningful and usable experience. They involve users early in the project and prioritize their needs and goals, ensuring that the systems meet requirements and create value for the end users.
User Interface (UI) designer
A UI designer brings technical requirements to life by creating beautiful visuals for any web-based interface. They will work closely with developers and User Experience (UX) consultants to ensure the designs meet all requirements, project scope, and accessibility standards and represent the organization's unique brand.