The Center on Budget and Policy Priorities' upgraded site now offers improved functionality and accessibility on a robust, secure hosting platform, and will be easily upgraded to Drupal 9 when the time comes.
The Center on Budget Policy and Priorities needed to migrate from Drupal 7 to Drupal 8 without significantly adjusting its branding and design, simultaneously preparing a roadmap for a future Drupal 9 migration.
01
Drupal 8 migration and planning for Drupal 9
The migration from Drupal 7 to Drupal 8 required identifying major features of the existing site and determining whether to rebuild or abandon each one. Additionally, CBPP needed to streamline content migration, prioritize accessibility, and evaluate the hosting configuration for a robust and secure platform.
02
Organized and streamlined content structure
CBPP sought an improved user experience through organized and streamlined content, which involved optimizing the site's information architecture, ensuring intuitive navigation, and enhancing functionality for media-rich content types.
CBPP's project with Fíonta began in July 2020 with an in-depth discovery phase, assessing existing features, content, and accessibility. CBPP's in-house developer worked with Fíonta's development team, allowing CBPP to take on specific tasks to conserve resources. The team used Jira and Slack to track progress and maintain open communication. Establishing standardized Docker-based local development environments using the Lando toolkit promoted consistency in development processes. The subsequent planning and design phase optimized the site's information architecture and user experience, emphasizing accessibility enhancements and robust hosting on Pantheon.
Configuration of media-rich content types with multiple view modes and taxonomy-driven categorization enhanced user engagement, and customized Layout Builder setups empowered dynamic content presentation on landing and topic breakdown pages.
For optimal efficiency, Fíonta's migration strategies reduced over 11,000 nodes from 10 source content types into eight destination types. Seamless media migration from D7 Scald to D8 Media Entities ensured multimedia integration. The integration with Mailchimp streamlined communication and audience engagement, reinforcing CBPP's digital commitment to advancing policy change and equity.
Drupal 8 migration
Accessibility was a central focus during the Drupal 8 build, guaranteeing an inclusive and user-friendly website. Fíonta orchestrated a seamless migration from Drupal 7 to Drupal 8, preserving essential features while leveraging Drupal 8's capabilities.
Robust hosting platform
The existing hosting configuration was reviewed and enhanced to establish a secure platform for the new site. The site map and information architecture were revamped to facilitate intuitive navigation on the Drupal 8 platform.
Content streamlining
Extensive content was audited and refined, ensuring a streamlined and efficient migration process.
Our collaboration also served as functional training for the CBPP web staff, enabling them to hit the ground running with their new site confidently. The Center on Budget and Policy Priorities' upgraded site now offers improved functionality and accessibility on a robust, secure hosting platform. It will be easily upgraded to Drupal 9 when the time comes.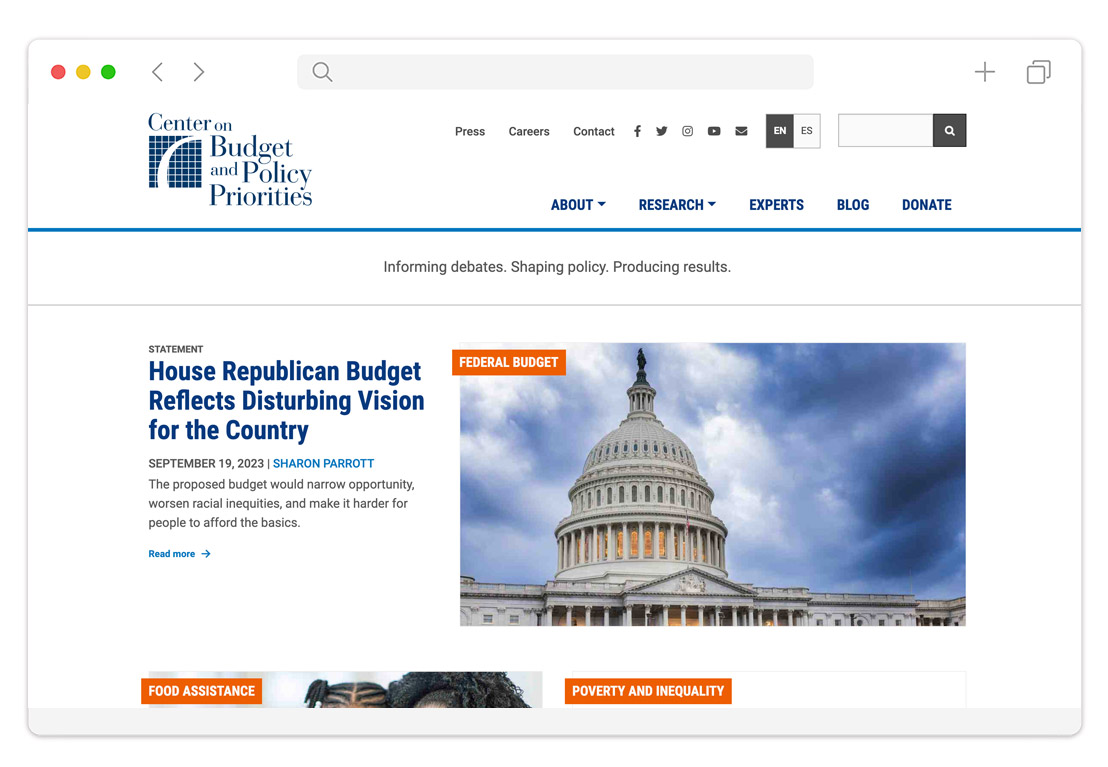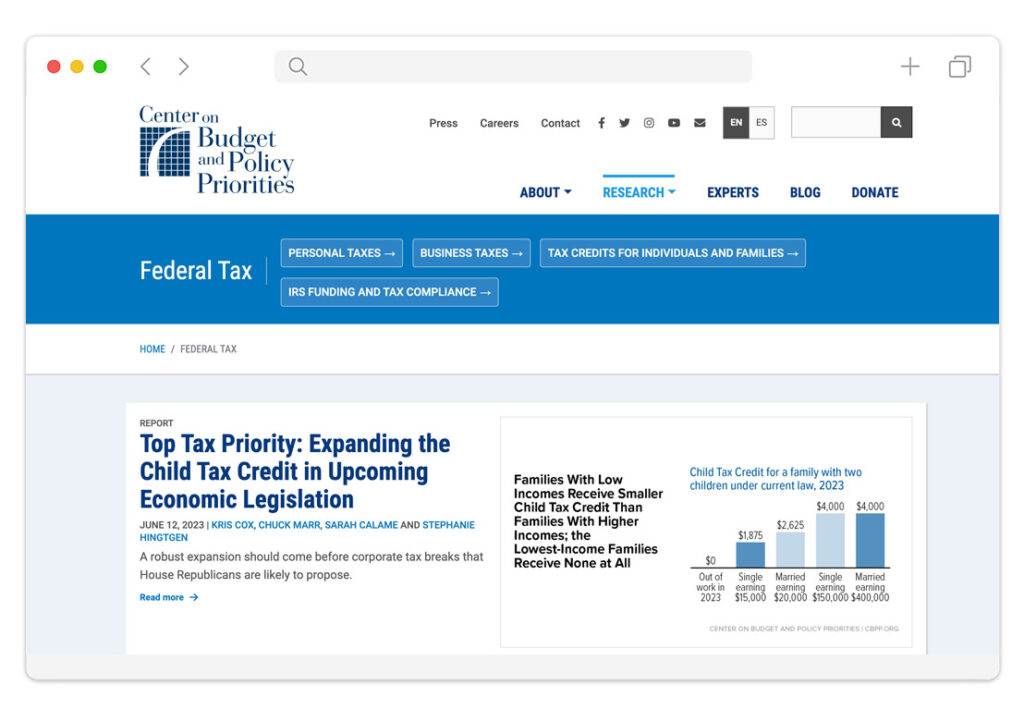 Our resourcing team staffs each project with care. Team members involved in this initiative included the following:
A project manager oversees all aspects of a project, including budget, schedule, scope, and risk management. They work closely with the technical lead to manage and escalate risk and act as the main point of contact with clients and internally, providing regular updates on the project's progress.
A Drupal developer is an expert in configuring, developing, and styling websites using the Drupal CMS. With a vast array of knowledge in coding languages, the Drupal developer transitions designs into new functionality, customizing Drupal modules and sometimes building custom code.
A configuration specialist configures a client's Salesforce instance based on a technical lead's solutions to client requirements. They can specialize in different areas and are responsible for building functionality, configuring standard and custom Objects, creating automations, customizing layouts and permissions, implementing apps, and performing low-complexity data import/export.
User Experience (UX) consultant
A UX Consultant ensures that systems provide users a meaningful and usable experience. They involve users early in the project and prioritize their needs and goals, ensuring that the systems meet requirements and create value for the end users.