We hired Fíonta to overhaul our Salesforce after a botched transition from Raiser's Edge. Right from the get-go, the Fíonta team has taken time to understand our needs and respond accordingly. They are very quick to get back to us, and always let us guide the conversation and set priorities while still using their expertise to keep us on track.
Katherine Carey
Special Projects Officer
Expensive and siloed systems hindered donor tracking, email communications, and insight into development activity.
01
Expensive and inefficient legacy system
The legacy Raiser's Edge CRM was costly and failed to meet Free the Slaves' needs, hindering the ability to track donor engagement effectively.
02
Lack of integration
The absence of integration between Raiser's Edge and the online payment processing system led to manual data entry for online donations, increasing the risk of errors.
03
Limited donor insights
Free the Slaves lacked a comprehensive view of donor activity, making it difficult to identify major donors and prospects beyond total giving amounts.
04
Inefficient email communications
The lack of integration between MailChimp and Raiser's Edge prevented targeted communications, hindering the determination of ROI on marketing efforts.
Fíonta and Free the Slaves collaborated to address the organization's challenges. Implementing Salesforce Nonprofit Success Pack (NPSP) and a customized online donation form streamlined the donation process and minimized data entry errors.
MailChimp integration enabled segmented lists and improved email communications, while Dupe Blocker reduced duplicate data, lightening the staff's burden.
Through the Power of Us program at Salesforce, Free the Slaves received ten free user licenses, allowing for greater allocation of resources to critical mission expenses.

Targeted communications
MailChimp integration with NPSP enabled Free the Slaves to create segmented lists and target communications, providing valuable insights and improving marketing efforts.
Reduced licensing costs
The adoption of Salesforce through the Power of Us program significantly reduced licensing costs, allowing more resources to be directed towards Free the Slaves' mission to end modern slavery.
Streamlined donation process
The customized online donation form and NPSP integration streamlined the donation process, reducing errors and enhancing efficiency.
Salesforce Nonprofit Success Pack has helped Free The Slaves streamline online donations and reduce errors. Additionally, they can better target communications and collect additional intelligence on donors and prospects. Lastly, licensing costs have been reduced, permitting those dollars to go to more mission-critical expenses.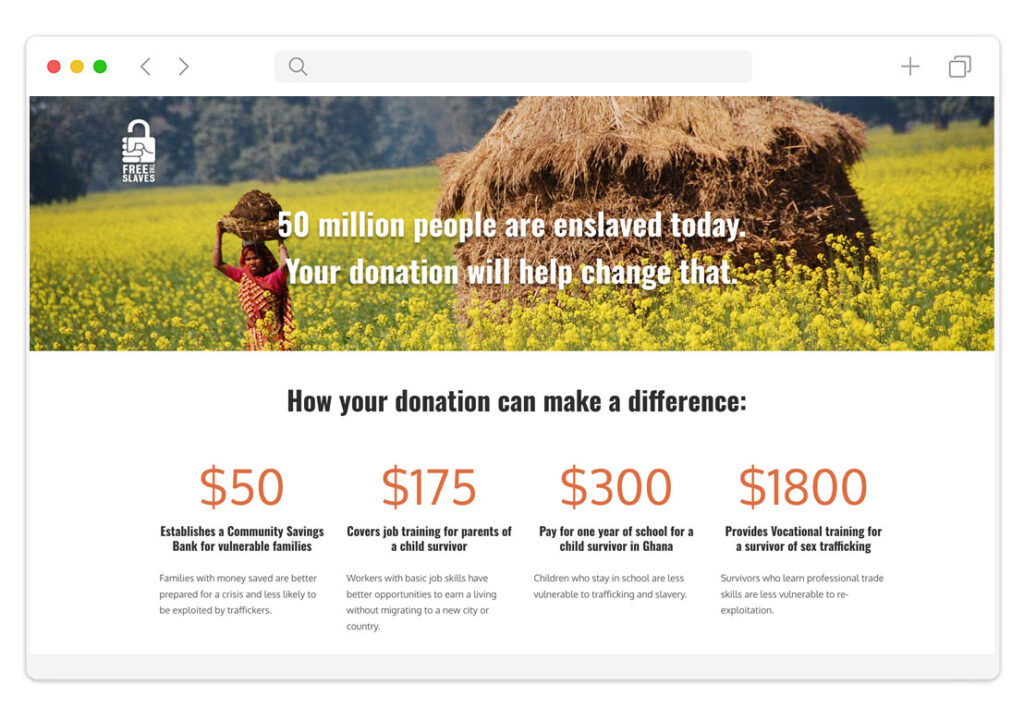 Our resourcing team staffs each project with care. Team members involved in this initiative included the following:
A project manager oversees all aspects of a project, including budget, schedule, scope, and risk management. They work closely with the technical lead to manage and escalate risk and act as the main point of contact with clients and internally, providing regular updates on the project's progress.
A Salesforce developer builds and customizes applications with Salesforce-specific features, including Apex, Visualforce, and the Lightning Component Framework. They also use Salesforce APIs to integrate with other systems.
Technical architects are senior advisors specializing in functional, platform, and integration architecture. They communicate technical solutions and design tradeoffs to clients, provide a delivery framework, and oversee the design and development of complex solutions, ensuring the technical soundness and integrity of the final product.
The technical lead is responsible for implementing the project solution and coordinating technical processes with clients and the project team. They manage the design, internal and external testing, and deployment activities to ensure deliverables are on schedule and meet quality standards. They may also serve as a solution architect. The technical lead works closely with project managers to manage and escalate risk and is one of the primary contact points with the client.
The data architect is responsible for data analysis, designing schemas, managing data migrations, and integrating complex data. They work with the client and internal project team, create data mappings, configure data sources, test scripts, ensure adherence to the migration plan, and document changes and deviations from the original plan.
A configuration specialist configures a client's Salesforce instance based on a technical lead's solutions to client requirements. They can specialize in different areas and are responsible for building functionality, configuring standard and custom Objects, creating automations, customizing layouts and permissions, implementing apps, and performing low-complexity data import/export.