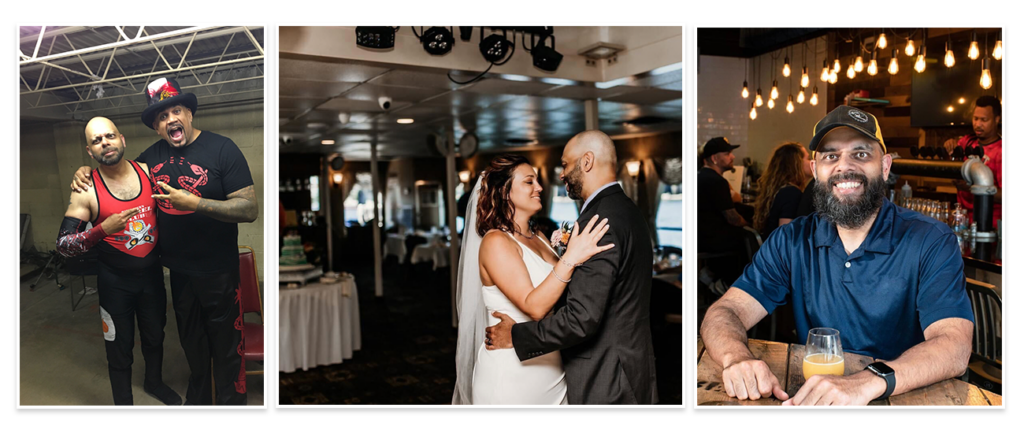 What does a day in the life of a data architect look like?
Like Baskin Robbins, it can be a different flavor for each day of the month! Some days I am digging through data. Some days I am churning out code, and some days I'm discovering a better way to do something I just did and redoing it.
Tell us a bit about what you did before you joined Fíonta. How did you become interested in Salesforce?
I was a SQL and PowerBI Developer/Architect for a third-party shipping pharmacy that partnered with specialty clinics (like HepC or Ryan White-type clinics) and did a lot in the Section 340B space to help underserved patients.
As for how I became interested in Salesforce, it helps that the whole Fíonta data migration team consists of people I had worked with before at Blackbaud 12+ years ago, so I came on board and am doing whatever is needed with a team I trust.
Share a bit about a project you've worked on at Fíonta that is meaningful to you and why.
Climateworks Foundation. What made this meaningful is the fact that this wasn't a migration but rather a scenario where I learned middleware (Workato) on my own to complete this ETL/integration project. I demonstrated versatility and learned something new to complete this project.
How do you see your role at Fíonta evolving over the next year and beyond?
Kind of piggybacking on the previous question, I hope to demonstrate further versatility and wear different hats to demonstrate my value as someone who can fill different roles (not to mention I like mixing it up to keep things fresh).
You have a background in professional wrestling. Please tell us more!
I have officially wrestled 1002 matches in my career, going all the way back to 1995. I have wrestled against or with many wrestlers who have appeared on WWF/E, WCW, ECW, AEW, Impact, etc. I might wrestle one more time to go out on my terms. I last wrestled in 2021 and haven't since, as I was concussed in that match.
Which of Fíonta's core value(s) strikes closest to home for you? Why?

Assume positive intent
Do what's right even when hard
Meet people and organizations where they are
Be conscientious
Always be improving
Always be improving. This strikes closest to home. I feel like I'm constantly adapting and taking on whatever form is needed to push forward. This is not just within Fíonta but all aspects of my life – keep improving!
What are your favorite things to do when you aren't working? Hobbies, activities, passions?
I don't know what it means not to be working 😆. I own a festival business in Colorado and currently run three beer festivals (Denver Winter Brew Fest, Denver Summer Brew Fest, and Vail Valley Brew'Au). I am planning to add one or two more down the road.
I also do a bit of sales, marketing, and product direction for a local distillery, Copper Cannon Distillery. They are primarily a rum distillery but have recently entered the bourbon market, and I am assisting with product direction. The bourbon they have available now is a high rye bourbon, and the bourbon currently in barrels awaiting a 2024 release is a wheat bourbon.
If the above seems too much for one person, let me add that I occasionally bartend at a local brewery (Branch and Blade Brewing).
Getting past the actual work stuff, I enjoy cooking a lot. My wife enjoys eating my cooking a lot 😉. I enjoy little getaways where my wife and I explore someplace new or learn a bit about an area's history. For example, the original Jumanji was filmed in our town (and a neighboring town).
Pre-2000 or post-2000 WWE?
Depends. 1993-1997 was dull for WWE. 1998-2001 was interesting, 2002-2004 was dull, and then it got better again.
IPA or Lager?
I used to be all about the IPAs. Now I will enjoy a nice crispy lager/pilsner. Give me a well-crafted Euro pilsner from a Lukr tap with a traditional Czech-style pour (mug filled with the top quarter being foam). And yes, at Branch and Blade, we have such a tap for one of our pilsners, and this is my shift beer of choice.
Book club or fight club?
¿Por que no los dos? Depending on the category, I would enjoy the book club, but a movie with Ed Norton and Brad Pitt is good too.
Baseball or basketball?
Baseball 100%. I played baseball at the collegiate level several decades ago.
Favorite nut butter?
Cashew butter. Cashews are awesome!