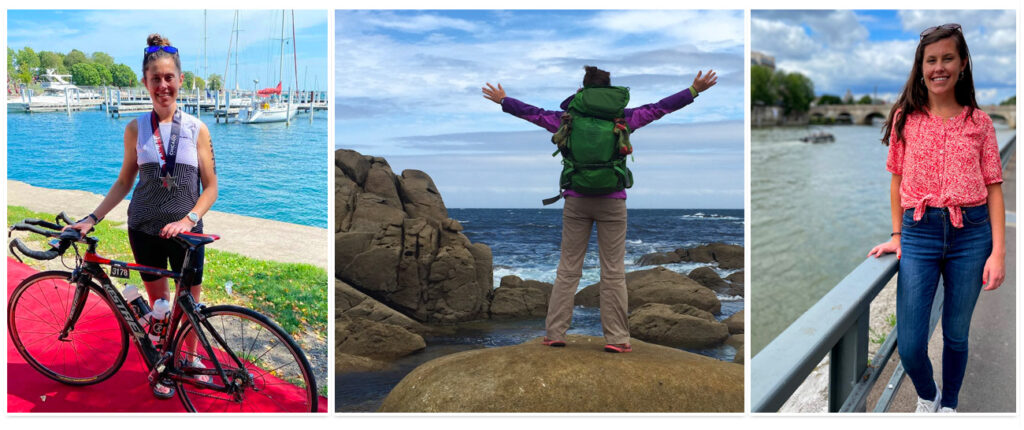 You've been a member of Fíonta's leadership team since 2016. How did you learn about Fíonta, and what inspired you to change positions?
I came across Fíonta (then Confluence Corporation) thanks to some curiosity, a bit of desperation, and dumb luck. I was taking Spanish Lessons through District Spanish (formerly Simple Spanish) at WeWork in Dupont Circle and was also in the midst of a job search. I thought it'd be interesting and exciting to work at a WeWork-based company, so I started Googling – I looked up every company with WeWork's address on their website. When I came across Confluence, I stopped in my tracks – I was so compelled by the mission, and it was exactly the kind of organization that I was looking to join. I was certainly not qualified for any of the jobs on the website, but I took a chance. I emailed resumes@confluencecorp.com with the subject line "Interested in a career at Confluence" and shared a bit about my background. When I got a response from Lisa Rau, I started jumping for joy! Our initial phone conversation was about a Project Manager position. While that role wasn't in the cards for me (tl;dr, not qualified), I remember her saying, "I have a good feeling about you." About a month later, I got an email from Lisa that said, "we have a concept of a job now." To this day, I'm not sure that Jeff Sullivan knew of this impending role on his team until the moment I arrived for the interview. Somehow, I convinced him to hire me – I was thrilled when they took the chance on me and offered me the role of Business Analyst.
You joined Fíonta fresh from a sojourn on the Camino de Santiago! Tell me about that experience.
The Camino was an incredible experience and represents a clear inflection point in my life. I had the chance to make the journey because the firm I was working for sold the business. As we wound down operations, I recognized the unique gift of time that was given to me and my privilege to take a couple of months off. I knew that the Camino was something that I wanted to do one day, so I decided – why not now?
I walked the Camino Frances, which stretches 500 miles from southwestern France across northern Spain to Santiago de Compostela. While I was fascinated by the history and tradition of the trail, los peregrinos ('the pilgrims' in Spanish), whom I walked with along the way, left the biggest impression. I met people from at least 34 countries, each from a different background. No matter the age, gender, nationality, or religion, it felt easy to find common ground. I learned a lot on the trail, some of which I shared in a blog on Headspace. In my first email to Lisa, I included one realization: "I want to devote the remainder of my career to working with people and organizations that are actively making this world a better place." Hence, my excitement about Fíonta!
You have a relatively unique "office" experience, having worked in the DC office and then from Chicago as a remote employee. Additionally, your team has been instrumental in our company-wide shift to "remote-first." Can you tell me more about how the company has evolved over your tenure?
We've learned a lot about how work can fit in with the rest of life. I'm really excited to see people asking to continue working from home or trying to explore alternate schedules, as illustrated in many recent news articles. Creating a consistent experience for our employees, no matter their zip code, has been one of my favorite problems to help solve at Fíonta – and we're certainly still working on it. We were lucky enough to have a head start when COVID hit – we've had remote employees for at least eight years! We've learned (the hard way, at times) that supporting remote staff requires intentional, consistent communication and the willingness to change. For example, we piloted our first all-hands meeting fully on Zoom in mid-2018 – the DC team (two-thirds of the staff at the time) joined the video call from their desks at WeWork. We decided to give it a try so that everyone could have a seat at the same (virtual) table. Moving to Chicago was a big transition, but I felt that I was set up for success with the support from my team and our paperless, cloud-based back office. I miss being able to interact with coworkers in person (and steal chocolate from Deborah Ben-Moshe), but I feel grateful that this chapter has given me a different lens. These days, we're onboarding 100% of our employees in a remote capacity, and we are committed to making positive changes with each new hire.
You've affected great change in your tenure at Fíonta. Tell me about one initiative that brings you pride and why.
I think that I'm most proud of jump-starting our Employee Success department in late 2016. At the time, we had ~24 employees in eight different states. One day, I said to Lisa and Jeff, "this is critically important to get right, and we need to invest in it now." They took my recommendation seriously, and we hired external consultants to audit our HR practices and help us build out a department. Shortly after, we transitioned a talented project manager into an HR role, and she was off to the races implementing their recommendations. Today, Sarah Miller leads all things Employee Success at Fíonta, and it brings me much joy to collaborate with her on ways Fíonta can best support our team.
Always Be Improving is something that shows up for me every single day. The fun (and sometimes headache-inducing) part about being a member of the Operations team is that we're actively evolving our structures and systems to support Fíonta as we grow. My team and I focus every day on what we can do differently to be more efficient and effective in our roles. Our goal is to put our best foot forward to support the full team so that they can, in turn, provide the best service possible to our clients.
Assume Positive Intent has also had a profound impact on my life, both personally and professionally. While the concept is layered (it is also critically important to hold people accountable), this tenet has never felt more important with all that we're navigating as a community, a nation, a world. The person that holds me the most accountable to this value at Fíonta is Mark Patterson, which I appreciate very much.
How do you see your role evolving over the next year? Are there new skills or tools you hope to acquire?
Fíonta is growing in every direction, including on my team! We are actively hiring for an Accounting Manager to take the lead on all accounting responsibilities, including payroll, invoicing, and the financial close process. Once our new hire is settled, I am looking forward to focusing more on the strategic side of my role, like refining our multi-year forecast and completing a benefits market analysis.
While my background is in accounting and finance, my real love is data. In 2020, I completed my Master's in Business Analytics at Notre Dame. I still have all kinds of ideas about how I can leverage that experience to make better data-driven decisions at Fíonta. In the coming year, I'm excited to dive further into tools like Einstein, B2B Marketing, and Tableau.
What do you like to do outside of work?
Anything that will get me outdoors! I love to run, bike, swim, hike (sometimes for very long distances, ha), and do yoga. In more normal times, I live for travel and all kinds of live music. As of late, I've grown a strong appreciation for my flower garden, embroidery, and all things sourdough. My starter's name is Betty, and she is 1.5 years old and thriving.
Spontaneous getaway or well-planned vacation?
Both! My favorite trips are a combination of the two. I like to plan out the main framework of my travel and then leave enough up for interpretation so that I can see where the wind takes me. This is one reason that I enjoy solo travel – there are no competing agendas, and I'm forced out of my comfort zone to try new things and meet new people.
Car camping or backpacking?
Backpacking, no question. Some people don't understand why I would take precious vacation time to go trek through the woods, but there's a certain peace that I find after a few days on a trail that's hard to replicate elsewhere. My grandfather named my pack Big Green, and he's been a great comrade for many a-journeys!
Iced tea or hot tea?
Hot tea, though I do love a glass of sun tea on a warm summer day. My all-time favorite tea is Trader Joe's Organic Ginger Turmeric Herbal – it's a must!
Ability to fly or ability to read minds?
Ability to fly. I want to cover as much ground as possible on this strange and beautiful planet, and flying would make that charter much more efficient.
Favorite nut butter?
Almond butter is a staple in my cabinet. Though have you ever tried sunflower butter? Such a treat!