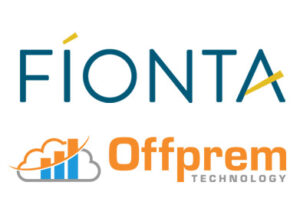 Fíonta, a Salesforce Premium Partner focused on Salesforce-based solutions for associations and nonprofits, and Offprem Technology, a Salesforce Premium Partner specializing in Marketing Cloud implementations, have announced a partnership to deliver comprehensive member and donor engagement solutions on the Salesforce platform. 
"Offprem is a best-in-class provider of marketing solutions for Salesforce and we're excited to formalize our partnership with them," says Fíonta CEO Mark Patterson. "Their depth of experience and expertise in Marketing Cloud and related solutions will directly benefit our clients that have sophisticated marketing automation needs."
"Fíonta is an expert in Salesforce solutions within the association and nonprofit space," said John Duncan, vice president of education and nonprofit solutions at Offprem. "Their focus and commitment on helping mission-driven organizations advance through Salesforce technology is inspiring, and we are excited to partner with them to accelerate the success of our clients," Duncan concluded.
Fíonta and Offprem are presenting jointly at ASAE Marketing Automation Demo Day on January 25, 2022, demonstrating the opportunities that Pardot and Salesforce Marketing Cloud offer to associations. The event is free to attend, but pre-registration is required. For more, visit ASAE's website: https://bit.ly/3rAjs9v
About Fíonta
Fíonta has provided technology services to over 1,000 associations and nonprofits since its founding in 2001. As a Salesforce Premium Partner, Fíonta has expertise in migrating associations to Salesforce as well as with implementations and upgrades to Salesforce-based commercial Association Management Systems (AMSs). Staff are certified in Nonprofit Cloud, Experience Cloud, Pardot, Sales Cloud, Service Cloud, Tableau CRM, and more. Fíonta's UX and development teams specialize in human-centered design methodologies, data integration with Salesforce, and support for Drupal and WordPress websites.
About Offprem Technology
Offprem specializes in helping nonprofits and educational institutions utilize marketing and engagement technology from Salesforce to achieve efficiency in their work so that they can better achieve their missions. We're passionate about helping schools, universities, and nonprofits. Our team of experts all have backgrounds of working with the organizations we serve as clients. Our goals are to help our clients become self-sustainable with the technology, learn how to further evolve their organizational use of Marketing Cloud, and to complement the skills and capacity of our clients with Offprem expertise. Since our founding in 2015, we have completed over 1,000 Marketing Cloud projects.  
###