You've heard of Hot Girl Summer, but 2021 has been all about Hot URL Summer! Don't get caught out in these COVID streets riding the cheugy-train with an out-of the-box domain. Hot URL Summer is all about being unique and ahead of the curve, and there's no better way to do that than implementing My Domain in your Salesforce Org.
What Is My Domain?
My Domain replaces the standard Salesforce URL with your own custom branded URL. It's not vanity, it's self-expression! For example: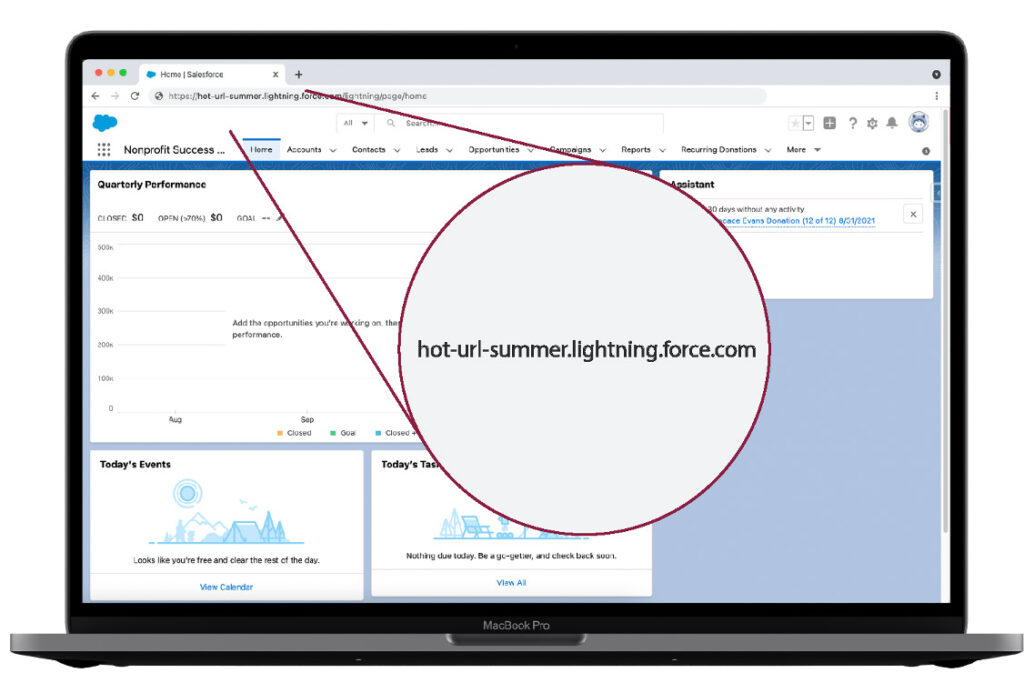 Enabling My Domain unlocks some major features in Salesforce, but most importantly, it increases your Org's security — and we stan a secure Org.
What's The Benefit?
Hot URL Summer is all about SWAG, or rather Stuff We All Get [when we implement My Domain]. As we mentioned, the most important benefit of implementing My Domain in your Org is increased security. But what are the other benefits? Below is the SWAG bag of goodies you'll be getting with My Domain.
Brand Continuity: Registering your domain or subdomain with Salesforce allows you to secure your branded domain in Salesforce domain registries around the globe. So, just like Mr. 305 himself, you too can be worldwide! It also gives you the opportunity to brand your login page and customize the content on the right side of your page. Providing a well-branded experience for your audience is key in letting yourself shine.
New Experiences: Experience Cloud sites can also leverage My Domain and subdomains. This helps you connect with your digital community and share your content with individuals key to your business process (staff, partners, donors, customers, influencers) and collaborate with them on your portal, help site, etc.
Single And Loving It: My Domain lets you leverage Single Sign On (SSO) with third-party identity providers or authentication providers like Facebook or Google. This streamlines your users' access to your content.
Don't Get It Twisted: Leveraging My Domain makes it easier for users to work in multiple Salesforce Orgs at the same time.
Be Authentic(ated): Setting a custom login policy allows you to have control over how users will be authenticated, bringing additional security benefits.
Socialize It: Support your users in logging into social accounts like Instagram, Facebook, or Google from the login page.
How Can I Have A Hot URL Summer?
You're convinced you should leverage My Domain and we love to see it! Follow these steps and start living your best life:
Choose Your Own Adventure: If your My Domain isn't already set up, pick a name for your subdomain and register it! Make sure to check out the availability of a name before trying to register it.
Change It Up: Say you already have My Domain setup (but it's very last season, a.k.a. Spring), or your organization just rebranded itself. Don't fret, you can still get a makeover! In many organizations, your admin can pick a new domain suffix, enable enhanced domains, and remove instance names from some My Domain URLs.
Be Considerate: Do you have any hard-coded links, such as buttons containing your old URL embedded in Visualforce pages, bookmarks, firewalls, etc.? If so, you'll need to manually update those with your new domain.
Here are some fabulous Salesforce resources to help you navigate these considerations:
Get Out There: After your selected My Domain is provisioned by Salesforce, show it off to all your users! But be mindful, you can only test your Salesforce Org's fresh new URLs after you deploy your My Domain -keep this in mind to avoid ✨chaos ✨. Your users can't enjoy access to your My Domain login URL until it's been deployed.
Be Up To Date, And Update: After you deploy a My Domain, your application URLs (and Visualforce pages!) will update. To keep everyone comfortable and feeling good, update your old URLs.
Testing Testing: Use guides, such as this Salesforce resource,to test your My Domain and make sure your rollout is lit.
You Need To Cut It: You've reinvented your My Domain. Now you need to redirect your old URLs to your new My Domain, or delete references to your previous domain.
Winter '22 Is Coming!
Earlier this hot hot summer, Salesforce announced that all Salesforce Orgs will need to have My Domain deployed before Winter '22 is released. Winter '22 is being released in Sandboxes in August 2021 and in October 2021 for production.
If you have not implemented My Domain by these dates, Salesforce will enable it automatically for you based on your Org ID. So why not finish off your summer with a Hot URL moment and show up to the Winter '22 party looking stunning?
(And -just in case! -if or when My Domain is automatically enabled for you, you will have the ability to rename it. To do this, visit the Salesforce Help article for Change Your My Domain Details.
Closing Time
There you go, you got it! Go off and be Salesforce Thee Administrator. Try a new look, practice (instance) self-care, and be the master of your [My] Domain!