"Change management is essential for launches of new or redesigned internal sites or tools. Informing employees about coming changes goes a long way to easing acceptance of new designs. Preparing users can be as simple as sharing early wireframes or previews of the new designs or keeping them up to date with intranet team's progress. Even getting people familiar with the idea of change makes them less resistant to it." – Amy Schade, Nielsen Norman Group
At Fíonta, change management and User Experience (UX) are integral parts of project success. We bring our expertise into these areas into every project so that solutions we develop consider the "people part" of change and in turn are easier for end-users to adopt.
When we can get end-users involved early on in the project, we give them a voice in creating goals and vision for the system and generate user awareness and desire to change. In addition, we use UX work to garner buy-in from and demonstrate immediate value for internal users and teams as part of overall change management and adoption success planning. It's a winning formula!
The Intersection of UX and Change Management
UX's role in adoption and change management is twofold:
First, the new system needs to be user-friendly. If usability is not a priority in the redesign, the system will be challenging to use. A user-friendly experience is critical for easy adoption, and change won't stick without the adoption of the new system.
The second role UX research and design plays in change management is as a vessel for communicating the change. Engaging end-users early and often not only improves the discovery and the design of the solution but also acts as a way to communicate that change is happening. The end-users, whose adoption of the new system is critical for its success, feel that leadership has heard their concerns and values their opinions. These users are now more likely to understand the purpose of the change and feel more open to it.
In essence, we ask the end-users to help us design their new system, which helps to confirm that the design will meet their needs and also fosters their buy-in to the change. We outline some of our common UX activities next.
UX Activities
Every piece of technology that people interact with creates some kind of experience for the person using it. We want to make sure that the experience we deliver with our solutions is a positive one.
We know that creating positive experiences starts by talking to real-life end-users in an effort to design solutions that keep their needs front and center. UX activities we might typically complete on a project include:
Interviews and surveys to capture the attitudes, general preferences, pain points, and desired improvements that translate into design inputs that drive adoption.
Contextual inquiry, where we watch users perform tasks using their current workflows to get a better understanding of how and why users do what they do.
Usability audits where we perform an expert evaluation of an interface to identify issues that negatively impact the ease of use and assess whether recognized usability principles and best practices are in place.
Persona creation to make sure we capture and focus on the end-user.
Journey mapping to understand current processes including pain points, which help us plan for optimization of the user's journey in the future state.
Wireframing and prototyping to define and evaluate the future interface before moving into development. Prototyping reduces the risk of exploring new ideas and ensures that the future vision of the interface aligns with expectations.
Usability testing, where we take what we've built and test it with end-users. We ask people to perform the tasks they need to complete in real life, like pull a report or update a contact, and watch how easily they can perform these tasks. In this activity, we can quickly identify how the interface can be optimized prior to fully launching for everyone.
This critical – but often overlooked – work allows us to anticipate user needs and potential difficulties before we spend money on development. This investment upfront can significantly reduce the amount of time and money needed to fix usability issues later on. It also informs our change management planning.
Change Management Planning
We have found that change management planning and execution are key to adoption success. If your team finds a new system difficult to use, the experience can negatively impact adoption and scuttle the best-laid plans for the technology.
The Fíonta team follows proven strategies that leverage tools from the Association of Change Management Professionals and its Prosci ADKAR™ Methodology. These strategies create the best chance of success for our clients in managing both individual and organizational outcomes while also maximizing ROI.
The ADKAR model moves through five phases to make the overall change successful and help ensure user adoption: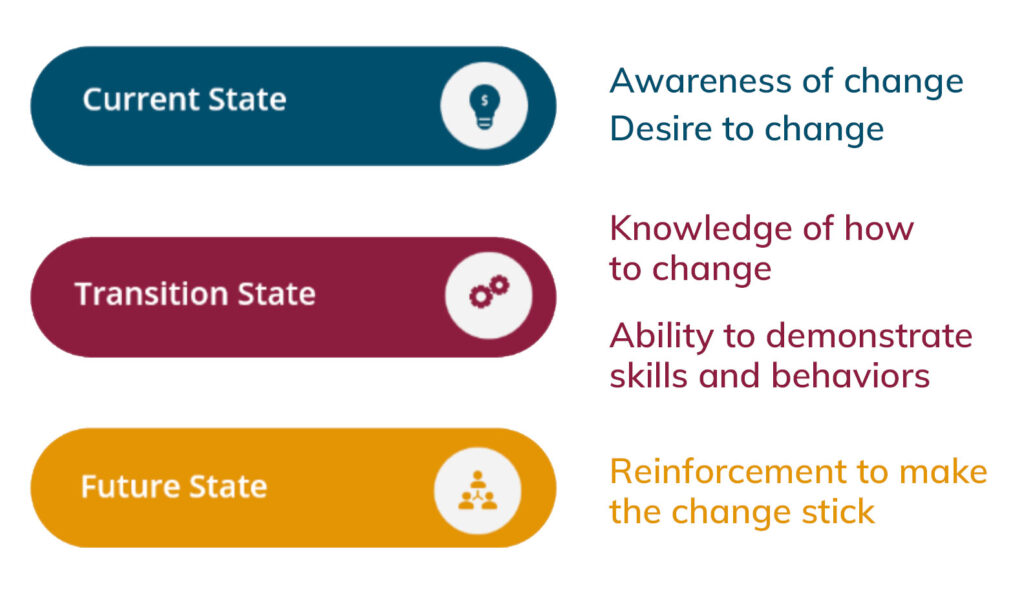 So, what exactly do we do? Our activities during Design and Discovery include the following tasks, each to the extent helpful for a specific client.
Before we start any project, we conduct a goals and vision assessment to understand each client's overall internal alignment.
During the design phase, as the technical team tours legacy systems and conducts stakeholder interviews, we focus on gaining a better understanding of the hoops and hurdles a client team must navigate to complete their tasks.
Our technical team, business analysts, and UX / UI consultants collate all findings and prepare a series of recommendations on how to solve any identified adoption issues and how to move forward through implementation.
We customize the resulting change management plans to each of our clients depending on their organizational openness or resistance to change. Deliverables can include activities like project coaching and consulting, ongoing office hours, and post-launch training, to name a few.
At the conclusion of this process, we have a detailed change management plan that includes specific plans for communications, training, User Acceptance Testing (UAT), and sustainable reinforcement throughout. Ideally, we also have buy-in and excitement from key users and team influencers who are eager to use and evangelize about the new system.
Through our 21 years of experience implementing technology, the key lesson we have learned is that our approach to technical solutioning has to be user-centric to ensure the best possible outcomes for our clients. In the words of pioneering IBM executive L.W. Lynet, "The most effective way to cope with change is to help create it."
Stay tuned for our next blog post focused on change management execution and reinforcement! And we are always happy to answer questions about UX, change management, and planning for adoption success. Reach out today!