If your organization has a thriving volunteer program, you've probably brainstormed ways to channel all that enthusiasm into other forms of support too.
Nonprofits and associations regularly find themselves succeeding in one area of supporter or supporter engagement while leaving room for improvement in others. For many organizations, finding the perfect balance between volunteer and member engagement is a major challenge.
You might focus hard on providing an incredible online user experience, attractive perks, and personalized relationships with your members. However, all that work can go to waste if your supporters simply don't see the value in becoming members and would rather volunteer.
There are a few tried-and-true methods for encouraging your volunteers to become regular members. They also double as best practices more generally for maintaining sustainable engagement strategies across all of your programs. Let's walk through them:
Use integrated management tools for the bigger picture.

Host engaging events for members.

Promote corporate philanthropy options.

Offer new digital and physical perks to members.

Conduct smarter marketing campaigns.

Develop fundraising campaigns that engage everyone.

Stay in touch with your volunteers.
All of these tips involve working to unify your strategies in one way or another. Not only does this kind of focus help your team to better pursue its goals of increasing member engagement, it also provides a better overall experience for your supporters.
Help both your volunteers and your members understand how their support fits into your mission. When incorporated into your engagement techniques, this holistic approach can generate increased engagement overall, as well as encourage more supporters to stay engaged in new ways.
Use Integrated Management Tools for the Bigger Picture
This tip can benefit nearly every operation of your organization. Even the smallest associations and nonprofits rely on digital tools, databases, and services to get off the ground. As an organization grows, the number of these tools grows larger.
By making sure all of your tools speak the same language, you can streamline all of your team's tasks, including volunteer engagement and membership management.
This means you need a strong foundation on which to build your toolkit, though. Start with a powerful CRM system like Salesforce that includes access to a wide range of additional apps and features already designed to work seamlessly on its platform.
Let's say you manage your membership program through Salesforce-native software. A number of major benefits would be immediately apparent:
Automatic reporting to your database and member profiles of new engagement data

Direct access to your data while planning events, structuring prices, and crafting emails

Member, donor, and volunteer profiles with contact details and full engagement histories

Easy access to analytics dashboards to examine engagement and performance

Automation of renewal notices, dues processing, and other logistical tasks
Most importantly, a cloud-based membership management software built to work directly with your database keeps all your activities centralized. Fonteva's guide to comparing membership software is a great launching pad for your research.

Host Engaging Events for Members
Planning and hosting unique events for members is a classic technique for encouraging more of your supporters to make the upgrade. It's particularly effective for attracting more volunteers to join your membership program because they're often already familiar with the quality of events that you host and don't want to feel left out of the fun.
Using integrated database, membership, and event software makes it incredibly easy to manage your event in Salesforce; it also results in an engaging event that's perfectly designed to attract the attention of your members and volunteers.
Consider the following event strategies that encourage more volunteers to become members:
Host unique thank-you events just for members.

Be sure to invite a few of your devoted volunteers who appear to be good prospects for membership upgrades.

Use volunteers to staff your members-only events.

Get them interested by getting them more involved in your organization's operations.

Offer special promotions for volunteers.

Discounted event tickets or reduced membership dues can be an excellent motivator.

Create unique rewards and events just for member-volunteers.

Their support requires extra thanks and can motivate others to get involved in new ways, too.
Consciously incorporating some extra engagement strategies like these into your next event or campaign can go a long way to encourage volunteers to join as members. Even if only a few individual volunteers at a time choose to make the move, they're helping you build a stronger culture of engagement that itself becomes an increasingly powerful motivator.

Promote Corporate Philanthropy Options
Corporate philanthropy is perhaps the single largest missed opportunity for most nonprofits. To encourage their employees to support meaningful nonprofit work and to bolster their image in the community, companies will financially match donations or volunteered time given to eligible nonprofits.
For instance, Fionta takes part in Pledge 1%, a popular global initiative to hardwire philanthropy into corporate policy. There are several major benefits to focusing energy on pursuing corporate matching gifts, volunteer grants, and other philanthropic programs including:
Doubled donations from eligible employees, resulting in a sizable revenue boost

Increased contact with businesses that can result in more structured sponsorships

Deepened relationships with donors who increase their impact with matching gifts

A concrete hours goal for volunteers who want to boost their impact on your work
Those last two points are particularly important if you're looking to engage more volunteers with your membership program. There are often considerable overlaps between an organization's groups of volunteers, members, and donors. Membership dues might be eligible for matching gift funds, and volunteered hours are often matched at generous ratios.
A comprehensive corporate philanthropy strategy can harness volunteer support, boost your revenue, and encourage all of them to get more involved. Start with 360MatchPro's list of the top volunteer grant companies to see if any of your regulars might be eligible.

Offer New Digital and Physical Perks to Members
Offering perks is a tried-and-true method to encourage supporters to upgrade to a membership. The advent and growth of digital management tools has made it even easier to craft tiers of perks and then configure them into your processes.
Rewards and perks that reliably motivate volunteers to join as members include:
Discounted membership dues for volunteers at a certain hour threshold

Free event tickets or merchandise with a membership upgrade

Unique and high-level volunteering opportunities for member-volunteers

Members-only digital content like articles, podcasts, interviews, and videos

eLearning content for members like webinars, lectures, and training courses
The right membership software will be invaluable as you develop perk strategies to target volunteers. Integrated with your CRM, your management software should allow you to easily configure all of these perks and more.
Remember, though, to consider the full scope of your perks and rewards system. Don't build an SEO strategy around members-only content, for instance, and make sure that your rewards should make regular donors and volunteers feel unappreciated.

Conduct Smarter Marketing Campaigns
As you work to attract more of your volunteers to join your membership program, target your marketing strategies to directly support this goal. If you're already using a suite of integrated tools on a platform like Salesforce, this should be fairly simple.
There are a number of techniques you can use to encourage volunteers to upgrade, including:
Use email automation tools

to identify the exact recipients and times best suited for your appeals.

Pardot is a leader in this space

. Its features allow you to gain insights on your volunteer's interactions with your communications, which you can use to better segment and personalize your mailing lists.

Highlight your member perks

while telling a story. Storytelling is essential for making a persuasive appeal for upgrades, so while you should definitely tell volunteers about the member rewards they can receive, it's more important to show how increasing their involvement with your work over time results in more meaningful engagement for both them and you. Use photos, or even better, videos to illustrate the culture of your program.

Focus on the right outlets.

Your volunteers likely engage with one of your digital content outlets much more than your others. For many nonprofits, volunteers tend to interact more with social media pages and updates than with your homepage or blog. Determine where your volunteers

already

are, and then encourage them to engage across all of your outlets and programs.
Many organizations pursue a specific goal like increasing volunteer interest in membership upgrades without taking the time to develop comprehensive marketing strategies to those ends. The variety of digital outlets and tools at your disposal makes this easier than ever, so focus some attention on marketing as your team gets started.

Develop Fundraising Campaigns that Engage Everyone
A comprehensive fundraising campaign that draws from all of your resources and addresses all of your audiences is a smart move for any nonprofit. Peer-to-peer fundraising campaigns are perfect for boosting engagement in this way.
Ask your key volunteers to set up their individual fundraising pages for your campaign, then set them loose. By fundraising on your behalf using their own network of friends, family, and coworkers, you'll dramatically boost your base of support. Consider a few more specific strategies for leveraging your peer-to-peer successes into increased membership sign-ups:
Reward your top volunteer fundraiser with free membership for a year. This will raise interest in your membership program and its perks among all your volunteers.

Host a variety of events across the duration of your peer-to-peer fundraising campaign to engage donors, members, and volunteers all at once.

Use gamification features like scoreboards and badges to foster some friendly competition among volunteers and keep the energy up.

Create a membership drive challenge. See if any of your volunteer fundraisers can secure new members or upgrades for your organization within a certain timeframe.
Explore some top peer-to-peer fundraising platforms for a better idea of the range of features and tools available. These campaigns are perfect for rallying all of your audiences and generating the cross-engagement that encourages volunteers to become members.

Stay in Touch with Your Volunteers
This final tip might sound somewhat self-evident, but many nonprofits need a reminder to take a close look at their practices when it comes to volunteer stewardship.
Of course you value the hard work that your volunteers do for your organization, but most nonprofits end up dedicating more time and energy to their donor stewardship efforts in the long run. While there's nothing inherently wrong with this, your volunteers should never feel neglected.
Developing relationships with volunteers and expressing your gratitude for their contributions is the best way to ensure your appeals for membership upgrades won't go unheard. Follow a few basic best practices of volunteer stewardship:
Make sure individual volunteer engagement is being fully recorded and reported in your CRM the same way a donor profile might be.

Customize your initial volunteer application or questionnaire to include fields for any information that might be useful for stewardship purposes, like their interests.

Use

marketing automation tools

integrated with your database to send personalized thank-you emails every time a volunteer spends time with your organization.

Use your database to identify volunteers who either haven't heard from you in a while or haven't engaged with you in several months. Reach out to restart your conversations.
Stewardship is an essential part of retaining any of your supporters, be they donors, members, or volunteers. Making sure your volunteers feel appreciated and valued as a part of your larger project is essential before you can begin to encourage them to upgrade.
Generating cross-engagement between your volunteer and membership programs is a critical goal for many organizations.
By using the right tools and laying the right foundations of stewardship, it's easy to incorporate new strategies for cross-engagement into your programming. From events to reward systems, marketing campaigns to peer-to-peer style fundraisers, there's a wide range of techniques you can use to get more volunteers excited to upgrade their engagement with your work.
---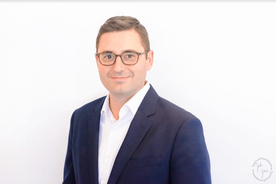 This guest blog was written by Jake Fabbri of Fonteva.
Jake Fabbri is the Vice President of Marketing at Fonteva with over 18 years of experience working in marketing management. He has experience with lead generation, content marketing, marketing automation, and events.