Like Mobile Pathways, Fionta believes in the power of technology to change lives. Their nimble Salesforce experts built Hola Asistente alongside our team, which uses Salesforce and Twilio texting to help marginalized immigrants access justice on their phones. Nothing is more inspirational than working alongside expert partners who are dedicated to making a difference in the lives of so many people.
Mobile Pathways needed to develop a solution that could affordably prioritize case updates and empower clients, especially those without access to a US mailbox, in the face of an unpredictable and complex immigration court system.
01
Staying informed about updates to their court cases can have life-or-death consequences.
Mobile Pathways provides services for immigrants often in dangerous situations and must navigate the immigration process as quickly as possible. If a scheduling update is not received, immigrants can face unfavorable outcomes for circumstances outside their control.
02
Many immigrants cannot afford legal services and lack access to a US mailbox for receiving legal notifications.
In many situations, immigrants cannot access typical notifications from the court system, especially paper mail to a US mailbox. Attaining financial resources for legal representation is often also out of reach, leaving immigrants needing more guidance.
03
The immigration court frequently changes court dates and times without prior notification.
The Immigration Court does not ensure consistency or transparency in their appointment schedules, making it extremely difficult for immigrants to plan and prepare for their court appearances, as they may have to adjust to changes on short notice.
To meet the immigrant community's needs, Mobile Pathways leveraged SMS technology and Salesforce capabilities to monitor websites, send SMS alerts about case changes, and share free informational videos from immigration experts.
Mobile Pathways established partnerships with immigration-based nonprofits and attorneys to ensure culturally appropriate and multilingual information was curated to match the diversity of the immigrant community. Free informational videos from immigration experts were shared in multiple languages through the platform, providing access to vital knowledge that could aid them in navigating the complexities of the immigration system.
The implementation of constant monitoring of court websites enabled real-time SMS alerts for case changes. The sign-up process was simplified, requiring only a mobile phone number and an Alien Registration Number (A-Number).
By combining these elements, Hola Asistente aimed to empower immigrants, provide timely updates, and support their journey through the immigration system to stay informed through an accessible solution that did not require access to a US mailbox.

Connect immigrants to important information at the right time
Information disseminated through Hola Asistente was tailored to the specific needs of diverse immigrant populations. The platform delivered relevant content in multiple languages by leveraging partnerships, facilitating better understanding and engagement.
Provide accessible resources, create positive outcomes
Constant monitoring of court websites enabled Hola Asistente to identify any logistical updates or modifications promptly. Through SMS alerts, immigrants receive real-time notifications about these changes, empowering them to adapt their plans accordingly and stay informed throughout the process.
Since launching, Hola Asistente has already been tracking over 32,000 cases. Adoption is quick since it is free to use and only requires two pieces of information to sign up: a mobile phone number and an Alien Registration Number ("A-Number").
With this information, the Mobile Pathways Salesforce instance pings existing government websites to retrieve and send vital case information directly to the hands of immigrants nationwide.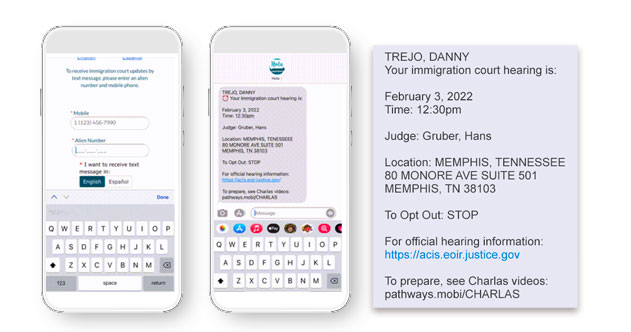 Our resourcing team staffs each project with care. Team members involved in this initiative included the following:
A project manager oversees all aspects of a project, including budget, schedule, scope, and risk management. They work closely with the technical lead to manage and escalate risk and act as the main point of contact with clients and internally, providing regular updates on the project's progress.
Technical architects are senior advisors specializing in functional, platform, and integration architecture. They communicate technical solutions and design tradeoffs to clients, provide a delivery framework, and oversee the design and development of complex solutions, ensuring the technical soundness and integrity of the final product.
A business analyst works to understand a client's business processes, identify needs, and translate requirements into user stories. They document current processes, create requirements, and collaborate with the technical lead or solution architect.
The data architect is responsible for data analysis, designing schemas, managing data migrations, and integrating complex data. They work with the client and internal project team, create data mappings, configure data sources, test scripts, ensure adherence to the migration plan, and document changes and deviations from the original plan.