Fíonta, a pre-eminent technology consulting company with deep expertise providing Salesforce solutions for associations and Association Analytics, the leading provider of business intelligence and data analytics to the association industry, have announced a partnership to bring the power of analytics and Salesforce to the association community.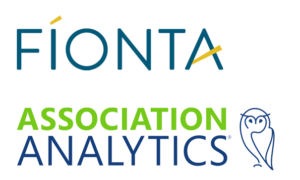 "We've been watching Association Analytics establish itself as the leader in analytics for associations over the past few years," said Mark Patterson, CEO of Fíonta. "When our clients need analytics solutions that work across multiple association technology platforms, we confidently recommend that they talk to the team at Association Analytics. They're out there educating the market and helping associations understand how to put analytics to work to help them uncover insights and operate more effectively," said Patterson.
"We're excited to formalize the partnership with Fíonta as we've been working together with mutual clients informally for some time now," said Mark Lowry, President and Chief Revenue Officer of Association Analytics. "Fíonta not only has over two decades of experience delivering technology solutions to the association community and staff with association backgrounds and Salesforce expertise but their culture and values are closely aligned with ours. We can rely on Fíonta to help our association clients achieve their technology goals," Lowry concluded.

About Fíonta
Founded in 2001, Fíonta has provided technology services to over 1,000 associations and nonprofits. A Salesforce.org Premium Partner, Fíonta has expertise migrating associations to Salesforce as well as implementing and extending Fonteva, an AMS built on Salesforce. Staff are certified in Nonprofit Cloud, Experience Cloud, Pardot, Marketing Cloud, Service Cloud, and more. Fíonta's UX and development team specialize in human-centered design methodologies, support for Drupal and WordPress websites, and data integration with Salesforce.

About Association Analytics
Founded in 1999, Association Analytics (A2) has been working with associations and their data for more than 20 years. Started as a services company, A2 evolved into a product company when we recognized the majority of our customers were seeking the same thing— easy access to all their data to generate insights and make data-informed decisions. We launched our data analytics platform, Acumen, in 2018 to help associations bring all of their data together in one place to visualize, analyze and take action.