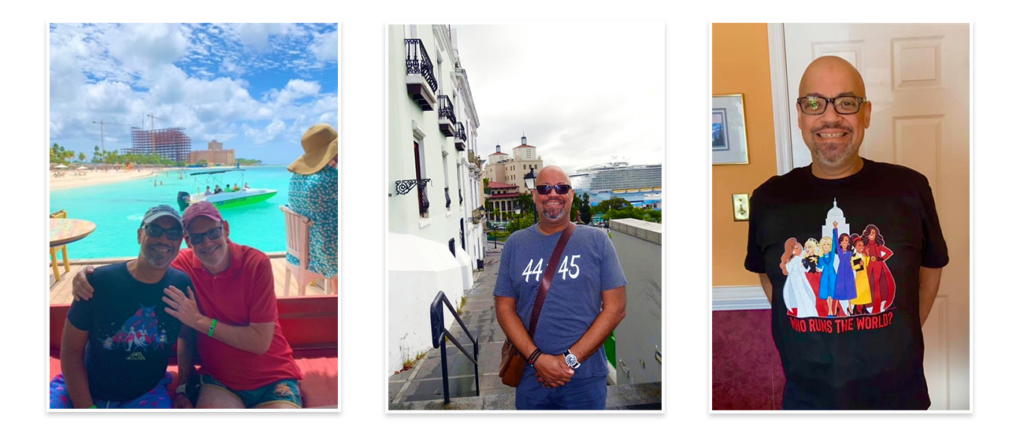 You've been with Fíonta since late 2020. What attracted us to you?
Initially, I was contacted directly by a friend/former coworker with whom I worked while at a recruiting firm. He knew me, my background, and Fíonta's needs for my position since it was a direct report to his daughter's position. But then, the more I learned about Fíonta as a firm as I explored the job post, the more excited I became, realizing Fíonta, as a whole, felt like a "dream come true" company for which to work!
Tell us about your job here at Fíonta?
As a bookkeeper and a member of the operations team, I feel like I am incredibly lucky to be a part of a firm that has the opportunity to work directly and indirectly with almost everyone, including staff, clients, and vendors. I work with some of the most critical and hands-on areas, whether that involves payroll for the staff or client invoicing, where I work with both the clients and project managers or vendor invoicing, which has me working closely with almost all of our vendors. That does give me an incredible view of Fíonta on many levels, and I find that incredibly fulfilling.
You stepped into big shoes after our beloved previous bookkeeper Peggy retired! What were your first few months at Fíonta like?
Peggy was such a joy! Even though we only got to work together directly for roughly three weeks before she officially retired, she did an amazing job preparing me for my new journey ahead. Don't get me wrong … that road, at least for the first few months, was far from smooth, but I felt she filled my arsenal with almost everything I would need to succeed. And with the very patient help of all of the rest of this Fíonta team, with a very special shout-out to the gracious patience of Katy Burns, I walked into each new day knowing I was better prepared for today than I was yesterday. I knew I would have the space to learn things today that would help me be even better tomorrow. And that, by the way, hasn't changed at all since Day One.
What are some of your proudest professional accomplishments?
I think there would be two. One would be when I could bring in a skill set from one of my prior work worlds to my new position, which allowed us to automate and streamline the way we process client invoices. It took a cycle or two to get it right, but it cut the time it took to get those invoices prepped and out almost in half, even while our business was growing and, thus, we were processing even more invoices than the prior month. The other, which would be more internal to Fíonta, was being allowed to feature fun and engaging daily facts during both Black History Month and LGBTQIA+ Pride Month, which I've now been able to participate in both 2021 and 2022. Both are part of my identity, and it was fulfilling to be able to share both with the team.
Which of Fíonta's core value(s) strikes closest to home for you? Why?
Truthfully these core values, in their totality, are what made me want to become a part of the Fíonta team. For my first "adult" job out of college, I was the VP for a company that insisted each team member read EVERY job description for every role in the company. Every job description ended with the same line – "Whatever needs to be done, do it!" Learning that early on created a work ethic in me that persists to this day. It also said a lot about how that company valued team and teamwork. But even more than that company (way more!), I feel like Fíonta, to its literal core, constantly lives for and thrives upon these ideas of "TEAM" and "TEAMWORK" so that we ALL be most successful.
Where do you see yourself in a year?
I would have to reflect back on our 5th core value – "Always Be Improving." In my role as a member of the operations team, the best way I can be an asset to Fíonta is to stay focused on this core idea. My focus will always be on remaining nimble, ready, and willing to meet each new challenge as it's presented without taking my eyes off the already existing challenges of this role. This focus will not only help me to be more successful —it is my hope and my expectation that my continued success and improvement in this role will also help Fíonta to continue to be more successful.
Outside of work, how do you like to spend your time?
I grew up in a service-oriented family. So outside of work, I can almost always be found seeking ways to help others. I am constantly looking for ways to help and service those around me. Whether it's via the Leadership Team at my church, volunteering to help organize for North Carolina's Pride Parade, helping neighbors with side projects, or serving in our monthly food drive partnership with the Food Bank of Central and Eastern North Carolina. And when I am not helping others, you can find me either walking my neighborhood or around downtown Durham, hiking along the Eno River, indulging in my love of animation, or traveling around the world with my husband, David.
Farmhouse or urban loft?
1,000% urban loft – I grew up in the country, sometimes working on my uncle's pig and cattle farm, and I definitely don't care ever to go back to that.
Cream cheese or buttercream frosting?
Buttercream frosting – anything, really, as long as it is not fondant.
Basketball or football?
I am not a fan of professional sports, but I really do LOVE college-level sports. basketball over football, but only by the smallest of margins…and TARHEELS all the way for both!
Adventurous or relaxing vacation?
I prefer to enjoy a relaxing vacation with at least one or two adventurous excursions if and when possible. We love spending a relaxing week at our timeshare in Aruba every couple of years, but on our last visit, we spent one of our days off-roading in an ATV. We both love Aruba so much, which allowed us to see parts of the island we'd never taken time to see previously, which just goes to show there's always more to see, experience, and learn in this life, no matter where you are!
Favorite nut butter?
All Natural Creamy Peanut Butter, especially nibbling on a great big spoonful straight out of the jar!