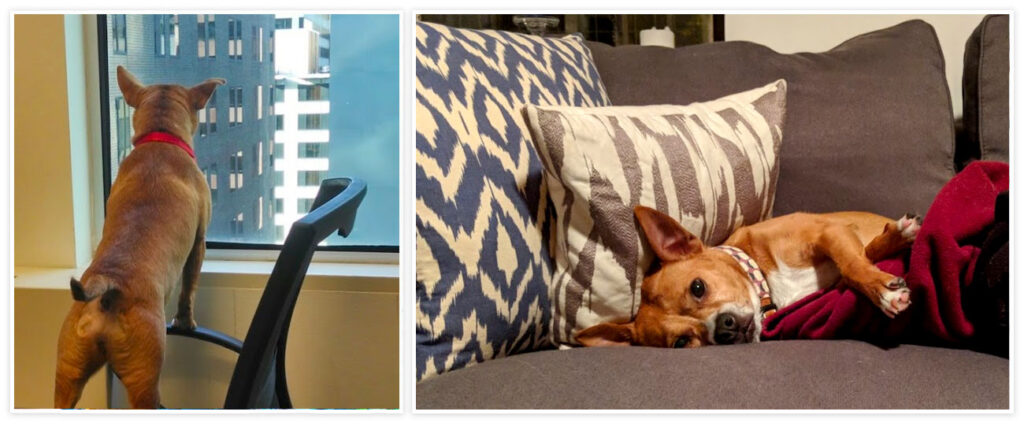 Georgie! You're our first non-human interview. Tell us how many years (dog and human) you've been a part of the Fíonta family.
Thank you so much for having me as the first non-human interviewee! It's a real honor!! I've been part of the Fíonta family for almost five years (36 dog years!) – since I was only about two years old! So, the Fíonta family is the only family I really know.
Prior to acting as the DC-area full-time Fíonta mascot, what were your daily responsibilities?
I take my responsibilities as the DC-area Fíonta mascot very seriously, and with that, I've tried to stay true to myself and make the duties of my life those of my mascotting. I absolutely must sleep 12-14 hours a day, lounge for 8-10 hours, and clean my paws for 1-2 hours. Recently, I've been focusing some of the remaining time on trying to murder a fluffy ball that squeaks when my best friend, Deborah, holds it. I don't know how she does it! Otherwise, I focus my remaining energy on trying to find all the crumbs that may have fallen on the floor, and I need a good long walk every day unless it's raining, as my clean paws just cannot get wet!
Which nonprofit gets your doggie seal of approval? Bonus treats if they're a Fíonta client 🙂
I love the DC-based nonprofit City Dog Rescue since that's how I met my best friend in the whole wide world, Deborah!! I also really like the City Lights Foundation of Oklahoma. It's an organization that helps homeless humans. I'm hoping they will help those homeless humans find their best friends just like I did when I was homeless.
If you could sniff anybody's butt – living or dead – whose would it be?

Bo Obama – my future BFF
OMG. I would just die if I could smell Bo Obama's tuchus. Like, he's the most fancy and famous DC dog, and I really respect how he handled himself on the White House lawn. Now that's a dog who knew how to lead with intelligence and respect for dogocracy.
Which Fíonta core value(s) make you stand on your hind legs and dance?
Something so difficult for humans and dogs is assuming pawsitive intent. Even though my original owners gave me up, and that was so scary and hard for me, I am still able to approach all humans as new possible best friends. After all, there's a likely chance that any human will give me a treat, so why not pay attention to all humans the same way and assume I will get a treat no matter what!
What's Georgie doing professionally a year from now?
I hope to be increasing my sleep time from 12-14 to 14-16. After all, I am getting on in years – I'm almost 8! It's time for me to really start enjoying my life and cut down on my non-sleeping activities. With that, I'm hoping my best friend Deborah will work less and spend more time with me on the couch and on long walks!
Outside of business hours, what activities do you most enjoy?
I love going on long walks, but recently, it's just been so hot! I can only walk for a little. I can't wait for the fall when I can go on longer walks! Plus, it gets dark out earlier, which helps with my sleeping.
Wet or dry (food)?
Lamb and Quinoa Dry Food. My bestie Deborah puts it into a ball, and I chase it, and food comes out as I throw it with my mouth! It's so fun, and I get to feel like I'm hunting!
Benji or Lassie?
Lassie. My doggie grandma talks about watching Lassie as a child and, for some reason, thinks I can do the same things Lassie could do, like communicate with humans. She really doesn't get the point of being a dog, which is to do as little as possible and get fed.
Ball or stick?
BALL. Especially when they squeak. But truly, after a few times running after it, I'm all like – you get it this time.
Mom working from home or alone time?
Is Mom at home? I'm dead asleep all day.
Preferred Kong filler?
Peanut butter. No cream cheese. No yogurt. Honestly – I'll eat anything edible.