Major nonprofit, National Alliance on Mental Illness (NAMI), embarked on a project to create viable and robust online communities for members and affiliates. Beyond simple account self-service, members can renew membership, change chapter affiliation, donate securely online, and log educational volunteer documentation. Deep integration with NAMI's CRM means that all engagement is recorded to the member record and can be included in impact reporting. Extending this self-service concept to affiliates, NAMI also rebuilt their tool NAMI360 for state and affiliate chapters so these employees and volunteers can manage their local affiliate via access to NAMI National's CRM data. In this case-study style webinar, NAMI and Fíonta will discuss the genesis of this project, how the decision was made to pursue both a software solution and custom development, and how its two online communities have transformed the way members and NAMI team members self-manage, along with tips for planning a similar project.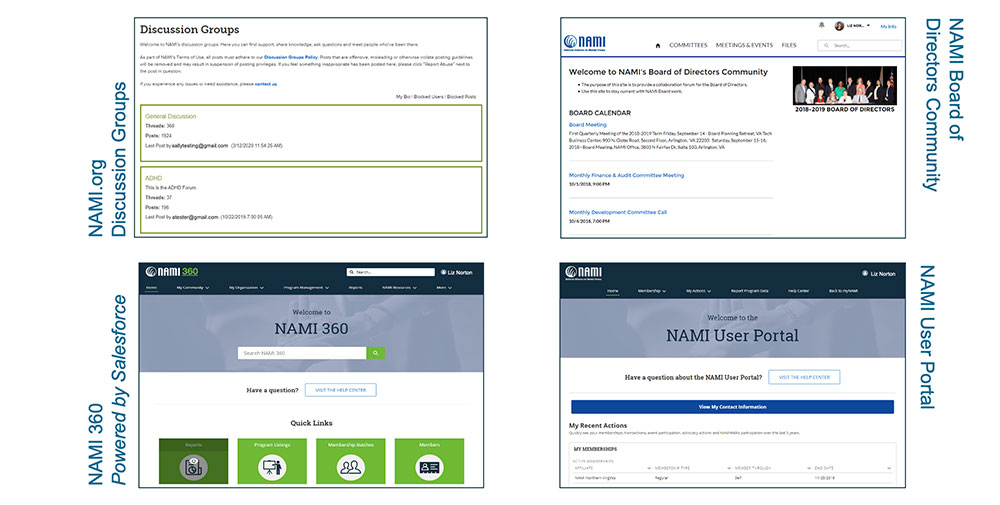 In this 45-minute pre-recorded webinar, senior Salesforce consultant Katie Jones and Liz Norton from National Alliance on Mental Illness discuss the importance of online communities, how to build and nurture them, and how NAMI uses Salesforce Community Cloud to serve chapters, affiliates, and its Board of Directors.
Attendees will leave with an understanding of the benefits of online communities for members or other audience groups and be able to convey them internally and to higher-ups, along with concrete steps to plan and price such an initiative.
The recorded webinar is available to watch following submission of the form below.