Databases can be really scary for nonprofits like ours. We don't have dedicated database analysts on staff, so this kind of project requires a lot of trust. That's one great thing about Fíonta—you can trust them with your data and your nonprofit's future.
Jessica Kennedy
Chief of Staff
Outdated and costly systems, low user adoption, underperforming business processes, and unhygienic data challenged Mental Health America.
01
Outdated and costly systems limit operational success and effective stakeholder data management
MHA's highly customized versions of LCRM and LO were no longer cost-effective and would become obsolete in June of 2022, necessitating a migration to a new CRM. The systems did not scale with the organization or complement other modernized platforms adopted across the organization.
02
Poor user adoption of outdated tools leads to a rise in technical debt
Historically, MHA faced challenges with user adoption of LCRM, impacting the organization's ability to leverage the CRM's full potential. The technical debt incurred by the solution staying more often on the shelf instead of in the hands of MHA staff created an imbalance in ROI.
03
Legacy systems caused neglected data hygiene practices
One of the significant pain points Mental Health America (MHA) faced was dealing with data that was generally unreliable, inconsistent, and duplicated. The poor user adoption of LCRM further compounded data integrity issues, disrupting many processes that relied on clean data, like decision-making processes that directly impact stakeholder engagement, ultimately furthering their mission of promoting mental health and wellness.
Fíonta conducted a comprehensive discovery process to understand Mental Health America's (MHA) specific needs. Salesforce Nonprofit Success Pack (NPSP) was configured to cater to contact management, affiliate management, donor management, and external communications, aligning with MHA's updated business processes giving MHA a 360-degree view of stakeholders for improved engagement.
Integration with key third-party systems like Classy, Eventbrite, Salsa Engage, and Shopify enhanced fundraising, event management, and online engagement. Data was efficiently deduplicated before migrating from LCRM to Salesforce, ensuring a clean and accurate dataset.
To ensure ongoing data hygiene, staff members were trained on best practices, and measures were implemented within NPSP to maintain data cleanliness and prevent duplication. These initiatives support MHA in making informed decisions, improving operational efficiency, and advancing its mission of promoting mental health and wellness.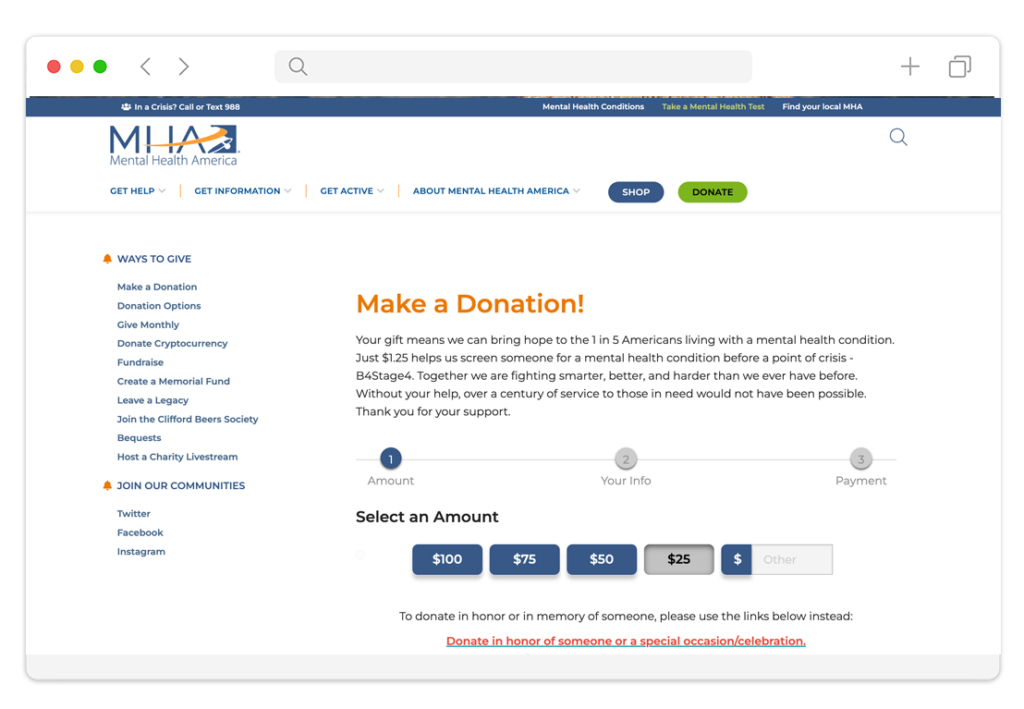 Comprehensive stakeholder view
Staff now have a 360-degree view of each stakeholder, enabling more effective engagement and personalized interactions.
Updated business processes supported by functional technology
MHA empowered staff with the tools necessary to meet expectations set by new business processes.
Third-party integrations
Critical systems like Classy, Eventbrite, Salsa Engage, and Shopify were integrated, enhancing MHA's capabilities for fundraising, event management, and online engagement.
Mental Health America staff now have a 360-degree view of each stakeholder. Fíonta integrated several third-party systems for batch gift processing and document generation. Data was efficiently deduplified and transformed before migration from Luminate CRM to Salesforce. An emphasis on data hygiene in training and within the NPSP instance itself helps keep data clean and avoids duplication.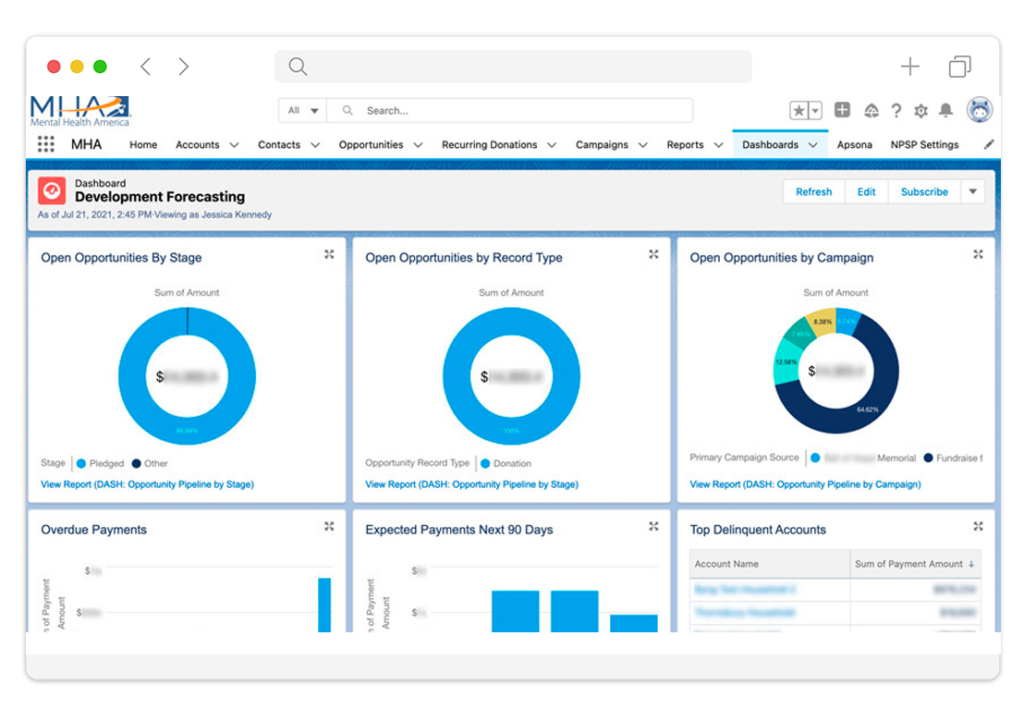 Our resourcing team staffs each project with care. Team members involved in this initiative included the following:
A project manager oversees all aspects of a project, including budget, schedule, scope, and risk management. They work closely with the technical lead to manage and escalate risk and act as the main point of contact with clients and internally, providing regular updates on the project's progress.
Technical architects are senior advisors specializing in functional, platform, and integration architecture. They communicate technical solutions and design tradeoffs to clients, provide a delivery framework, and oversee the design and development of complex solutions, ensuring the technical soundness and integrity of the final product.
The data architect is responsible for data analysis, designing schemas, managing data migrations, and integrating complex data. They work with the client and internal project team, create data mappings, configure data sources, test scripts, ensure adherence to the migration plan, and document changes and deviations from the original plan.
A business analyst works to understand a client's business processes, identify needs, and translate requirements into user stories. They document current processes, create requirements, and collaborate with the technical lead or solution architect.
A configuration specialist configures a client's Salesforce instance based on a technical lead's solutions to client requirements. They can specialize in different areas and are responsible for building functionality, configuring standard and custom Objects, creating automations, customizing layouts and permissions, implementing apps, and performing low-complexity data import/export.