The redesign and rebuild of Morningside's website makes it easy for teachers and other users to find our Teachable Moments, facilitating Social and Emotional Learning (SEL) and the use of Restorative Practices (RP) with students.
Laura McClure
Communications Coordinator
An outdated Drupal 7 CMS and complex configuration hindered user experience, making it difficult for Morningside staff to manage content and locate valuable educational resources across devices.
01
Outdated CMS and complexity
The Drupal 7 configuration was hard to manage, and the site's outdated design rendered poorly on mobile devices, leading to a poor user experience across
devices.
02
Inefficient search functionality
The sitewide search did not work well, making it challenging for users to find related lessons and content of interest.
03
Limited access to valuable resources
Valuable "Teachable Moments" lessons were challenging to discover, reducing their accessibility and shareability for educators.
Fíonta completely rearchitected and redesigned the website, replacing Drupal 7 CMS with Drupal 8 CMS, enhancing functionality and ease of use. A filtered resource library was introduced for Morningside's "Teachable Moments" lessons, making them more readily accessible.
Through an improved sitewide taxonomy and search, Morningside could accomplish something they couldn't through Drupal 7 CMS – contextual access to articles and lessons that accompanied lesson plans and related content.
Additionally, we styled the Donate page to match the fresh new website. We created an email template design to emphasize the brand and improve communication with the audience using Marketing Cloud Account Engagement (formerly Pardot).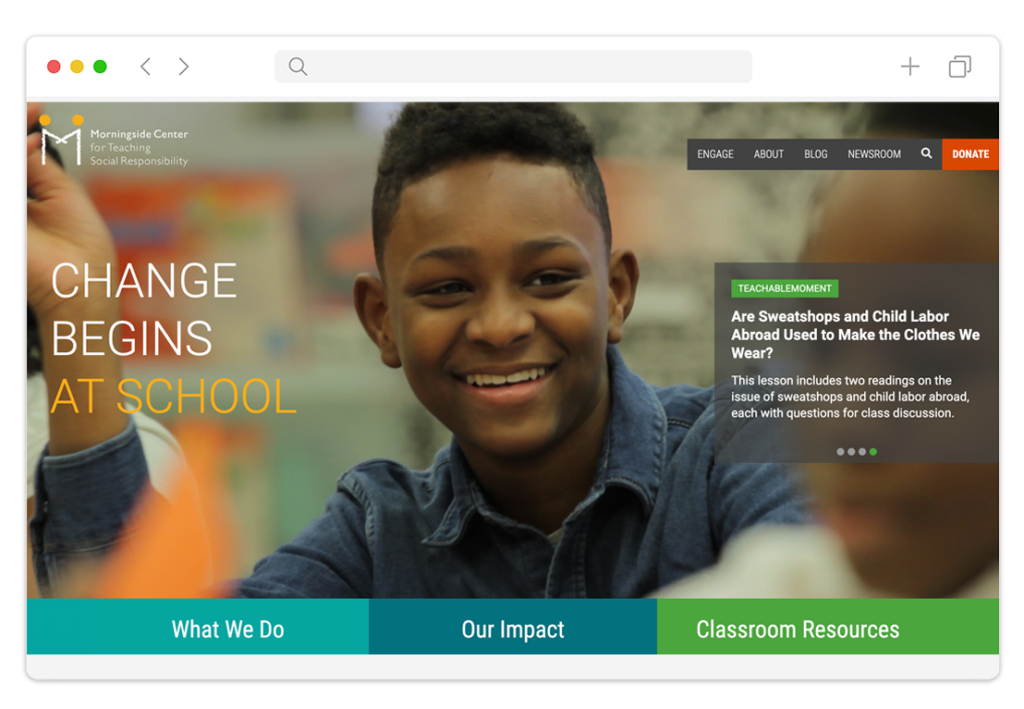 Modern CMS and enhanced functionality
The Drupal 8 CMS provided Morningside with additional functionality and ease of use, streamlining content management for their staff.
Filtered resource library
The improved taxonomy and search enabled a filtered resource library for "Teachable Moments" lessons, making them accessible and related to relevant content.
Consistent branding and communication
The updated website design was extended to the Donate page and email templates, creating a consistent look and feel to reinforce the organization's brand and improve engagement with the audience.
Fíonta built the rearchitected, redesigned site on the modern Drupal 8 CMS, offering Morningside additional functionality and ease of use.
A filterable resource library of Morningside's Teachable Moments lesson plans means those important assets are now accessible, shareable, and presented with contextual, related lessons or articles due to improved sitewide taxonomy and search.
We styled Morningside's Donate page on Network for Good and created a new email template design to match the new website and emphasize the brand.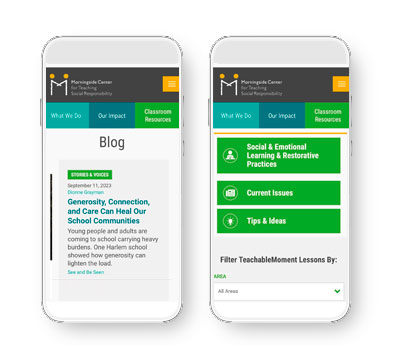 Our resourcing team staffs each project with care. Team members involved in this initiative included the following:
A project manager oversees all aspects of a project, including budget, schedule, scope, and risk management. They work closely with the technical lead to manage and escalate risk and act as the main point of contact with clients and internally, providing regular updates on the project's progress.
A business analyst works to understand a client's business processes, identify needs, and translate requirements into user stories. They document current processes, create requirements, and collaborate with the technical lead or solution architect.
A configuration specialist configures a client's Salesforce instance based on a technical lead's solutions to client requirements. They can specialize in different areas and are responsible for building functionality, configuring standard and custom Objects, creating automations, customizing layouts and permissions, implementing apps, and performing low-complexity data import/export.
A Drupal developer is an expert in configuring, developing, and styling websites using the Drupal CMS. With a vast array of knowledge in coding languages, the Drupal developer transitions designs into new functionality, customizing Drupal modules and sometimes building custom code.
User Interface (UI) designer
A UI designer brings technical requirements to life by creating beautiful visuals for any web-based interface. They will work closely with developers and User Experience (UX) consultants to ensure the designs meet all requirements, project scope, and accessibility standards and represent the organization's unique brand.
Technical architects are senior advisors specializing in functional, platform, and integration architecture. They communicate technical solutions and design tradeoffs to clients, provide a delivery framework, and oversee the design and development of complex solutions, ensuring the technical soundness and integrity of the final product.