I have been doing this line of work for over 25 years. I have never encountered such an exceptional firm as Fíonta...we had an aggressive timeline, but at no time did Fíonta make it feel like it was aggressive.
Rich Bradway
Digital Innovation Officer
​​NRM faced operational inefficiencies and data inaccuracies due to manual processes and disconnected systems, necessitating the integration of Salesforce NPSP, third-party tools, and standardized practices to streamline operations and improve data accuracy.
01
Inefficient, manual processes consume operational resources
NRM's existing processes were inefficient and often required significant manual intervention, leading to delays, errors, and a drain on staff resources. Too many manual touchpoints in various operations resulted in bottlenecks and increased the likelihood of data inaccuracies.
02
Disconnected systems lead to inaccurate data
NRM operated with multiple systems and tools that were insufficient in communication and interoperability. This lack of integration resulted in missing or inaccurate data, hampering decision-making. The management of donors and memberships lacked standardized practices, leading to inconsistent engagement with supporters.
03
Lack of unified practices integration complexity
Integrating Salesforce NPSP with existing systems and implementing third-party tools required a thoughtful approach to ensure smooth data flow and user adoption. Shifting to new systems and processes needed staff and stakeholder buy-in, training, and a seamless transition to ensure successful adoption.
Fíonta has crafted a comprehensive plan aimed at propelling the museum toward enhanced donor engagement and operational efficiency. The plan focused on streamlining NRM's processes to eliminate inefficiencies, reducing manual data entry, and implementing automated workflows.
Seamless integration of Salesforce NPSP with existing systems ensured real-time data synchronization, addressing issues caused by manual data transfer. Standardized engagement practices were introduced to establish consistent communication with donors and members.
To facilitate user adoption, Fíonta incorporated comprehensive training and user support. The strategic integration of third-party tools such as iWave, Elevate, and ACME enhanced donor interactions, membership management, and ticketing, while the Patron Portal empowered patrons to manage their engagements effortlessly, fostering stronger connections.
Furthermore, implementing Marketing Cloud Account Engagement (MCAE) enabled audience segmentation and personalized communications, significantly improving NRM's outreach effectiveness.
Efficiency enhancement
Streamlining processes to reduce manual tasks, eliminate inefficiencies, and introduce automated workflows, improving operational efficiency.
Seamless integration
Ensuring a smooth integration of Salesforce NPSP with existing systems to enable real-time data synchronization and eliminate errors from manual data transfer.
Empowering staff
Prioritizing user adoption by providing comprehensive training and user support to staff, ensuring a seamless transition to new systems and processes.
NPSP empowers staff to manage donor gifts and museum memberships better. Additionally, the new Patron Portal allows patrons to see and update their engagement with NRM all in one place. These improved modernization allow staff to utilize features of MCAE for audience segmentation and personalized communications.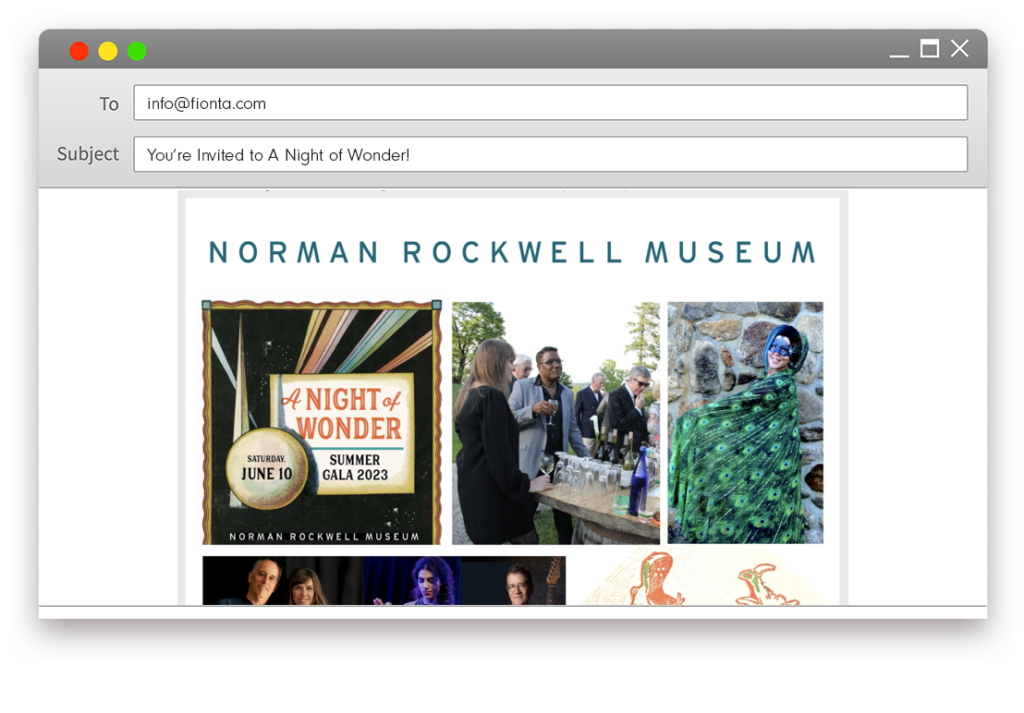 Our resourcing team staffs each project with care. Team members involved in this initiative included the following:
A project manager oversees all aspects of a project, including budget, schedule, scope, and risk management. They work closely with the technical lead to manage and escalate risk and act as the main point of contact with clients and internally, providing regular updates on the project's progress.
A Salesforce developer builds and customizes applications with Salesforce-specific features, including Apex, Visualforce, and the Lightning Component Framework. They also use Salesforce APIs to integrate with other systems.
A business analyst works to understand a client's business processes, identify needs, and translate requirements into user stories. They document current processes, create requirements, and collaborate with the technical lead or solution architect.
The technical lead is responsible for implementing the project solution and coordinating technical processes with clients and the project team. They manage the design, internal and external testing, and deployment activities to ensure deliverables are on schedule and meet quality standards. They may also serve as a solution architect. The technical lead works closely with project managers to manage and escalate risk and is one of the primary contact points with the client.
A configuration specialist configures a client's Salesforce instance based on a technical lead's solutions to client requirements. They can specialize in different areas and are responsible for building functionality, configuring standard and custom Objects, creating automations, customizing layouts and permissions, implementing apps, and performing low-complexity data import/export.
The data architect is responsible for data analysis, designing schemas, managing data migrations, and integrating complex data. They work with the client and internal project team, create data mappings, configure data sources, test scripts, ensure adherence to the migration plan, and document changes and deviations from the original plan.