They followed our lead when it came to dependencies, complexities, and details and utilized  their expertise and knowledge of Salesforce to help us make connections and recommendations.
Hannah Wolff
Digital Solutions Manager
The challenges stemming from inefficient program tracking left PFI unable to adequately address client needs, as disparate data sources made it difficult to assess the true impact of their programs on the community. Additionally, connectivity issues further exacerbated these difficulties, decreasing reporting accuracy and slowing response time.
01
Inefficient program tracking
PFI faced a series of challenges in their efforts to manage and track programs effectively. These difficulties ultimately resulted in a lack of comprehensive reporting regarding the impact of these programs on the community.
02
Scattered and siloed data
The primary needs of PFI revolved around establishing a centralized system for program management and improving data collection and reporting capabilities. PFI struggled to manage and track its programs without a centralized system. Cases were documented in spreadsheets and local files, which made it challenging to generate comprehensive reports on the overall impact of the ministry.
03
Connectivity issues hindered accurate reporting
Due to unreliable internet access, caseworkers in the field struggled with inefficient data collection and reporting methods, often facing delays and connectivity issues that further compounded the challenges of managing PFI's programs effectively.
To address these needs, PFI required a solution to streamline program management, enhance data collection, and facilitate seamless communication between field workers and the central office.
The solution implemented by PFI involved leveraging the Nonprofit Cloud Program Management Module and an offline data collection tool called TaroWorks. These tools enabled the optimization of data collection and management processes.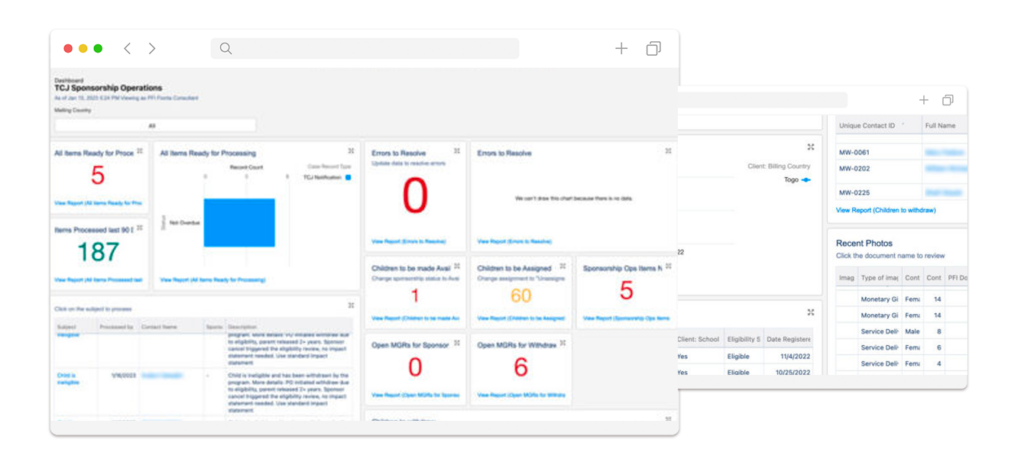 Automate, connect, and optimize solutions
The integration between TaroWorks and Salesforce streamlined operations, automating workflows and creating transparency in program management.
Offline data collection
Caseworkers utilize offline data sync while in the field, quickly connecting with the international office and producing more accurate and efficient reports.
Caseworkers in remote locations, such as Togo and Malawi, can now collect data offline using conditionalized forms provided by TaroWorks. Once the caseworkers regain internet connectivity, the collected data is automatically synced with Salesforce, PFI's chosen platform. This offline data collection capability has significantly improved the efficiency and accuracy of data gathering.
Additionally, the integration of Salesforce allows PFI to automate workflows by creating tasks for caseworkers and other staff members, thereby streamlining their operations.
As a result, PFI can now efficiently and accurately report on program data, providing a comprehensive overview of their programs' impact on restoring prisoners and integrating them into society. The reports generated by this improve data collection and automation span many other areas of the organization, especially in the ability to prove the efficacy of their programs to potential donors.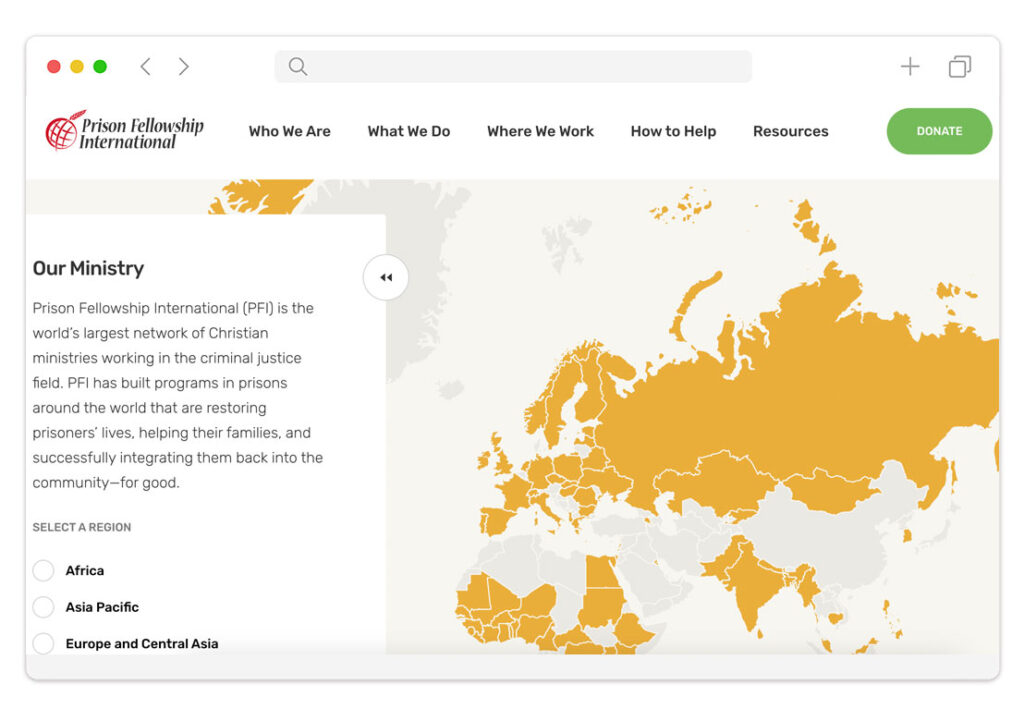 Our resourcing team staffs each project with care. Team members involved in this initiative included the following:
A project manager oversees all aspects of a project, including budget, schedule, scope, and risk management. They work closely with the technical lead to manage and escalate risk and act as the main point of contact with clients and internally, providing regular updates on the project's progress.
The technical lead is responsible for implementing the project solution and coordinating technical processes with clients and the project team. They manage the design, internal and external testing, and deployment activities to ensure deliverables are on schedule and meet quality standards. They may also serve as a solution architect. The technical lead works closely with project managers to manage and escalate risk and is one of the primary contact points with the client.
Technical architects are senior advisors specializing in functional, platform, and integration architecture. They communicate technical solutions and design tradeoffs to clients, provide a delivery framework, and oversee the design and development of complex solutions, ensuring the technical soundness and integrity of the final product.
The data architect is responsible for data analysis, designing schemas, managing data migrations, and integrating complex data. They work with the client and internal project team, create data mappings, configure data sources, test scripts, ensure adherence to the migration plan, and document changes and deviations from the original plan.
A configuration specialist configures a client's Salesforce instance based on a technical lead's solutions to client requirements. They can specialize in different areas and are responsible for building functionality, configuring standard and custom Objects, creating automations, customizing layouts and permissions, implementing apps, and performing low-complexity data import/export.