Salesforce managed services
As your organization grows, your Salesforce environment should change, too.
Our dedicated team of Salesforce Solutions Success Managers specializes in strategic ongoing support and will guide your journey as you maximize your investment in Salesforce. They will work hand in hand with your organization to enhance the system to meet your changing business needs, troubleshoot issues as they arise, and prepare your technology for upcoming events, accounting audits, or membership renewal periods.
Our feature-rich complexity-based offerings meet the needs of different organizations with systems of varying complexities to ensure you have the skills to meet and measure key performance indicators, support a productive and happy workforce, and ensure systems remain free of technical debt. No matter the complexities of your system or the kind of support you need, Fíonta Accent has the right team to support your organization.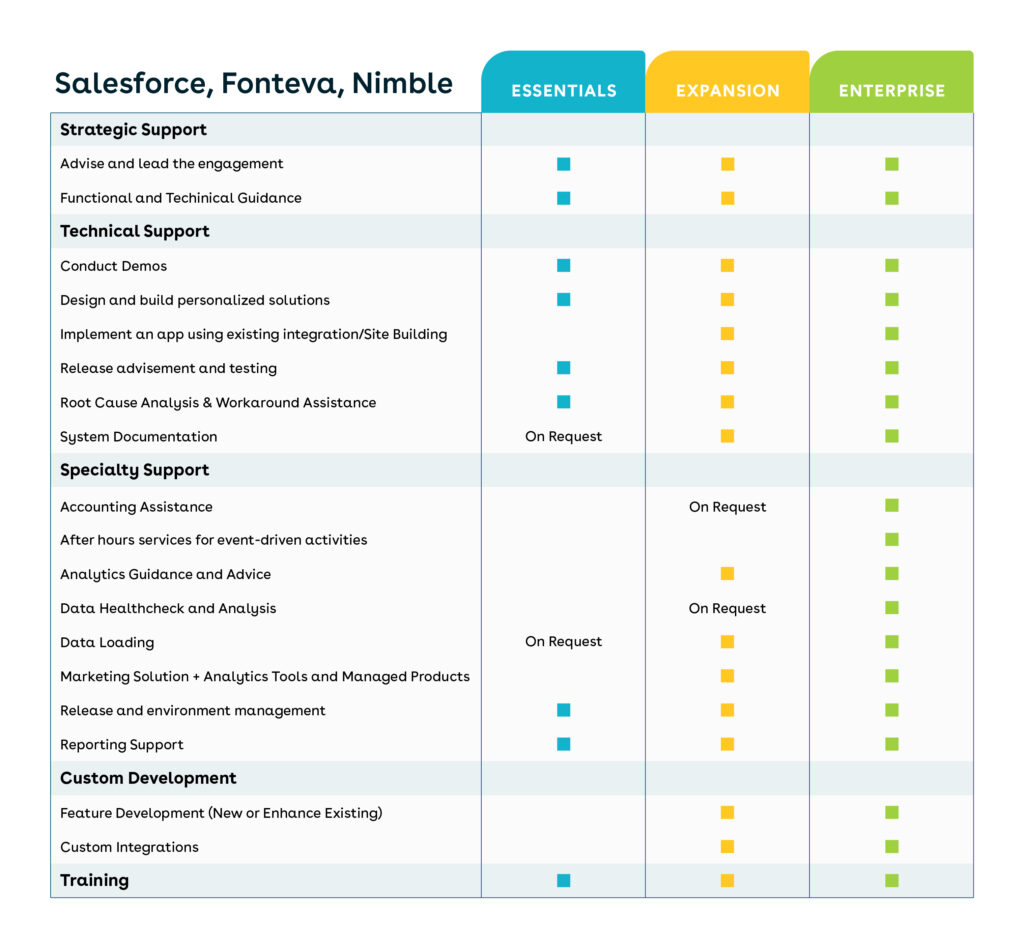 Our Solutions Success Managers are dedicated professionals with expertise in the Salesforce Clouds that matter to you—Nonprofit Success Pack (NPSP), Nonprofit Cloud, Experience Cloud, Service Cloud, and Sales Cloud—and the modules you depend on like Accounting Subledger, Program Management Module, Case Management, Grants Management, and more.
With access to Apex developers, Marketing Cloud Account Engagement (Pardot) and Marketing Cloud specialists, and Analytics consultants, you will have the extra hands you need to ensure that your Salesforce environment can successfully grow with your business needs.
All Accent offerings include:

A dedicated team of industry experts with a named technical person as your primary point of contact to be your strategic advisor and technical guide
A set service level each month, including:

Proactive solution advisement and alignment with your business goals
Personalized solution creation and feature development of new capabilities or enhancements to existing capabilities
Analytics and marketing guidance, advice, and technical work
Release and environment management
Strategic support, including technical and functional direction and advice
Root cause analysis and workaround assistance
System documentation
Continuing education and training
Data health check and analysis

Access to the right resource at the right time for the type of work you need to be delivered, whether consultative solution advice, functional assistance, or technical development work.

Accent Salesforce Essentials
Essentials provides basic support for less complex Salesforce systems. With functional consultants as the focused resource, Accent Essentials is the right choice if your organization needs a trusted partner to run things by and who can support minimal changes or bug fixes each month. Start with as few as 10 hours a month and increase your time with us in increments of 10 to 30 hours per month.
Accent Salesforce Expansion
Our most popular offering, Accent Expansion, provides the right level of support for most mid-sized organizations. With a dedicated senior consultant with experience managing larger Salesforce environments with multiple clouds, Accent Expansion grants your organization access to developers and integration support, business analysts for analytics support and guidance, and Pardot and Marketing Cloud support. Services can be purchased in increments of 20 hours per month.
Accent Salesforce Enterprise
When your organization has multiple systems integrating with Salesforce and your team has an ongoing need for significant support, Accent Enterprise is the option to choose. As with our other offerings, you will have a dedicated Solutions Success Manager. You will also have a dedicated functional consultant as well as a named developer if needed. Additional resources can be made available, such as technical architects, who will architect significant changes, and database architects who will join the team when data integration planning is needed. With a minimum of 40 hours per month, you can increase your investment in increments of 20 hours to ensure your team has the support they need.