We've been blown away by the quality of Fíonta's work product as well as the communication from the design and development teams throughout. All of our feedback and desires were taken into account from the start of the project and the Fíonta team did a great job synthesizing everything into a website that more than delivers on our initial vision.
The Tax Foundation faced several challenges, including complex and disorganized data structures that needed reorganization for better accessibility. Their outdated website lacked modern design and user-friendly navigation, making it less intuitive for users. Additionally, the existing site required resource-intensive and manual content curation, leading to time-consuming efforts. Furthermore, inefficient backend operations scattered data across multiple locations, making content management cumbersome and inefficient.
01
Complex and unorganized data structures
The Tax Foundation had a vast amount of data that needed to be organized and presented in an accessible manner. The existing site's user experience was outdated and lacked modern design elements and cohesive, intuitive navigation.
02
Resource intensive and manual content curation
The existing site required manual curation for landing pages and topic-based content, resulting in time-consuming efforts.
03
Inefficient backend operations lead to cumbersome content management
The Tax Foundation's backend operations lacked a cohesive architecture with data dispersed across multiple locations.
Fíonta's process for developing the most comprehensive solution began with an intensive discovery process that incorporated goal-setting, vision workshops, audience analysis, and in-depth content and user requirements discussions.
The foundation of technical and conceptual understanding led to developing a meticulous site map and architecture that defined the website's structure, various page types, and content hierarchy. Through the creation of both low and high-fidelity wireframes, the layout and functionality of the website were presented, offering a clear representation of the intended user experience.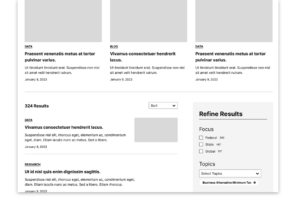 Fíonta's design phase was enriched by mood boards and style tiles, facilitating the selection of fonts, colors, and graphic elements aligned with the Tax Foundation's branding identity and overarching mission and vision. Introducing a bespoke page builder further empowered the foundation to craft dynamic pages by assembling pre-designed components adopting a customized "low code, no code" environment to preserve design consistency.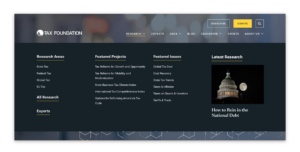 Dynamic page creation
The custom page builder empowers The Tax Foundation staff to create topic-focused pages with dynamic content and filters that focus on enhancing user engagement – all without developer intervention. The assertion filter plugin enables seamless template upgrades for creating pages, filtering independently, and customizing the search experience across various pages.
Modern user experience
The redesigned site is easy for visitors to navigate, discover, and engage with the Tax Foundation's extensive research. The enhanced organization and filtering capabilities have increased user engagement, longer visit durations, and better content accessibility.
Streamlined content management
The Tax Foundation has a more efficient system for entering, organizing, and storing data, which allows for easier content creation, effectively reducing manual efforts.
The Tax Foundation has successfully implemented a streamlined content management system, significantly reducing manual efforts in data entry, organization, and storage. This efficiency has enabled more effective content creation. Additionally, their dynamic page creation capabilities, supported by a custom page builder and the assertion filter plugin, empower staff to create engaging, topic-focused pages without developer intervention, resulting in a more responsive and flexible website. Combined with a modern user experience that enhances navigation, engagement, and content accessibility, these improvements have increased user engagement, extended visit durations, and provided a more accessible repository of the Tax Foundation's extensive research materials.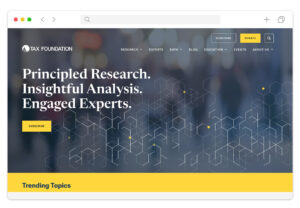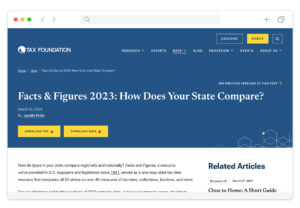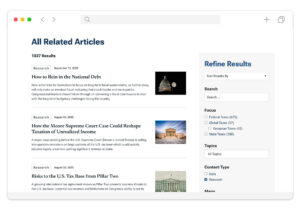 Our resourcing team staffs each project with care. Team members involved in this initiative included the following:
A project manager oversees all aspects of a project, including budget, schedule, scope, and risk management. They work closely with the technical lead to manage and escalate risk and act as the main point of contact with clients and internally, providing regular updates on the project's progress.
A business analyst works to understand a client's business processes, identify needs, and translate requirements into user stories. They document current processes, create requirements, and collaborate with the technical lead or solution architect.
The lead web developer understands a client's website inside and out and works with them to enhance the site in ways that align with organizational goals. They focus on growing the site sustainably, ensuring reusable functionality for multiple purposes, and ease of maintenance.
User Experience (UX) consultant
A UX Consultant ensures that systems provide users a meaningful and usable experience. They involve users early in the project and prioritize their needs and goals, ensuring that the systems meet requirements and create value for the end users.
The web developer uses a plugin-first approach to building websites in WordPress. With a vast array of knowledge in the enormous library of WordPress plugins, the WordPress developer takes a design and makes it a reality, always with the site's long-term sustainability in mind.