TMCF has seen explosive growth over the past two years. It has been critical to manage our data effectively. Fíonta has helped us streamline our process to better manage our relationships, track opportunities, and share information with donors and internal staff.
Betsy Burton-Strunk
Vice President, Development
TMCF needed to convert its existing Salesforce Sales Cloud to Salesforce Nonprofit Success Pack (NPSP) for improved donor relationship tracking, enhancing TMCF's business processes to optimize donor management and fundraising.
01
Tracking donor relationships to optimize fundraising and strengthen connection
TMCF recognized the importance of establishing a robust system to track and manage a wide range of donor relationships meticulously. To encompass corporate and individual donors, TMCF embarked on a mission to implement a comprehensive platform that would serve as a centralized hub for monitoring and nurturing these vital connections.
02
Improve data hygiene and management
To ensure the integrity and reliability of their data, TMCF recognized the need for a meticulous review of their existing information. By undertaking a thorough evaluation, TMCF aimed to identify areas that required improvement and implement updated management processes aligned with industry best practices. This proactive approach ensured data hygiene and established a strong foundation for effective data management practices.
03
Enhanced business processes
In their pursuit of excellence in donor management and fundraising, TMCF set out to improve their business processes to align with the native functionality of NPSP. By embracing the capabilities of NPSP, TMCF aimed to streamline its operations, optimize workflows, and unlock the platform's full potential for efficient donor engagement and successful fundraising endeavors.
Fíonta embarked on a comprehensive plan to implement and enhance NPSP for TMCF. Fíonta successfully converted TMCF's Salesforce Sales Cloud to NPSP, enabling improved tracking of donor relationships and engagement.
The upgrade to Salesforce Lightning further enhanced functionality, and Fíonta's customization of their NPSP met TMCF's specific needs, facilitating effective tracking of corporate and individual donations. They incorporated several years' worth of individual donations into their system and utilized General Accounting Units (GAUs) and Campaigns to allocate and track funds effectively.
Additionally, TMCF implemented Apsona to streamline data deduplication and document generation processes, seamlessly integrating solutions like MobileCause and Double the Donation with Salesforce NPSP. TMCF curated reports and dashboards to gain valuable insights, enabling better data visualization.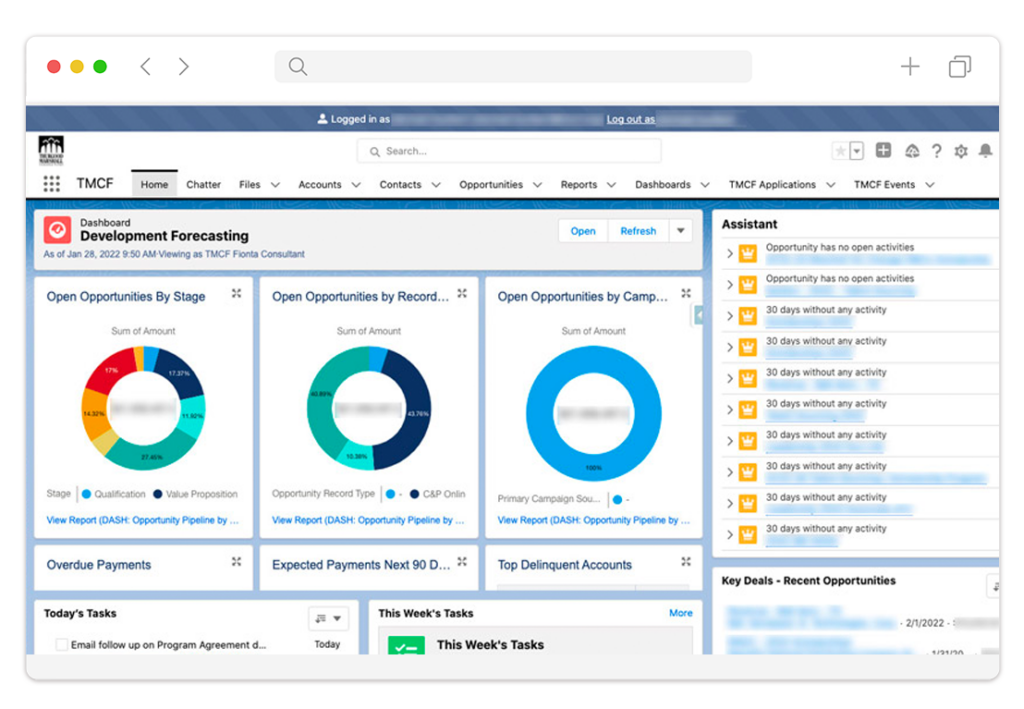 Streamlined data management
Salesforce was implemented as a centralized repository, improving information maintenance for staff.
Enhanced member portal functionality
Drupal 8 customization enabled fellows to access self-service tools and networking features.
Seamless Drupal 7 to Drupal 8 migration
Custom modules and components successfully transferred, preserving existing appearance while leveraging new theme functionality.
TMCF now has a reliable central source of data to power its development and fundraising efforts at scale, with ongoing training and refinement from Fíonta as needed to ensure that the TMCF team can maximize efficiency using the Salesforce platform.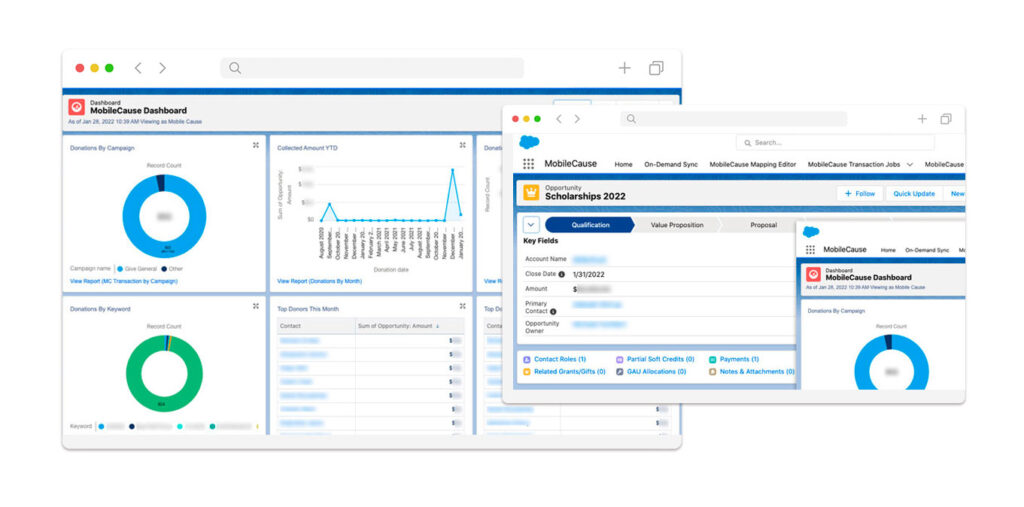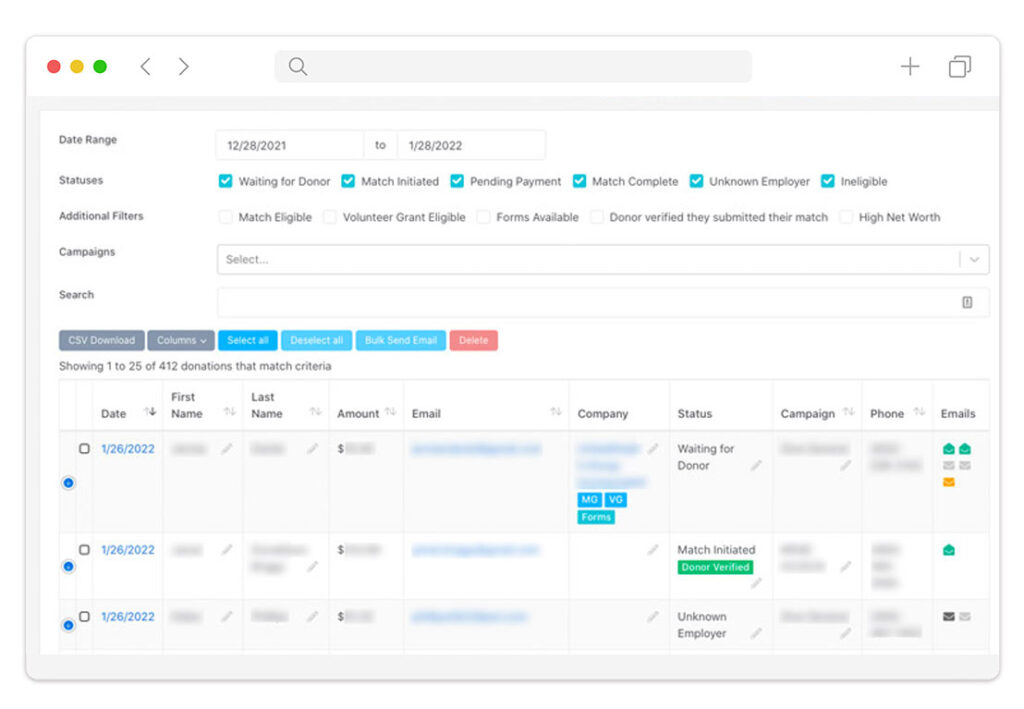 Our resourcing team staffs each project with care. Team members involved in this initiative included the following:
A project manager oversees all aspects of a project, including budget, schedule, scope, and risk management. They work closely with the technical lead to manage and escalate risk and act as the main point of contact with clients and internally, providing regular updates on the project's progress.
The data architect is responsible for data analysis, designing schemas, managing data migrations, and integrating complex data. They work with the client and internal project team, create data mappings, configure data sources, test scripts, ensure adherence to the migration plan, and document changes and deviations from the original plan.
A Salesforce developer builds and customizes applications with Salesforce-specific features, including Apex, Visualforce, and the Lightning Component Framework. They also use Salesforce APIs to integrate with other systems.
A configuration specialist configures a client's Salesforce instance based on a technical lead's solutions to client requirements. They can specialize in different areas and are responsible for building functionality, configuring standard and custom Objects, creating automations, customizing layouts and permissions, implementing apps, and performing low-complexity data import/export.