Disparate donor management systems limited successful operations for services available to veterans and their families through the Travis Mills Foundation programs. Overcoming these challenges required a scalable and cost-effective solution that would increase efficiency, provide automation, and establish a central system of donation records.
01
Inefficient systems and siloed data management
The Foundation faced the challenge of utilizing multiple systems, including DonorPerfect, Classy, QuickBooks, Excel spreadsheets, Google Documents, MailChimp, Volgistics, and iWave, which were not fully integrated, resulting in inefficiencies and difficulties managing donor, veteran, and volunteer information. The siloed data management made obtaining a comprehensive view of stakeholders challenging and hindered the foundation's ability to operate efficiently.
02
Scalability and cost-effectiveness
TMF recognized the need for a scalable and cost-effective solution to accommodate their growing capacity and ensure streamlined operations. With a relatively lean staff, they required a system that could automate processes and increase efficiency. The foundation sought an affordable solution that would allow it to expand its reach and manage donors, programs, events, and volunteers effectively while optimizing its resources.
03
Lack of a central system of record
TMF's existing technology infrastructure lacked a central record system, causing data management and coordination challenges. With various tools and systems in place, the foundation struggled to consolidate data and maintain a clean and complete dataset for each stakeholder. This lack of a central system hindered their ability to view stakeholders comprehensively. It made tracking and analyzing vital information necessary for decision-making and effective program management challenging.
Fíonta transformed TMF's online platform into a dynamic hub for essential information by implementing Salesforce Nonprofit Success Pack (NPSP) and Volunteers for Salesforce (V4S). The migration of donor and fundraising data from DonorPerfect to NPSP and volunteer information from Volgistics to V4S ensured that TMF could maintain comprehensive and clean datasets for all stakeholders.
Integrating third-party applications such as Classy, Conga, Quickbooks, and FormAssembly into the new Salesforce instance expanded TMF's capabilities in donor management, program management, event management, and volunteer management, laying a solid foundation for future growth. Implementing Salesforce NPSP as the central source of truth gave Foundation staff a comprehensive 360-degree view of each stakeholder.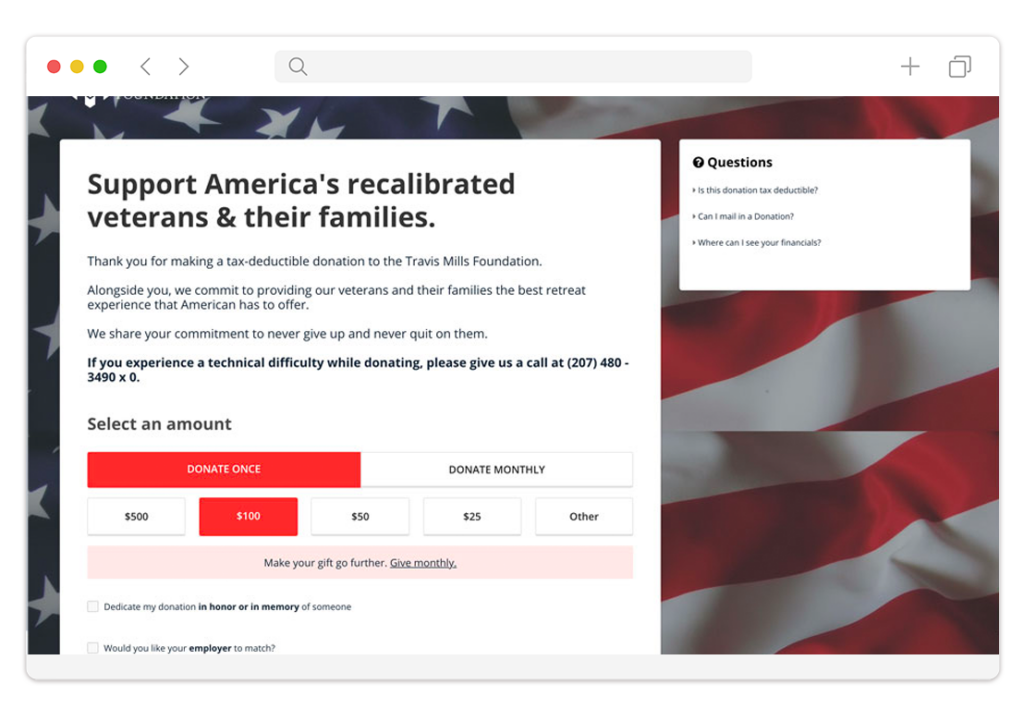 Implementation of Salesforce NPSP and Volunteers for Salesforce (V4S)
Fíonta utilized NPSP and V4S as the foundation for an expandable and affordable solution for TMF. This consolidation enabled TMF to manage donor and fundraising data better and volunteer information while maintaining a clean and complete data set for each stakeholder.
Integration of third-party apps
Fíonta integrated selected third-party apps such as Classy, Conga, Quickbooks, and FormAssembly with the new Salesforce instance. This integration extended TMF's capacity for donor, program, event, and volunteer management while creating a solid foundation for future growth.
360-degree stakeholder view
By implementing Salesforce NPSP as the central source of truth, TMF's staff gained a comprehensive 360-degree view of every stakeholder. This holistic perspective allowed TMF to serve its core constituency better and make informed decisions.
The successful implementation of Salesforce NPSP and the integration of third-party apps empowered TMF to consolidate their systems, streamline operations, and enhance their support for recalibrated veterans and their families. With Fíonta's expertise, TMF established a scalable and efficient platform that is a vital resource for their long-term programs, providing much-needed rest and relaxation to these heroic individuals.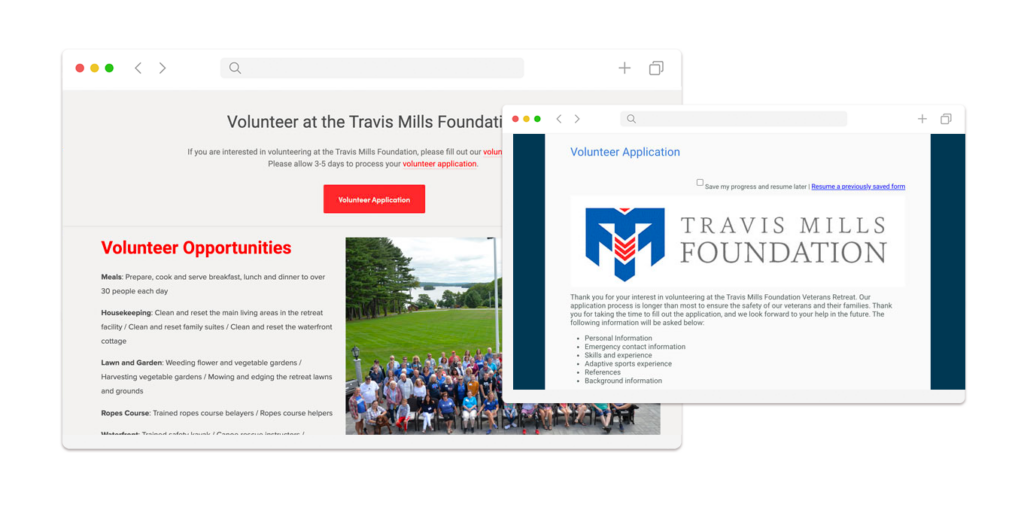 Our resourcing team staffs each project with care. Team members involved in this initiative included the following:
A project manager oversees all aspects of a project, including budget, schedule, scope, and risk management. They work closely with the technical lead to manage and escalate risk and act as the main point of contact with clients and internally, providing regular updates on the project's progress.
A Salesforce developer builds and customizes applications with Salesforce-specific features, including Apex, Visualforce, and the Lightning Component Framework. They also use Salesforce APIs to integrate with other systems.
Technical architects are senior advisors specializing in functional, platform, and integration architecture. They communicate technical solutions and design tradeoffs to clients, provide a delivery framework, and oversee the design and development of complex solutions, ensuring the technical soundness and integrity of the final product.
The data architect is responsible for data analysis, designing schemas, managing data migrations, and integrating complex data. They work with the client and internal project team, create data mappings, configure data sources, test scripts, ensure adherence to the migration plan, and document changes and deviations from the original plan.
A configuration specialist configures a client's Salesforce instance based on a technical lead's solutions to client requirements. They can specialize in different areas and are responsible for building functionality, configuring standard and custom Objects, creating automations, customizing layouts and permissions, implementing apps, and performing low-complexity data import/export.