Nonprofits play a crucial role in serving their communities, and effective program management is essential for achieving their goals. With tools like Salesforce Nonprofit Success Pack (NPSP), Nonprofit Cloud, and the Program Management Module (PMM), charitable organizations can enhance their program management to streamline operations, better collect and report data, and fulfill their missions.
To help your nonprofit improve its program management practices, we'll explore the basics of program management, how to implement it, and what Salesforce tools can do to help you achieve your organizational goals.
What is Program Management?
Program management involves coordinating multiple projects within an organization to achieve specific goals and objectives. While project management focuses on completing individual tasks within a defined timeline, program management considers the bigger picture of aligning various projects with organizational strategy.
What Does a Program Manager Do?
In nonprofits, program managers ensure that programs are run efficiently and effectively so they can impact their communities positively. These managers coordinate various aspects of your programs, check in with teams to ensure their work is going smoothly, and provide guidance in ensuring all pieces of each program come together.
With these complex and often time-sensitive responsibilities, program managers benefit from using software platforms like Salesforce. Using Salesforce NPSP and Nonprofit Cloud, program managers can get an overview of how each project is proceeding at a glance, enabling them to better adjust timelines, understand individual teams' needs, and keep programs on schedule.
Key Components of Nonprofit Program Management
Program management software like Salesforce NPSP and Nonprofit Cloud provides a platform program managers can use to plan, coordinate, and analyze each part of a large-scale program.
Here is a breakdown of how these tools can fulfill a number of key aspects of program management: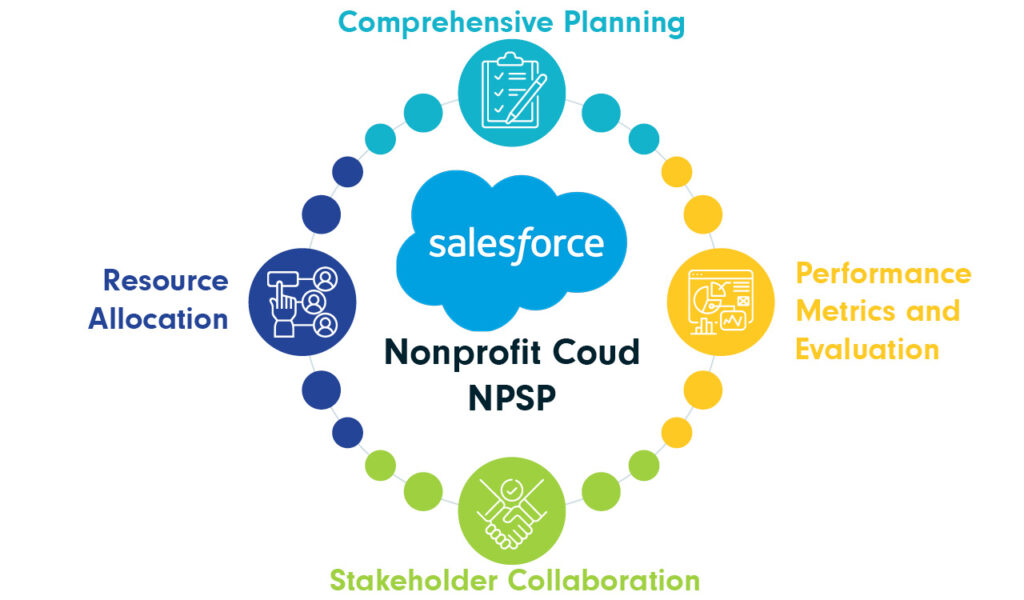 Comprehensive Planning: Robust planning features, like service delivery schedules and appointment trackers, enable nonprofits to develop comprehensive program plans. NPSP and Nonprofit Cloud allow organizations to consider all factors, stakeholders, timelines, and budgets while creating program strategies. The Program Management Module (PMM) within Nonprofit Cloud specifically focuses on aligning programs with organizational strategy.
Performance Metrics and Evaluation: NPSP and Nonprofit Cloud offer advanced reporting and analytics capabilities, allowing nonprofits to establish performance metrics and measure the success of their programs. These tools enable organizations to gather stakeholders' feedback and track key metrics such as the number of people served or impacted by programs. With the data collected, nonprofits can evaluate program effectiveness and make necessary adjustments for continuous improvement.
Stakeholder Collaboration: Program management is collaborative, and NPSP and Nonprofit Cloud emphasize stakeholder engagement. These tools provide features that facilitate effective communication between program managers, staff, volunteers, and donors. Increase the chances of program success by using these platforms to ensure alignment among your stakeholders, clarify responsibilities, and foster efficient collaboration.
Resource Allocation: Limited resources are a common challenge for nonprofit program management. Fortunately, NPSP and Nonprofit Cloud enable organizations to efficiently track and manage funding, volunteers, and other critical resources. Nonprofit Cloud's PMM provides additional capabilities to streamline data collection and analysis, enabling nonprofits to make informed decisions about resource allocation.
These program management-oriented features alone make Salesforce one of the top program management tools for nonprofits. With additional Clouds and native apps, nonprofits can customize their Salesforce instance to create a program management workflow adapted for their exact needs.
The Importance of Effective Program Management in Nonprofits
Effective program management ensures that resources are allocated efficiently, goals are met on time and within budget, stakeholders' expectations are satisfied, and nonprofits can achieve their missions, positively impacting their beneficiaries.
By leveraging the offerings of NPSP and Nonprofit Cloud, nonprofits can:
Address program management challenges
Enhance collaboration
Optimize resource allocation
Measure program impact effectively
These Salesforce solutions provide nonprofits with the necessary tools to drive positive change, better serve their communities, and achieve mission-driven objectives.
Impact of Effective Program Management on Nonprofits
Effective program management can increase program delivery efficiency, allowing organizations to serve more people with limited resources.
Additionally, by capturing data related to program outcomes and utilizing Nonprofit Cloud's robust reporting capabilities, organizations can demonstrate their effectiveness to funders and attract additional funding, strengthening their sustainability and expanding their reach.
Challenges of Program Management in Nonprofits
Between lower budgets and staffing capacity, it can be challenging for nonprofits to manage multiple programs with varied goals and timelines. In the face of these obstacles, program managers must prioritize effective communication between stakeholders at all levels while implementing streamlined data collection and analysis systems.
NPSP and Nonprofit Cloud offer functionalities to help nonprofits overcome these challenges and optimize their program management processes.
By leveraging Salesforce NPSP or Nonprofit Cloud, nonprofits can enhance their program management practices and address unique challenges their communities face. These solutions provide a suite of program management-related features that can facilitate:
Comprehensive planning
Performance measurement
Stakeholder collaboration
Resource allocation
Leverage these tools to drive positive change and attract funding that your nonprofit can use to better serve your community and achieve mission-driven objectives.
---
Nonprofit program management determines whether your organization can complete initiatives and successfully serve your community. With tools like NPSP and Nonprofit Cloud, nonprofits can take a technology-backed program management approach, easing the burden on program managers, ensuring internal processes are collaborative, and allocating resources more effectively than before.
Contact Fíonta today to learn how NPSP and Nonprofit Cloud can support your organization's program management needs.