Fíonta supports nonprofit organizations who rely on volunteers (like the Assistance League, Literacy Council of Northern Virginia, Islamic Relief, and many others) and many of our employees turn right around and volunteer with local organizations as well.
Through our participation in Pledge 1%, employees can utilize 1% of their work hours in pursuit of individual volunteerism. Additionally, our Employee Success staff plan a number of group volunteer activities with DC Central Kitchen, a DC-based organization that develops and operates social ventures targeting the cycle of hunger and poverty. Last year, employees recorded just shy of 500 hours of volunteerism and many of us included our partners and family!
Below are stories from some of our participating employees about their experiences in 2018. Most of the organizations accept donations and we have included a link to their websites if you are interested in learning more about their missions.
Miriam's Kitchen

Katy Burns: One of the communities that has shaped my experience in Washington, DC is Miriam's Kitchen – a remarkable organization that is working to end chronic homelessness in our nation's capital. "When Miriam's Kitchen opened its doors 33 years ago in a church basement, we served a simple breakfast to those in need in the neighborhood. Fast forward to 2019 – we are still in the same basement, but the caliber of our food and services is unparalleled. We now serve restaurant quality meals and offer art therapy, resume workshops, housing support, and other services to our guests."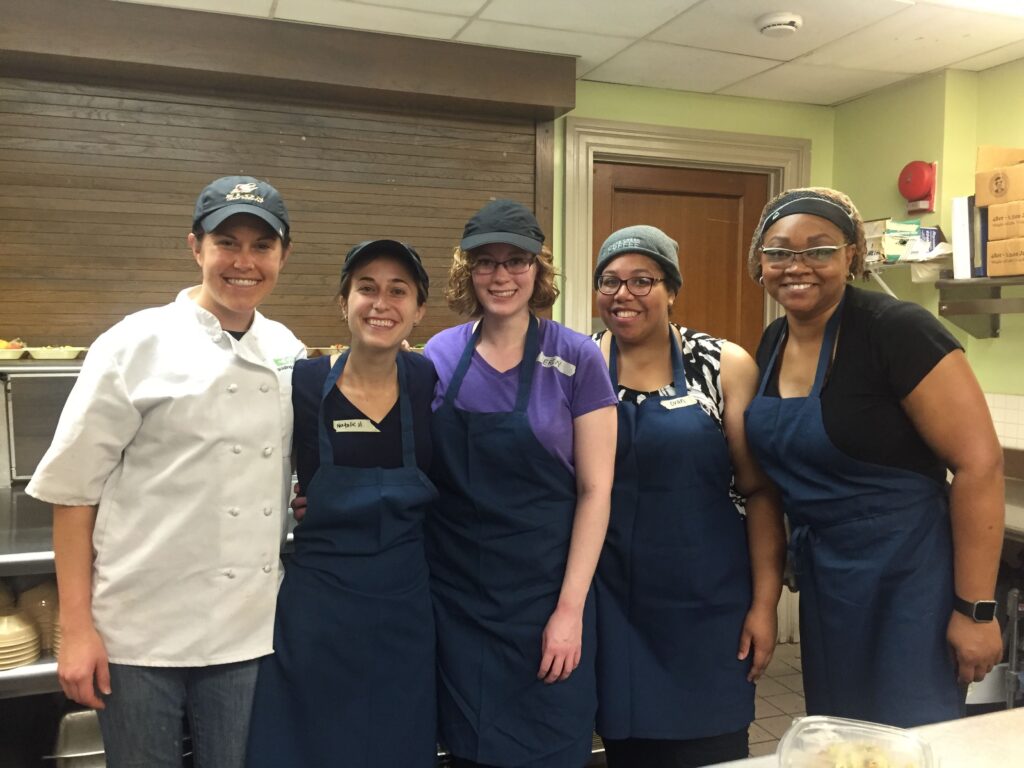 I've found my niche within the Miriam's Kitchen community on the kitchen team. I started most Wednesdays in 2018 at the flat top cooking French toast, hash browns, and scrambled eggs. Every morning and afternoon, the kitchen team makes a six-course meal from scratch for our guests. We serve about 300 meals a day, Monday through Friday – rain, shine, or government shutdown. At the beginning of every shift, we recall our pillars – dignity, belonging, and change. We believe that everyone deserves a chance to share a hot meal and feel at home. If we serve our guests with intention and a smile, we hope that a door will open for some positive change in their lives. As the executive chef will tell you, we're not a soup kitchen – we're a super kitchen!
Dogs in Harmony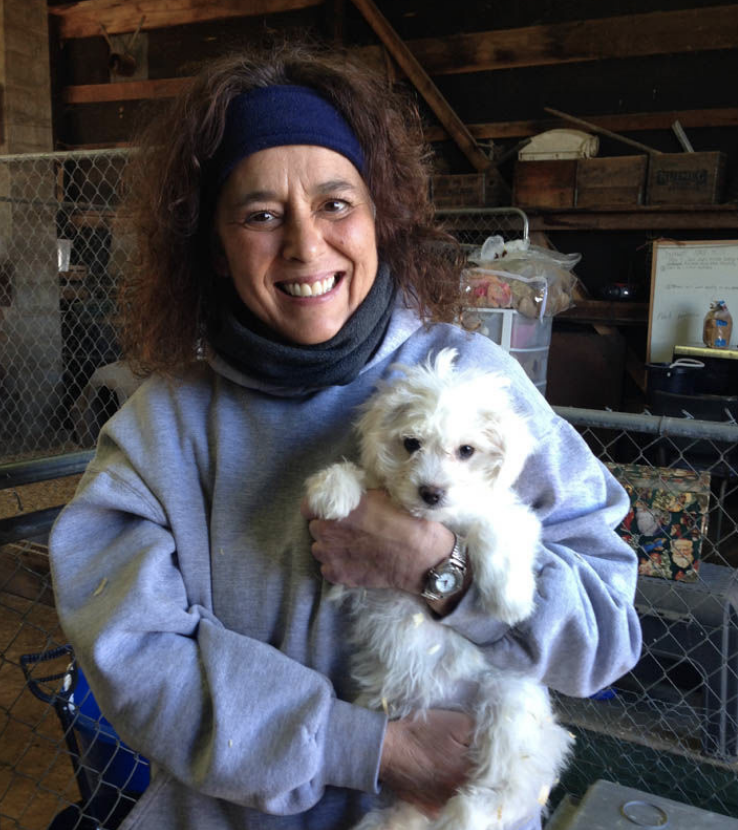 Katie Lou Rogers: I grew up on a small farm in Tennessee with no neighbors for most of my life. When I was 14, I was excited to learn that somebody moved into the farm next door – my first neighbor, Lila Jean. Lila Jean and I did not have a lot in common – she was a Northerner, and I a Southerner – but we immediately bonded over our love for all animals as evidenced by the many dogs, cats, birds, and horses that we both cared for on our respective farms.
It did not take long for Lila Jean to notice the masses of feral, stray, and abused dogs and cats in our small town; she made even quicker work on taking action with me as her assistant to rescue these animals in her spare time. I learned so much: how to vaccinate, how to deliver newborns, how to acclimate feral animals, etc.
Ultimately, Lila Jean found that these populations needed full-time attention. She quit her job and started Dogs in Harmony, working full-time to advocate for stronger animal protection laws and establishing a successful animal rescue and adoption process. (We rescue local animals, nurse them back to health, and get them adopted and shipped to families in the New England area where strong animal laws exist.)
Why do I support Dogs in Harmony? I think the work Lila Jean does is incredible – her compassion and dedication to helping those that can't help themselves impacted me greatly.
I continue to support Dogs in Harmony because:
This non-profit is solely operated by Lila Jean. She's a great role model for women and men.
Dogs in Harmony has rescued and adopted more animals than the county-supported Animal Shelter and Animal Control.
This is the only non-profit in my hometown that advocates for policy change.
The Common Market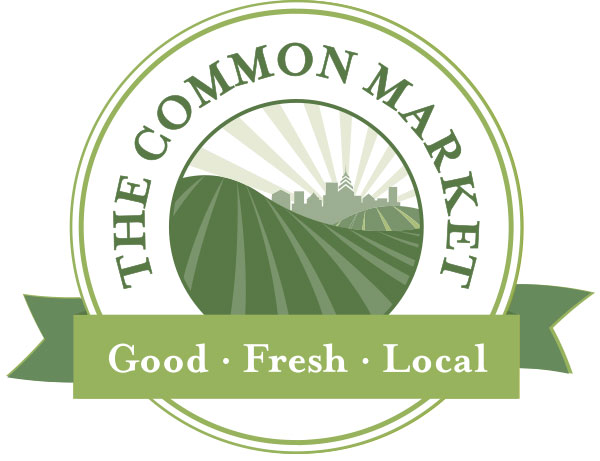 Evan Taylor: Food insecurity is a major issue across the United States. DC is not exempt from the 15 million households nationwide experiencing a lack of access to affordable fresh and whole foods. The Common Market works to solve this issue through their farm share program while supporting local businesses and farms in the process. The program provides fresh-from-the-farm whole produce, dairy (including eggs, cheese, and yogurt), meats, and freshly baked bread at pick-up locations across the DMV area. I was first introduced to the program while Fionta's DC office was in the Dupont WeWork and The Common Market joined the community. I was looking for an affordable option for a single person to be able to afford to cook and meal prep. The Common Market gave me that opportunity and I decided I wanted to be a part of giving that access to others who didn't know and were looking for the same solution.
My volunteering started as being a friendly face and familiar phone number between The Common Market staff and subscribers to the farm share in WeWork and expanded to helping recruit new pickup locations for farm share subscribers. Every other Wednesday, I would be responsible for packing boxes for distribution, texting reminders about pickups and labeling boxes to go in the WeWork community fridge. Along the way I recognized a greater need in Ward 2, the same ward both our DC office and The Common Market's office is in as there were food deserts in this very area.
Even after I used all of my Pledge 1% volunteer time off for 2018, I still worked to expand the reach of The Common Market's farm share program and close some of the gaps of affordable fresh food in the food deserts in Ward 2 and beyond. What started as a service that improved my health and social conscious turned into sharing local produce with Fíontans in the DC office, taking extra produce to my church, dropping off fruit to workers at the local gym, cooking Sunday dinners for community outreach, and helping create access for others.
Portland Adult Education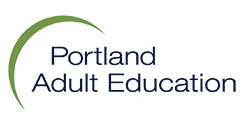 Lawson Condrey: People often talk about mini communities that are forgotten about within a larger community. You might think that the recent-immigrant community Portland, ME, would qualify as one of those.
Step inside Portland Adult Education throughout the day or evening and you'll find students from all over the world bustling in and out of class, teachers finalizing prep work, and a barrage of languages echoing in the halls and stairwell. I've been volunteering for Portland Adult Education since 2016 working in a classroom or as a 1:1 tutor. The school is part of the Portland public school system and provides a variety of courses but its main focus is ESL for recent (and not-so-recent) immigrants and refugees. In the writing workshop I currently help with there are students from Somalia, Afghanistan, Iraq, Iran, South Sudan, Democratic Republic of Congo, El Salvador, Djibouti, Uganda, and Eritrea. The students in my class range in age from early 20s to late 50s. They come from far places where their dreams are dashed or dreams aren't even part of the equation. And yet, they arrive in class eager and motivated to learn so they can create a better life for themselves and their families. Some are working two jobs, some are single-parents with the other in their home country awaiting visa approval.
If there ever was a way to feel rejuvenated on a weekly basis — this is it. The amount of hope and positivity in the air is hard to describe without being a part of it. But it is tangible. I leave with the same feeling of endorphins I might get after a long run.
Fionta urges us to not only spend time with an organization we admire, but also sink our teeth into something with passion outside of the workplace. Giving yourself up to something bigger is a worthy effort and we're all better employees for it.
The Hylton Performing Arts Center
Peggy Trant: The Hylton Performing Arts Center (the Center), located in Prince William County, Manassas VA, entertains, educates, and enriches the Northern Virginia community by providing diverse and accessible arts experiences and is the creative commons of a vibrant region, inspiring the community to express its voice by participating in the Center's work as artists, audiences and lifelong learners.
In March 2018, I volunteered, on behalf of the Center, at the Macaroni Kid's PWC Family Expo and Resource Fair in Woodbridge, VA. This was a family-focused event featuring local businesses who cater to children and families in the area and provide opportunities to learn about and register for summer camps and much more!
In September 2018, my daughter joined me to represent the Center at the Discovery Junction Children's Museum 5th Annual Touch-a-Truck in Manassas, VA. This was a great family event where children of all ages were able to get behind the wheel of their favorite vehicles and meet the people who help to build, protect and serve the community. All proceeds from this event are being used to help open a children's museum in Prince William County, VA.
I am passionate about keeping the arts alive in our community, as I feel it is so important for families, especially in today's world, to keep engaged by having opportunities that allow them to be creative and expressive. I made sure that my four children had every opportunity to partake of arts/music programs, either through the schools or the community centers. Many schools have had to discontinue their arts and music programs due to budget cuts, which is disheartening. By volunteering at these events, I was able to meet and talk with families to tell them about the opportunities that the Center offers that enrich and educate, not only the children, but the parents too! I was inspired to see so many families turn out for both events and to see the children's eager faces and the parents' interests in what the Center had to offer.
Here is what my daughter, Meghan, wrote: My mom enjoys being out in the community and sharing her excitement for the arts, as she has instilled in myself and my older brothers. So, when she asked me if I wanted to volunteer with her for this event, I was more than glad to help. I've grown up in the arts — going to numerous band and choir concerts, assisting with set designs and even joining the choir during my own school years. The arts have always played a part in my family, and my mom was always the one, right there, ready to support and film us…granted she may have filmed the wrong kid once or twice.
When I joined choir, I was quite shy and never sang for anyone. However, learning to sight read, learn new music, work with other classmates to build an entire concert, was very rewarding during my formative years. I always hear about the arts getting a little more diminished every year but knowing that the Center continues to fight against this by continuing to put on shows is fantastic! In fact, it's brought back my joy for watching shows, musicals, and concerts that I forgot about in college.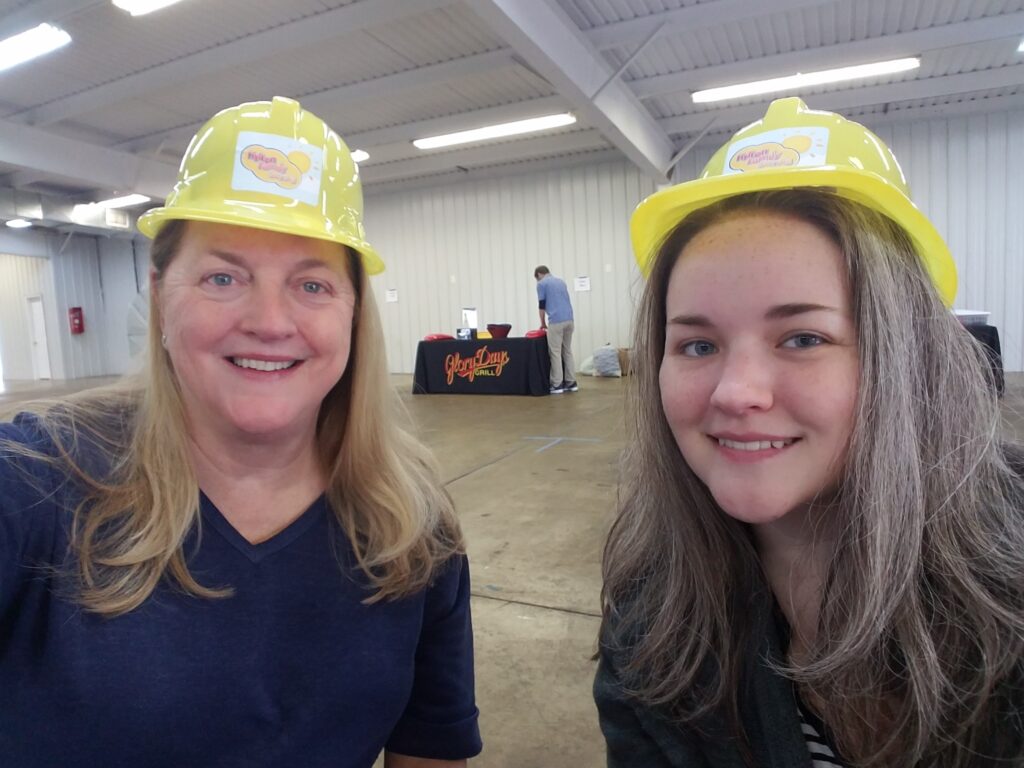 The arts aren't an outlet for everyone, but it is an outlet for someone. I was that someone when growing up. I want the arts to continue to be an outlet for other children, especially during the school years, to build character, confidence, bonds, memories, and for some pure fun. I'm so glad I got to help support this cause with my mom. The arts are still bringing us together!
AIDS Lifecycle

One team member biked 545-miles from San Francisco to Los Angeles as part of AIDS/LifeCycle. Over seven days, the ride traveled through 58 towns and 8 counties raising money for HIV/AIDS-related healthcare and prevention as well as spreading awareness. The ride benefits both the Los Angeles LGBT Center and the San Francisco AIDS Foundation and their HIV/AIDS-related services.

David Manuel: I love to bike and so when I heard the CFO of the Los Angeles LGBT Center do a presentation on joint-cost allocation (nerd alert!) for a fundraising bike ride going from San Francisco to Los Angeles, I was intrigued. Don't get me wrong, I love joint-cost allocation, but it was the 545-mile bike ride through beautiful California countryside that caught my attention. I'd never heard of something so crazy. I did the ride for the first time in 2011 and was lucky enough to do it again in 2015 and for the third time in 2018.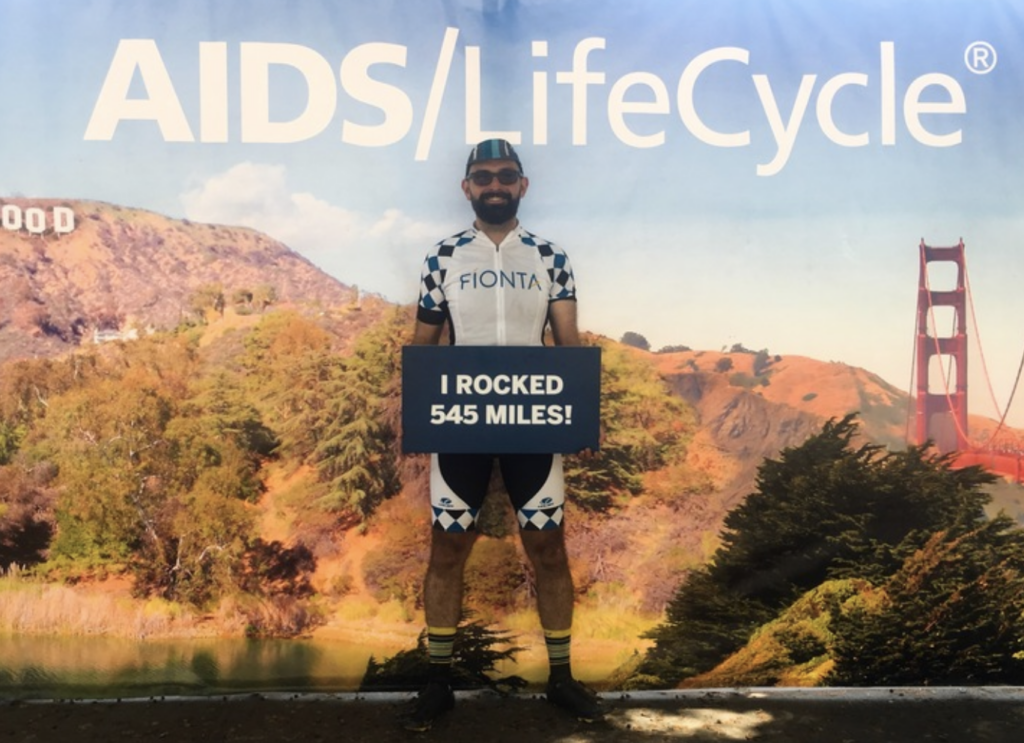 In the intervening years, I've met many people, some with HIV/AIDS and some invested in defeating HIV/AIDS because they've lost someone close to them, know someone who has. The dedication of the volunteers, staff and the riders are inspiring. The candlelight vigil in Ventura and the opening ceremony in San Francisco with the riderless bike consistently bring me to tears. The mid-week talent show on the other hand brings me to tears of laughter. To be around so many people who are united toward a single purpose is an extraordinary experience and to feel the love and support of the staff, volunteers and the roadside cheerleaders is incredible. I couldn't have done it without my Fíonta family and I look forward to the next one!
Kid City Hope Place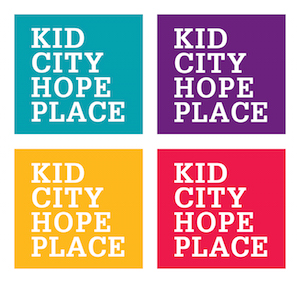 Karin Tracy: 2018 marked the second year that I volunteered with Kid City Hope Place, a nonprofit located in downtown Los Angeles near my home. Kid City is a special place – a safe, after-school home for teens and young adults – and offers students mentoring, SAT study groups, and help with FAFSA applications and personal statements during their junior and senior years of high school. Most Kid City students are first-generation college-bound and living at or below the poverty line.
Each year, I've been paired with a high school senior as they apply for universities / colleges, write personal statements, navigate financial aid and scholarships, and make big adult decisions! A personal highlight last year was taking my mentee and his mother to Cal State Channel Islands (north of Los Angeles) for a campus tour. Many Kid City students have to select colleges sight unseen as their families can't afford the travel required to visit schools in advance. Hearing that for the first time really affected me and put privilege into real context. I'm really proud of the hard work my two mentees have done and they are off to a shining future at UC Davis and Tulane!
San Diego Refugee Tutoring

Kailee Quinn: From 2011 to last year, I volunteered tutoring homeless children with the incredible Los Angeles-based organization School on Wheels. In 2018, though, I had a pretty life altering move south to San Diego and I knew that one way to get some sense of normalcy and much needed perspective back into my life would be to find another organization to volunteer with.
Working with School on Wheels taught me that I love teaching kids, and I won't lie, that was a huge surprise to me! To find a new organization I used this remarkable volunteer opportunity finder that is operated by our client, Idealist. I set my search parameters and quickly found San Diego Refugee Tutoring, and boy did I yell "Bingo!".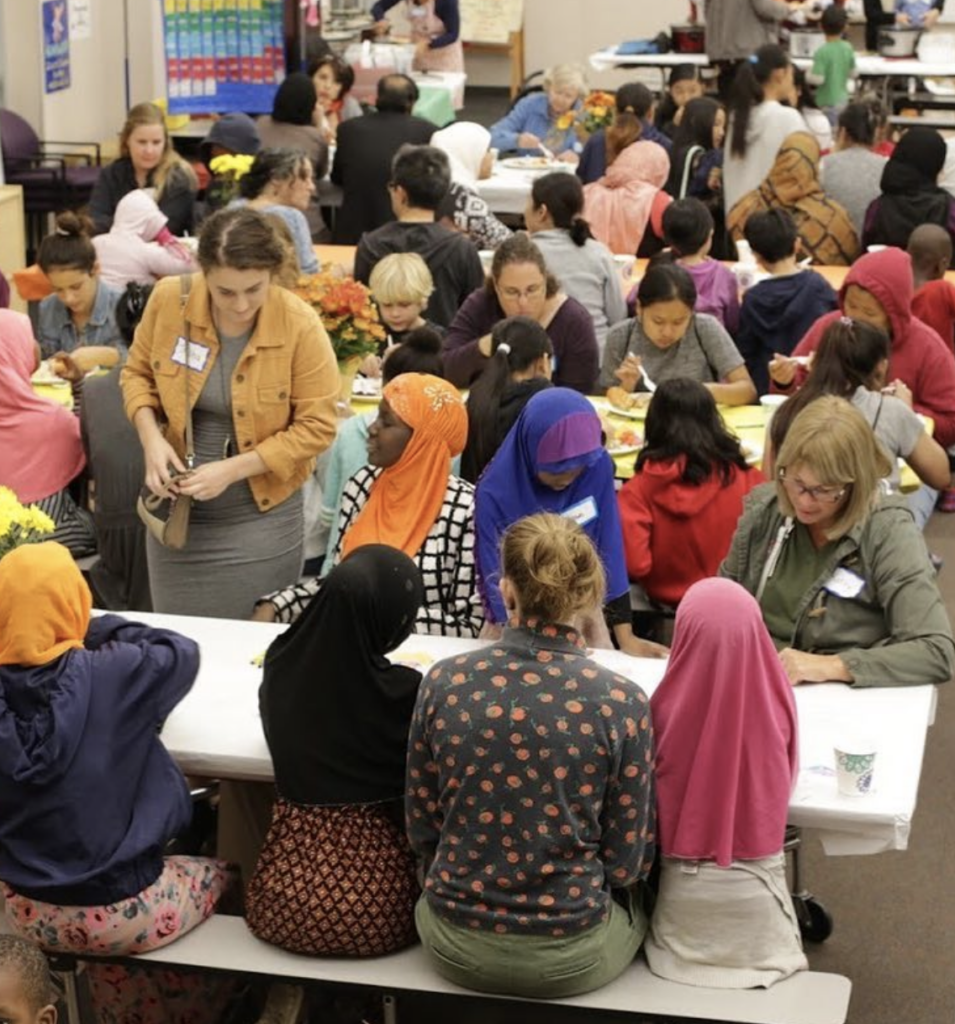 San Diego Refugee Tutoring does exactly what the name says. Twice a week this organization takes over a local elementary school and offers free after-school tutoring services to K-12 refugee students. The organization was originally started in 2008 by a group of teachers who noticed how hard it could be for refugee students to keep up with their peers due to cultural differences and language barriers. The tutors are volunteers from the community and the students are children who have lived in the country anywhere from one month to four years and they are Burmese/Karen/Karenni, Burundian, DR Congolese, Nepali, Iraqi, Somali, Sudanese, Mozambican, Ethiopian, and Eritrean.
I bravely volunteered to help in the high school room, and man, their homework is hard! Every week working with the high schoolers is a rewarding challenge. Sometimes I know how to help them and sometimes I spend half the session googling advanced French verb conjugations. They are all beautiful, unique, and incredibly smart individuals. Even when I'm surely not that helpful with their academics, I know that just spending time with them and providing encouragement is valuable to kids and that brings me so much joy.
Hypothermia Prevention Program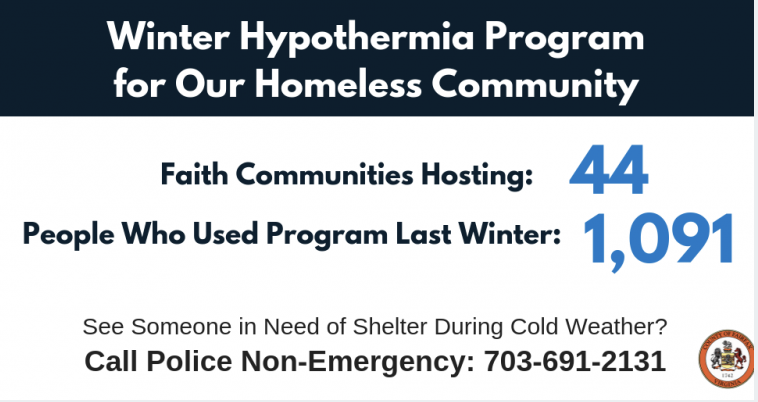 Cindy Gavelek: I did the first of 2 annual Hypothermia Project volunteer days this month – food, a 'store' and shelter for the homeless in NOVA – and wanted to share some of the good and Not-So Good. This is my third year doing this.
The Good:
Very few familiar faces. Last year I recognized many who had been there the year before
There were musicians and a singer there to entertain the group, which added a wonderful element to dining for all
A lot of warm clothing was donated this year compared to the last two years
The Not-So-Good:
Almost two times as many people attended as in previous years and there were two seatings
There were lots of much younger people than I'd seen in the past, including a 19-year old and a 36-year old whom I spoke with
The newer folks did not seem to understand or realize that all the clothing, toiletries, luggage, shoes were there for them for the taking [part of why we are there to help them]
Doing this always opens my eyes to what can easily happen to any of us.
The 36 year old lost his full time job [after a year] recently with no notice and this was his second day in a homeless shelter. He doesn't eat certain foods, so hardly had any of what was available [which speaks to newness]. He is motivated, working his part time bartending job, taking advantage of the classes/assistance available to him in this program and trying to get back on his feet while his kids live with a friend. It was truly a heart-wrenching story of how being laid off suddenly can change your life.

The 19 year old gave me his last name easily [no one ever does that] when we go around asking them what they want for lunch the next day so we can prepare their sandwich and goodies in a school lunch bag.
There were over 35 people yesterday in this church alone [there are many that are involved in this project each year].
I am very grateful for everything, usually, but especially after I work this project.