Our journey as one of America's fastest-growing private companies has led us to secure a coveted spot on Inc. magazine's prestigious Inc. 5000 list. With a three-year growth rate of 141%, this success exemplifies our dedication to customer satisfaction, delivering impact, and market excellence.
About Fíonta
Since our founding in 2001, we have been serving the technology needs of nonprofit organizations and associations, and we do so today with our three core practices: Salesforce, digital services, and managed services.
Our mission is to drive digital transformation by delivering best-in-class strategies and solutions, seamlessly integrating the exceptional capabilities of Salesforce, such as Nonprofit Cloud, NPSP, Experience and Service Cloud, and Marketing Cloud Account Engagement (Pardot), with cutting-edge user experience (UX) and design methodologies. Our strategic partnerships within the Salesforce ecosystem allow us to extend our service offerings while delivering unparalleled value for the nonprofit and association sectors.
Our talented team members understand the unique challenges nonprofits and associations face and are committed to providing tailored solutions to help achieve their goals. We bring years of expertise in Salesforce, UX/UI, and web development to organizations to streamline operations, engage supporters, and drive impact.
From our CEO, Mark Patterson, "We are honored and thrilled to be recognized by Inc. magazine as one of America's fastest-growing private companies. This accolade is a testament to our team's dedication, our clients' trust, and our unwavering commitment to delivering excellence in every project. As we continue our growth journey, we remain grounded in our mission and driven by our vision for the future."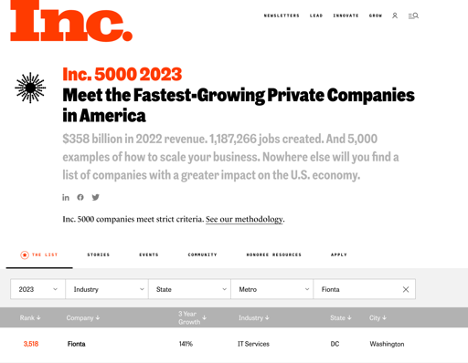 Earning a place on the Inc. 5000 list is a monumental achievement that signifies our dedication to our mission and clients. Inclusion in the list highlights the collective effort of our talented team, visionary leadership, and the unwavering support of our clients and partners. We're thankful for stalwart employees and the nonprofit organizations who inspire us daily to do our best work. Congratulations to the other 4,999 companies as well. It's an honor to share this recognition with you.
Selection criteria
The Inc. 5000 list is a well-respected annual compilation of the fastest-growing private companies in the United States. The methodology used for this ranking is both comprehensive and rigorous, ensuring that only the most dynamic and successful enterprises make the cut. The criteria for selection include:
Three-year percentage growth: Companies are ranked based on their percentage revenue growth from 2019 to 2022.
Established foundation: Eligible companies must have been founded and generating revenue by March 31, 2019.
US-based and independent: Companies must be privately held, for-profit, U.S.-based entities to qualify.
Minimum revenue benchmarks: Companies must achieve a minimum of $100,000 in revenue for 2019 and a minimum of $2 million for 2022.