Associations' software needs to perform a variety of tasks, including membership management, marketing, event hosting, reporting and tracking, and more. Association management systems (AMS) provide these features. However, many AMSs have unoptimized and uncustomizable tools, leading to inefficient management on the back-end and a less-than-satisfactory experience for members on the front-end.
Associations looking for an AMS that supports continued growth should consider Salesforce. While Salesforce may not be the first software provider associations consider when researching AMS vendors, the Salesforce platform gives associations the flexibility to grow, expand their focus, and deepen member relationships. From launching marketing initiatives to creating online communities and collecting payments or donations, you can do it all from a single log-in system.
To answer your questions about Salesforce for associations, we'll answer a few questions association leaders are likely to have and discuss how our team at Fíonta can aid associations with their Salesforce platform.
First, let's explore the core characteristics of an AMS and how Salesforce meets this criteria.
Is Salesforce an AMS?
Salesforce is a customer relationship management (CRM) system. CRMs provide users with tools for managing their customers, such as customer profiles, communication tools, and data tracking. For comparison AMSs provide features specific to association membership management, such as membership portals, event and webinar hosting, and member engagement features.
However, while Salesforce is not exclusively an AMS, it is possible to build an AMS that uses Salesforce as its base. Software vendors like Fonteva and Nimble have done just that, creating AMS systems that transform the Salesforce platform into an AMS.
Another option is to start with Salesforce Nonprofit Cloud and work with a Salesforce consultant to configure your Salesforce system for AMS-functionality, such as through Fíonta Association Accelerator, an offering from our team designed to provide associations with the following features:
Membership portal. Provider members with the tools they need to join your association, sign up for events, and more.
Staff CRM. Leverage the power of an AMS built on a CRM with relationship tracking tools.
Financial management suite. Keep track of invoices and multiple revenue streams in one convenient location.
If your needs are highly specialized and no packaged solutions provide all the functionalities you're looking for, choosing to start with Nonprofit Cloud and work with a consultant to configure your system is likely the right choice. In this situation, customizing Nonprofit Cloud will be faster and more cost-effective, resulting in a solution tailored to the association's specific business needs.
Using Salesforce as an AMS provides users with tools relevant to associations while maintaining the benefits of the Salesforce platform, such as its extensive customization capabilities.
What are the benefits of using Salesforce for associations?
Why should associations use Salesforce over other AMS platforms? High-performing associations understand the importance of tailoring content based on members' interests, making data easy to use, and having a greater capacity for growth. Salesforce provides associations with all of these benefits, as well as:
Centralized data platform. Associations that use Salesforce can reliably access all of their data in one location even as they scale up. To keep your data synced, all associations need to do is ensure other technology that invest in integrates with Salesforce. Fortunately, due to its popularity, Salesforce integrates easily with a large selection of third-party platforms, and Salesforce consultants can help you set up more complex integrations.
The Salesforce AppExchange. Organizations that use Salesforce can expand their system's functionality with the Salesforce AppExchange. With the AppExchange, your association can access a variety of native Salesforce apps that can easily be added to your Salesforce instance.
Membership online experiences. Design online spaces for members to interact with one another on top of your AMS with Salesforce Experience Cloud. This Cloud can be integrated with the rest of your Salesforce platform, allowing you to create custom spaces where members can talk to each other, building a sense of community while also ensuring all relevant data is collected by your AMS.
System security. When it comes to security, Salesforce is difficult to beat. With multi-factor authentication, encryption, access restrictions, and other security, you can rest assured that your members' data is protected.
Customization. Because of the high level of customization available, Salesforce can absolutely be used to manage your memberships. From registering new members to handling billing, improving member engagement, or just tracking memberships, you can set up Salesforce to meet all of your membership needs.
The Salesforce platform has the power to revolutionize how your association operates, providing membership management tools, in-depth reporting features, and the ability to scale and customize your system as you grow.
How Fíonta Can Help
Whether you choose to use an AMS built on Salesforce or start with Nonprofit Cloud, Fíonta can help you get up and running.
Smaller associations may find Nonprofit Cloud suitable as a starting point for constituent management, fundraising, supporter management, and basic grants management. Fíonta's Association Accelerator offering is designed to help you quickly get up to speed, providing organizations with an AMS that has core functionalities ready to go.
For associations whose needs can be met with an AMS built on Salesforce, Fíonta can help with implementation. As a Certified Implementation Partner for Fonteva and Nimble, Fíonta combines deep Salesforce expertise with years of experience working with all types of associations. Our team members have completed comprehensive product training and are ready to answer any questions your association may have about your new AMS system.
No matter which option is right for you, Fíonta is dedicated to providing help every step of the way. Our services extend far beyond a tech help desk, instead offering managed services to keep your system updated long-term.
Here's an overview of the services you can access with a Fíonta managed services package: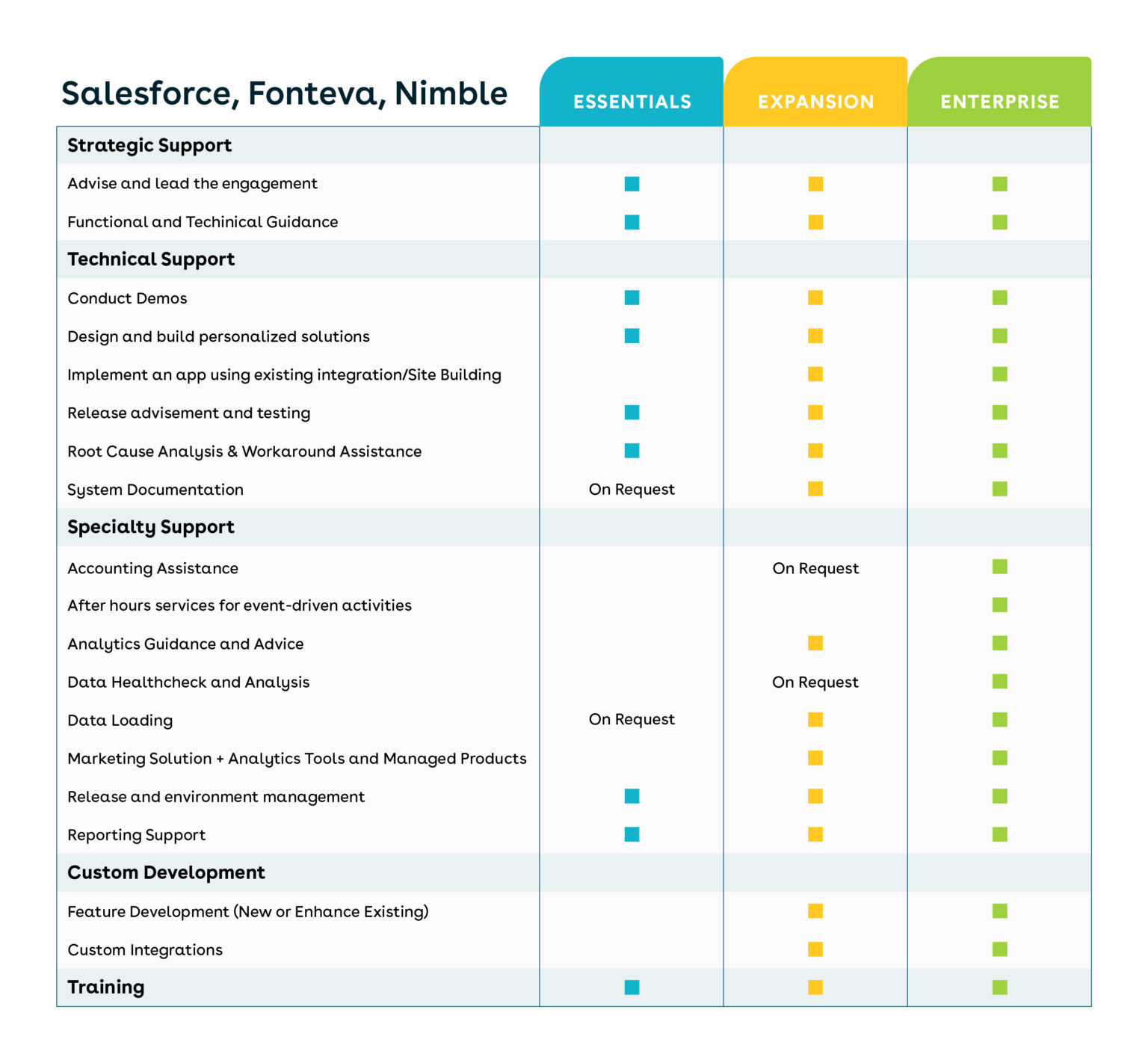 Essentially, with managed services, Fíonta becomes a reliable partner, ready to provide training, strategic support, technical assistance, and more. Consider what level fo support you will need whether you plan to use Nonprofit Cloud, Nimble, or Fonteva.
To learn more about how Fíonta can help you get set up with Salesforce for association management, get in touch today.