Sometimes in life, you have to cut the cord and move on to more sophisticated tools. You've parted ways with your flip phone, junked all those CDs in favor of streaming tunes, and dropped cable for streaming services.
While letting go of these old technologies wasn't too difficult, it's not as easy to move on from a mission-critical system like your donor database. Yet many in the nonprofit world are now seeking a more secure, flexible, and future-forward alternative to Raiser's Edge. In this piece, we'll help you understand why it might be time for you to make the switch:
If you're ready to learn why switching to Salesforce is the best choice for your organization, let's get started!
Raiser's Edge vs Salesforce NPSP: The Basics
Since the data breach of Blackbaud's hosted Raiser's Edge platform came to light in mid-2020, Raiser's Edge clients who were once steadfast in resisting the move to more robust CRM solutions have been aggressively seeking alternatives.
Raiser's Edge and Salesforce's Nonprofit Success Pack (NPSP) are both CRM solutions that aim to help organizations better manage their data and stakeholder engagement, but they do this with varying degrees of success. Especially as your organization grows, the NPSP can easily become a better option due to its high level of customization and functionality. A product built by nonprofits for nonprofits, Salesforce's NPSP has many exceptional benefits. Let's dive into the five main reasons to switch from Raiser's Edge to Salesforce.
5 Reasons to Switch from Raiser's Edge to Salesforce's NPSP
1. Unparalleled data security
During security breaches like the one that Blackbaud experienced, hackers get in by taking advantage of easily guessable administrative passwords. This vulnerability is not an issue with Salesforce because each user is provided a unique, strong username and password, in addition to requiring multi-factor authentication.
With the security settings in Salesforce, you control access to data on a granular level. For example, you can set permissions for certain people to have access to types of data for specific tasks, such as viewing and/or editing data.
Salesforce.com doesn't use cookies to store confidential user and session information, but instead implements more advanced security methods based on dynamic data and encoded session IDs. Your organization's data is protected in the Salesforce Cloud by secure socket layer (SSL) technology using both server authentication and data encryption.
Salesforce believes security is impossible without transparency. Salesforce clients can get real-time information about their system performance and security. At Salesforce, top security professionals review the software's code for potential security risks before it's made available to clients. Every Salesforce release includes information about the latest security enhancements. When it comes to Raiser's Edge vs Salesforce, Salesforce excels in data security.
2. SaaS instead of legacy software
Raiser's Edge has been around for more than 30 years and was initially developed as on-premise software. Even the newest version of the software, RE NXT, requires clients to host their database on a VPN, like Citrix, to access the software remotely and to toggle between the web interface and the legacy software. This is not only inconvenient, but it can also create lags in viewing updated information.
Salesforce, on the other hand, runs on a multi-tenant architecture. This means everyone uses a regularly updated version of Salesforce software in the cloud. Your nonprofit enjoys the same level of performance and security as Salesforce's biggest clients, like Amazon Web Services and Spotify. However, you can configure Salesforce to meet your organization's specific needs—one of the benefits of SaaS (Software as a Service).
Another benefit of SaaS is regular updates for everyone. Salesforce's Nonprofit Success Pack (NPSP) delivers three major releases a year plus updates every month, many of which include security measures. Unfortunately, for the nonprofit users of Raiser's Edge, updates aren't nearly as frequent.
3. Increased functionality
Salesforce's NPSP is designed for and used by more than 40,000 nonprofit and association clients. NPSP provides mission-critical support for fundraising, grants management, donor management, volunteer management, member management, and case/program management.
Salesforce is not just a CRM. It provides a single source of truth and a 360-degree view of interactions with your members, volunteers, donors, and other stakeholders, plus the analysis and reporting power to gain insight from those interactions.
With NPSP, you can attract new donors, members, and customers, nurture those relationships, engage these stakeholders, build loyalty, and bring in more revenue. All of this is possible with less effort due to NPSP's development and fundraising workflows and, with Pardot or Marketing Cloud, automated email marketing. In addition to this, it provides analytical tools and reports to help you understand stakeholder behavior and predict outcomes. The AI tools built into Salesforce help you make decisions faster. This increased functionality can make a huge difference and sets Salesforce apart when you're looking at Raiser's Edge vs Salesforce.
4. Superior agility and integration
Users of legacy software, like Raiser's Edge, often have to adapt their business processes to the software's limitations—an unsustainable approach to technology. The world around nonprofits continues to change. You need tools that can adapt to changing development, marketing, and communication strategies. Because Salesforce is configurable software, it can adapt to your new strategies and your organization can ensure that all functionality is relevant and optimized.
In contrast, Raiser's Edge clients have limited integration options with the software's API. It's challenging to integrate with other Blackbaud products, never mind other software. With Salesforce's open API, you have lots of integration options for achieving a 360-view of stakeholders.
Salesforce also offers a large ecosystem of apps in the AppExchange, including dozens of apps and CRM overlays built just for nonprofits. This giant toolkit helps you get more from your Salesforce investment.
5. Specialized implementation partners
Another advantage is the Salesforce community, which is full of implementation partners. This includes some, like Fíonta, who specialize in customizing and integrating Salesforce for nonprofits and associations. This opens the door to increased functionality and convenience that you can't get with Raiser's Edge.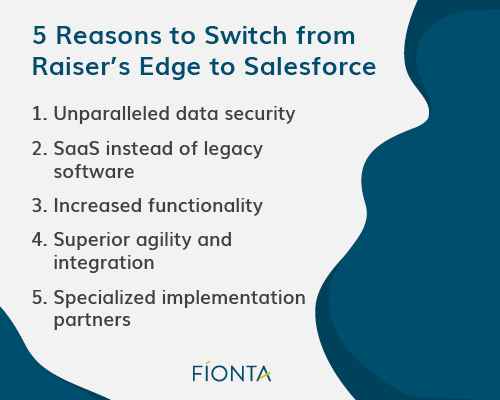 Don't let dated software hold back your organization. You need software like Salesforce that allows you to innovate and shift gears in response to crises, changing economic conditions, and emerging stakeholder and member needs.
Make an investment in secure, flexible, and future-forward software like Salesforce Nonprofit Cloud. Find out how Fíonta can help you make the move to Salesforce.